To receive the Glossy Pop newsletter in your inbox every Friday, click here.
All products featured on Glossy Pop are independently selected by our editorial team. However, when you buy something through our retail links, we may earn an affiliate commission.
If you think you've seen a growing number of selfies featuring lit-up face masks, you're not wrong. LED masks are indeed on the rise. In keeping with the Covid-era boom of next-level at-home skin- and self-care, consumers are continuing to amplify their self-care routines with these high-tech, high-investment and very selfie-friendly devices.
Explaining the benefits of an LED light face mask, Shani Darden, a Los Angeles-based celebrity esthetician said, "LED light penetrates the skin at various depths to help address different skin-care concerns. For example, red light penetrates the skin at a deeper level than blue light to increase cellular activity for anti-aging benefits. Blue light, meanwhile, penetrates the skin at a level necessary to treat acne."
According to digital trend forecasting agency Spate, searches for LED light therapy are up 32.2% year-over-year, and that growth is set to continue over the next 12 months. "Red light therapy, light treatments, blue light therapy and LED light facials are all classified as sustained or seasonal rising trends according, to [our] metrics. That indicates that consumers have shown consistent, growing interest in this space and that this trend is likely here to stay," said Yarden Horwitz, co-founder of Spate.
"What began on search has segued into a popular TikTok trend, as well," Horwitz said. Hashtags tied to red light therapy, for example, capture 2.8 million average weekly views, which is high relative to similar trends. The hashtag #LEDfacemask has 16.3 million views.
Back in, 2021, the category got a boost when Kourtney Kardashian posted in a $190 DMH Aesthetics LED mask sold on her wellness-focused website Poosh.
Longtime influencer and founder of the skin-care brand Naturium, Susan Yara, said she's noticed an uptick in her 447,000 Instagram followers' interest in and questions about LED this year. Similar text messages from "actual friends" have started to come in, too. Yara is a frequent user of the CurrentBody Skin LED Light Therapy Face Mask ($380). It helps that it "looks weird," she said, as that makes it social media-friendly. Yara uses it on cleansed skin with an emollient product, like a serum, underneath. She said she uses it to encourage her skin to produce more collagen and elastin, and therefore, look more youthful.
LED light has historically been used for wound healing and muscle recovery, Yara noted. In the same way, it can be used to help maintain the strength of the skin barrier, she said.
With LED light, as with most facial gadgets, a dedication to using it is key. Yara said she doesn't travel without hers. "It's so light that I don't think twice about carrying it with me. I use it a minimum of three times a week, but I like to get at least five days a week in," she said.
She said she used to do LED therapy at her aesthetician's office, but she's since found that an at-home version offers flexibility and allows her to get the benefits more often. At a spa, you're "stuck there," she said, But at home, "you can just walk around with it or look at your phone. … But I find it very relaxing, and I just take that 10 minutes [to relax]."
Yara is not officially affiliated with CurrentBody, but the company gave her a code to share with her followers. Yara shared that her May 21 Reel about the mask got 143,000 plays. Plus, it was shared 280 times and saved 934 times. She noted that a share can indicate that a viewer is considering a purchase.
Yara spelled out three tips for buying one that's effective. First, consider the wavelength of the light it emits. In a January YouTube video on LED masks, dermatologist Dr. Sam Ellis notes that consumers should look for 633 nanometers for red light and 830 nanometers for infrared light, as the combination is most efficacious. Yara said to its irradiance, or intensity, also matters. This refers to "how much energy is hitting one square centimeter of your skin per second," Ellis said in her video, adding, "Even if you're using the correct wavelengths of light, you need enough of that light hitting the target tissue quickly enough to induce the biological response that you're seeking." Ellis called 40-100 milliwatts per square centimeter the optimal range. Finally, Yara recommended paying attention to how often the device should be used and for how long — if it doesn't easily slot into a user's daily routine they won't use it, she said.
Among popular LED brands, the price range is vast. Along with the CurrentBody option, there's Omnilux, at $395, plus there's the Shani Darden by Déesse PRO LED Light Mask, for $1,900.
Dr. Dennis Gross, the dermatologist-founded skin-care brand, launched its $455 DRx SpectraLite FaceWare Pro in 2018. The product's annual sales have grown 700% year-over-year since then. The face mask, the bestselling item in the brand's LED collection, was preceded by the $199 DRx SpectraLite™ EyeCare Max Pro, which specifically targets the eye area. Dr. Dennis Gross also offers an LED device for the body. And, earlier this week, it debuted a small, lower-priced LED gadget specifically targeting the lips. Meant to help fight visible signs of aging — including fine lines, wrinkles and creases on and around the lips — it sells for $148. In clinical testing, 94% of users showed immediately plumper, more volumized lips after one use, according to the company. Carrie Gross, the brand's CEO, said the device is already helping the brand reach a younger audience. Plus, she said, it's an extension of what the brand has always done, which is to make clinical-strength treatments available in-home. It launched its popular at-home peel pads in 2000.
CurrentBody is a U.K.-based retailer that specializes in devices, including its own. In addition to its face mask, its own brand's products include LED options specifically for the décolletage ($339), hands ($249) and scalp ($859). The brand saw a spike in brand awareness when it was featured in the opening scene of the third season of "Emily in Paris," on Emily herself.
Speaking to the exploding popularity of the category, Laurence Newman, CurrentBody's CEO noted the fact that therapeutic body-focused Therabody is expanding into the category with its TheraFace devices, released in April 2022. Other popular products offered in the category include NuFace's microcurrent device — the brand sells an LED attachment. The $2,495 Dermalux Flex is also popular, Newman said, noting that Kate Moss was recently seen using it.
Higher Dose, known primarily for its at-home sauna blankets, entered skin care with the launch of its at-home LED mask in August of 2021. Earlier this week, it expanded that franchise with the addition of a décolletage LED mask, meant to address signs of aging. "In polling our audience, we learned that the delicate areas of the neck and chest are top priorities for skin [care]," since they often show signs of aging fastest, said Lauren Berlingeri, co-founder of Higher Dose. To drum up excitement about the new launch, in the month prior, the company offered a pre-sale of the mask to existing customers. It sold through 75% of its inventory.
"In recent years, more clinical trials have been conducted with results showing the efficacy of red light therapy for treating fine lines and wrinkles," said Berlingeri. She referenced research from the National Institute of Health and the Cleveland Clinic. Publications, influencers and professionals have also helped increase awareness and push this tech into the consumer landscape, she said.
In January, Solawave, known for its skin-care wand that uses LED, added a full LED face mask to its assortment. According to co-founder Andrew Silberstein, it sold out in 24 hours. "We anticipated some of this excitement, but the fact that we sold out so quickly shows how much our community is committed to light therapy and the science behind it," he said. The brand sold nearly $1 million worth of the $399 product in its first three weeks on the market.
3 takeaways from Glossy Beauty Pop
On Tuesday in West Hollywood, Glossy Pop hosted its first-ever IRL event. Much like the vertical itself, the event focused on the many intersections of the beauty industry and modern pop culture. Speakers including Lo Bosworth, Chriselle Lim, Iskra Lawrence, Kensington Tillo, Glamzilla, Patrick Ta and Susan Yara, among many others, came together to discuss timely topics. That included: using social media today, launching a brand as an influencer, securing a smart brand-influencer deal, focusing on the platforms that are resonating and ensuring authenticity. Below are a few things we learned.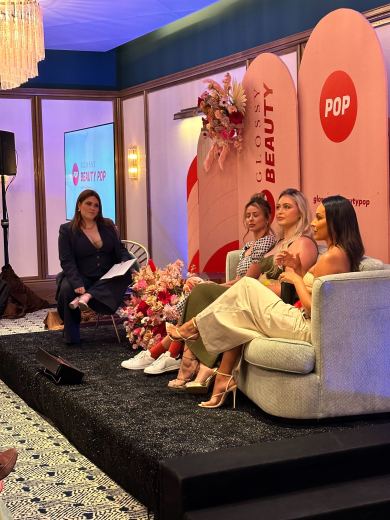 Launching a brand through a platform can be a blessing and a curse
When you build a brand as an established influencer, you have the privilege of a built-in audience — and many followers will opt-in to try out a product made by a creator they love. But that doesn't mean they'll stick around. As Lo Bosworth, founder of sexual wellness brand Love Wellness, put it, "In the early days, you don't have to pay to acquire customers." But eventually, every creator reaches an inevitable ceiling that they must break through in order to continue to grow their business, she said. "You have to start to gain the trust of new people," she said. Those people "may [not] like you on the internet, or they have the wrong impression of you. So you have to go into it with extremely thick skin."
Anyone can be an influencer, even customers themselves
"The beauty of TiKTok [is that] it's allowed the girl next door and the guy next door to have an opinion and to share that opinion, and actually influence other people with it. And so, marketing has changed a lot. With Phlur, we're not just gifting or working with mega-influencers; we're also working with the girl who has 1,000 followers on TikTok or Instagram, because we understand that authenticity is the most valuable thing now," said Chriselle Lim, co-founder of Phlur. Iskra Lawrence said her community is an important focus group with valued opinions about what her brand, Saltair, does. "One of the best things, and what I'm proud of with Saltair, is that we listen; I read all the comments. My community tells me what product they want next, and we make it for them. … It's not brain science. We launch new fragrances, maybe in one SKU and one product. If people react to it, and they say, 'Now I want Pacific Pear in a body wash,' we do it," she said.
Authenticity means getting (very) real
Love Wellness makes vaginal care products, which, for Lo Bosworth, often means getting on social media and talking about yeast infections and UTIs. It can be embarrassing, she said on a panel, "but I've just gotten used to talking about this stuff." Plus, especially on TikTok, where content is less polished than on Instagram, it resonates. Influencer Kensington Tillo, sitting on a panel discussing her work with clean makeup brand Kosas, spoke to the evolution of the way she films her "Get Ready With Me" videos and the power of honesty and vulnerability. "Get Ready With Me is getting oversaturated right now. I've been doing it for two years. … And sometimes, I'm not in the mood to [sit there and be like, 'Get Ready With Me to go to. …]. Now, I sometimes use it as a therapy session."
Spate trend watch: Barbie makeup is not going anywhere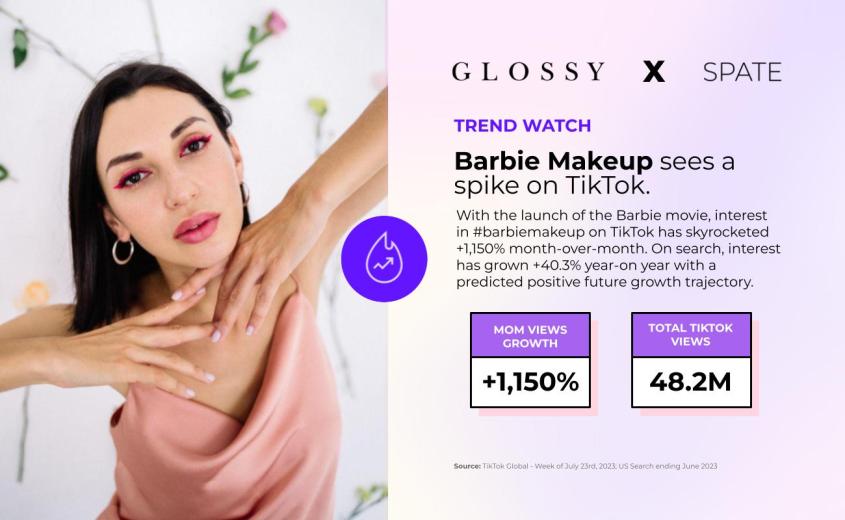 Since the release of the Barbie movie this month, Barbie makeup has experienced a remarkable surge in popularity on TikTok. The trend had already begun to pick up in June; a bump in Google searches indicated that consumers were getting a jumpstart on planning their looks for the premiere.
On TikTok, Barbie makeup has garnered an impressive 48.2 million views of associated hashtags, with a staggering growth rate of 1,150% month-over-month. This, plus its 40.3% year-over-year search growth in July, according to Spate, solidifies its status as a major trend in the pop culture conversation. And brands are capitalizing on the heat of the moment.
The brands gaining traction within the realm of Barbie makeup include NYX Cosmetics and Rare Beauty. Their branded hashtags have received the most views, among brands, alongside the trend.
NYX Cosmetics has been making waves with its "Barbie, The Movie" Collection, featuring vibrant Barbie-themed colors made for every Barbie and Ken enthusiast. Meanwhile, Rare Beauty's bright pink liquid blush has caught the attention of TikTok users, who are using it to perfect their Barbie-inspired looks.
"The interest in NYX and Rare Beauty highlights two different ways brands can capitalize on a premiere like this. There are [official] collabs like the NYX collection. But then there's Rare Beauty, which already has blushes that align perfectly with the punch pink look consumers are after. This is a reminder for brands that the official Mattel stamp isn't required to play in the space," said Yarden Horwitz, co-founder of Spate.
Inside our coverage
Benefit goes big on TikTok Shopping for its new mascara launch
Phlur co-founder Chriselle Lim on the importance of 'being nimble and able to adapt to different platforms'
5 influencers and marketers on building authentic partnerships
Reading list
Sofia Richie just casually announced she's working on a clothing line
Black women are making Korean beauty their own, one sheet mask at a time