To receive the Glossy Pop newsletter in your inbox every Friday, click here.
All products featured on Glossy Pop are independently selected by our editorial team. However, when you buy something through our retail links, we may earn an affiliate commission.
In 2020, while stuck at home, many people paid more attention to their health, wellness and beauty routines than they ever had before. Perhaps it offered a sense of control in a suddenly confusing world. Things like face tools, high-end sweatsuits and various creature comforts surged in popularity. Among the wellness set, Higher Dose's $600 Infrared Sauna Blanket became popular.
Visit the Pop Shop to browse all products featured in Glossy Pop.
For Higher Dose, a company originally known to New Yorkers for its spa at the 11 Howard hotel featuring infrared saunas, it was a great time to sell in-house "wellness tech," the category the company now specializes in, according to founders Katie Kaps and Lauren Berlingeri. Higher Dose has launched three wellness tech products: the Infrared PEMF Mat, ($1095) which is sort of like a full-body size heating pad on steroids – it combines Pulsed Electromagnetic Field (PEMF) therapy, infrared heat, and twenty pounds of crystals; a smaller version, $600, is desk-chair-friendly; and finally, there is a Red Light Face Mask for $300. More are coming. And this week, it debuted three topical products, all centered around the benefits of magnesium.
Visit the Pop Shop to browse all products featured in Glossy Pop.
But back to the sauna blanket. The sauna blanket was already a popular product pre-pandemic. In 2019, Higher Dose saw 400% growth in sales for its sauna blanket, while its brick-and-mortar business grew at 25%. "There was already inherent demand for accessible ways to experience Higher Dose at home and [on one's] own time, which would also be cheaper," Kaps said. She noted that the cost of the blanket is about the same cost as paying for ten sessions in an infrared sauna. A 30-minute session at 11 Howard costs $45 not including tax, and an hour session is $60. But then, Covid hit. In 2020, the blanket's sales growth quadrupled for the second year in a row.
It hasn't hurt that the brand and the blanket have many famous friends and affiliate partners. Notable fans include Kate Hudson, Bethenny Frankel, Melissa Wood-Tepperberg of Melissa Wood Health, and influencer and blogger Grace Atwood. Many influential experts, including functional medicine doctors Dr. Will Cole and Dr. Mark Hyman, have also helped move the needle for Higher Dose. "Aligning ourselves with the medical wellness space lends credibility to what we're doing; having doctors vouch for the product helps with conversion," Kaps said. "Doctors are always looking for things they can recommend for their clients to do at home when they're not seeing the doctor. We also have a lot of chiropractors, acupuncturists and osteopaths [who recommend the products]."
The sauna blanket remains Higher Dose's best seller, and the three products it launched this week work in tandem with it; they're meant to complement the lifestyle of a blanket devotee. "We decided on magnesium mainly because 60% of North Americans are deficient in magnesium," Kaps said. "It's also one of your main electrolytes. When you have a product that makes you sweat like never before, magnesium is an essential mineral to keep the body hydrated."
Prior, Higher Dose launched three ingestible products, in July: "High-dration powder," a hydrating powder; a tincture called "Detox Drops" and gummies, aka "Chill Chews."
Visit the Pop Shop to browse all products featured in Glossy Pop.
"Magnesium is an important mineral, and you can absorb it through the skin; transdermal minerals are so important," Berlingeri said. The brand's new Serotonin Soak is inspired by the Dead Sea and smells like eucalyptus. It uses Magnesium Zechstein, which Berlingeri calls the superior form of the ingredient. The Healing Oil is contains cinnamon and peppermint oil. Berlingeri said it helps Higher Dose's most addicted-to-sweat users sweat even more while in their blankets. Finally, the third new release is its Get Salty Spray, which is pure magnesium zechstein.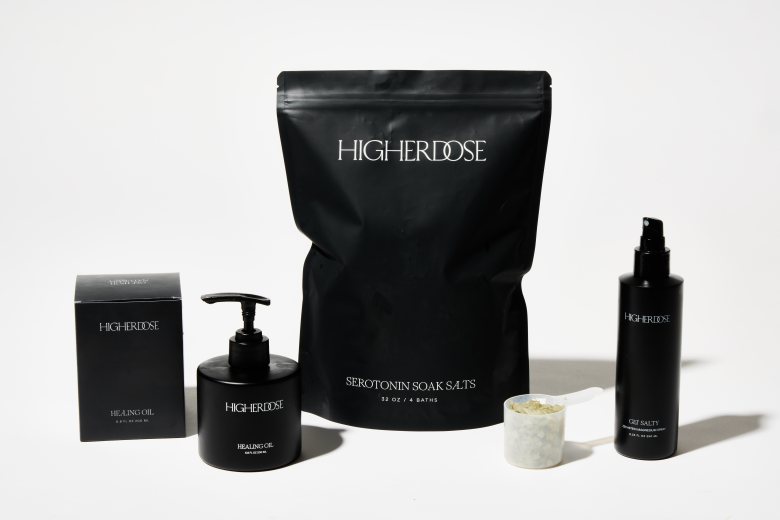 According to Tribe Dynamics, in 2019, Higher Dose had over $348,000 of earned media value. In 2020, that figure rose to $1 million. "Higher Dose's significant 197% EMV surge in 2020 stemmed largely from the addition of numerous high-profile creators to the brand's community," said Conor Begley, co-founder of Tribe Dynamics, a CreatorIQ company. "Of the brand's top-10 EMV-driving advocates in 2020, five were influencers with over 1 million followers, and all but one had mentioned the brand [on social media in] the previous year." This trend was reflected across Higher Dose's's fanbase more broadly; after generating just 4% of the brand's EMV in 2019, influencers with 1 million-plus followers accounted for 30% of its total EMV in 2020.
Even as spas have re-opened, Higher Dose, its sauna blanket and accessories are here to stay.
Saie joins 37 brands together for abortion rights
Spearheaded by Laney Crowell and her team at Saie Beauty, this week saw the launch of The Every Body Campaign. The campaign brings together 37 brands all of whom repackaged, or re-labeled a hero product in green, a color symbolic of the movement for abortion rights. Every sale will donate 100% of its proceeds to SisterSong, a nonprofit, which the campaign's press release explains is "dedicated to protecting those most impacted by anti-abortion legislation, and to encourage votes for pro-choice political candidates." Participating brands include E.l.f., Phlur, The Nue Co, Glow Recipe, and Megababe, to name a few.
Shop to support the campaign here.
Inside our coverage
Bandier x FitOn team up for shoppable live fitness classes
Gwyneth Paltrow on post-lockdown beauty and how Goop took the 'dirtiness' out of vibrator sales
From extreme temperatures to needles, a 'no pain, no gain' mindset is taking over spas
Reading List
Taylor Swift's 'Anti-Hero' music video cuts 'fat' scene following backlash
Is she the new queen of Los Angeles?
TikTok's 'crying makeup' trend is more flattering than it sounds