All products featured on Glossy Pop are independently selected by our editorial team. However, when you buy something through our retail links, we may earn an affiliate commission.
Solawave is in expansion mode.
The beauty device brand launched in November 2020 with a 4-in-1 skin-care wand. Quickly it became a hit, largely thanks to a ripple effect from social mentions.
The pen-sized skin care device put a number of trendy, pricy technologies in users' hands, including red light therapy, microcurrent therapy, low-vibration facial massage and therapeutic warmth. At $150, it was a steal, compared to most at-home devices. Devices by NuFace, the category leader, start at $245.
The brand invested in social media advertising, as well as gifting to influencers, celebrities and makeup artists, to help make a name for itself. It now counts an impressive slew of celebs as fans, including Sydney Sweeney, Vanessa Hudgens, Kate Hudson and Jennifer Coolidge, who have mentioned the brand on social media and in interviews. With each mention by these celebs, Solawave saw an average of a 130% lift in sales for 3-4 days after, a spokesperson told Glossy.
On February 19, the brand will launch a new version of the wand, at a slightly higher price point ($169), on Ulta.com. The retailer will also carry the serum meant for use in conjunction with the wand called the Renew Complex Activating Serum, $32, as well as its $99 Bye Acne: 3-Minute Pimple Spot Treatment. On March 5, the brand will expand into 650 Ulta stores and start selling the new wand on its own site. "We wanted to partner with a retailer that understands the beauty space," said founder Andrew Silberstein. "Ulta has an incredible reach across the country. People [will now be able to] hold and see our product in store, which is something we have always wanted." Solawave was already available at retailers including Blue Mercury, Rescue Spa, Nordstrom, Saks, Neiman Marcus and Goop.
The new version of the wand uses galvanic current instead of microcurrent. That, like other changes, was driven by customer feedback, Silberstein said. "One of the most exciting parts of having a primarily direct-to-consumer business is we get direct feedback from all our customers in real time," he said.
Though neither technology is new, microcurrent is much better known to the public, Silberstein said. "Microcurrent is great for toning the skin, over time. Some of the best feedback we were getting was that people felt like their topicals were absorbing into their skin better with the wand. Most of what we put on our skin doesn't fully absorb — about 60% just stays on the outer layer," he said. And galvanic current is even better for absorption than microcurrent, according to Silberstein. Celebrity esthetician Georgia Louise also offers a galvanic current device, the Pulse + GLO Ion Enhancer, for $170.
Solawave's new wand also has 40% more red light LEDs than its original device. And the lights themselves are stronger, which will increase the speed and strength of the results, Silberstein said. In addition, the new device is water-resistant, based on customer feedback that it was being used in the bathroom, and an on/off button was added.
Solawave closed its first round of funding in November 2022. One investor is XRC Labs, which has also invested in Billie, the razor company, and male cosmetics company Stryx. Silberstein declined to share more details.
In conjunction with the retail expansion, Solawave is making a big investment in content creation and influencer relationships with a new Solawave House. The brand has a year-long lease on a house with a pool in West Hollywood. It will serve as both a space for it to create its own content, as well as a spot where its invited influencers can create content and become better acquainted with the brand.
"We wanted a dedicated space that we could brand as a Solawave space, where we could bring people together who have been supportive of us and hopefully meet some great new people, as well," Silberstein said. The brand is using the house's four bedrooms as a photoshoot room, a shopping room, a spa room where an esthetician will work and a room that will be updated for different needs. The outdoor space will also be used for activations. In addition, Solawave will use the house to throw events. "How the year goes will determine what happens after," Silberstein said. He declined to share details about the investment in the house.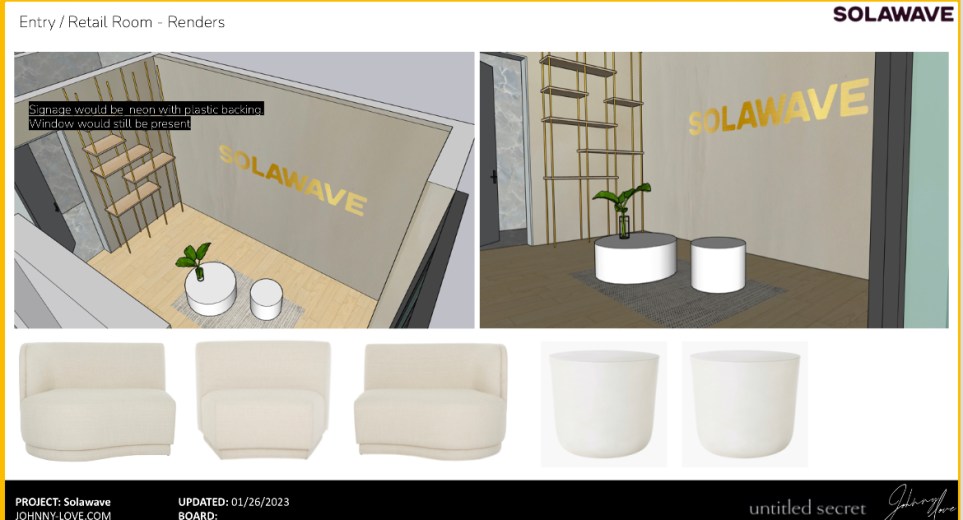 "As a social media-built brand, we are constantly feeding that beast — it's hard to keep up with. We wanted a place where we could always go and film — somewhere beautiful, [where we would] never have to worry about traveling," said Paige Mueller, Solawave's head of creative development.
The house will kick off with a partnership with celebrity makeup artist Tonya Brewer (186,000 Instagram followers), who will host two invite-only masterclasses there during the first week of March. Brewer has been an organic fan of the Solawave wand and counts Kate Hudson, Vanessa Hudgens, Maddie Ziegler and Kourtney Kardashian as clients.