To receive the Glossy Pop newsletter in your inbox every Friday, click here.
All products featured on Glossy Pop are independently selected by our editorial team. However, when you buy something through our retail links, we may earn an affiliate commission.
In the golden days of Instagram, I remember feeling like the only person who didn't have some kind of marble surface on which to perfectly position my designer sunglasses, lip balm and, I don't know…a croissant. No one spoke of the hours spent arranging the items just so, or the fact that maybe the marble was just a square slab from Home Depot – I know this was true for a beauty company I worked for at the time. 
On TikTok, however, the jig is up. On the app, a ton of time is spent talking about the app itself. Ironically, it's all quite 'meta.'
In the past few weeks alone, Mikayla Nogueira had to address criticisms from fans angrily accusing her of posting makeup demonstrations while filming with a beauty filter on. But a louder commotion came from a recent TikTok post by Kylie Jenner. In an August 26 post, Jenner steps into her car and then promptly drops her phone, exclaiming, "Oh shit!" and taking a second to recollect herself. "This is better. … I'm just … in my car. … I just dropped four new lip blush shades," she says, before trying one on. Posting TikToks about beauty products from one's car is a very normal, "regular girl" thing to do. Jenner's post has 2 million likes and a plethora of comments debating its authenticity, or lack thereof. Examples include: "That was the most intentional drop I've ever seen," and, "POV … her whole team standing outside her car while she films."
Creator @CocoMocoe (835,000 followers), who chooses to only go by her Internet name and works in the social division of a media company by day, made a response video in which she outlined the ways in which Jenner's viral video might speak to the changing tides of social media.
In it, she said, "Now, I actually don't think that this video was as premeditated as people think, because if you look at her TikTok, she's posted a couple of videos in the car. … The reason they're filming in the car is because they're seeing other creators … who are going super viral with videos filmed in their car because it feels more authentic to the viewer. … You're in such a rush to tell them about how good a product is that you couldn't even wait to get home to film it. Whereas in the golden era of YouTube, you really had to be in a really nice room. There had to be studio lights or just a lot of thought that went into your backdrop in order to be taken seriously."
Essentially, Mocoe posits, this is just Jenner adapting to the new aesthetics of social media and doing as a beauty influencer of 2022 would do, rather than one of, say, 2016. In fact, she said, the raw, real, in-the-moment-ness of TikTok has not even peaked yet. "I think that there's going to be even more rawness to car videos, eventually with people live-streaming hauls from their car," she said.
Samantha Tannor (@samanthatannor, 24,000 followers) creates TikToks she describes as being like "If E! News and The Wall Street Journal had a baby." She creates a vast array of TikToks, on everything from female entrepreneurs' roads to success to ways that TikTok is "changing the way celebs put out content."
"TikTok is changing the culture around how we share and what we share on the internet," Tannor said.
With the "Kylie moment, there's been this huge, tectonic-level shift of how we perceive someone sharing information," she said. "With Instagram, it was perfectly curated. … Now, on TikTok, if someone sees an image like that, they're actually repulsed by it; they're like, 'This is not what I want to see, because it's not authentic. It's lacking originality, and I can't relate to it.' And so you've also seen the rise of the 'relatable influencer,' which didn't exist on Instagram or was extremely niche."
This, Tannor said, ties into the fact that TikTok is becoming, for young people, the search engine of choice. "Everyday people who have the power of their cell phone are saying, 'I am someone who is living my day-to-day life, but because I have TikTok, I can now capture my experience, put it out there for others to see, put the clips together in an interesting way, add text, add music … and now I'm contributing to what everyone else around me is able to perceive and what they're able to explore themselves.'"
Dana Patterson (244,00 followers on TikTok) also made a TikTok responding to Jenner's car video.
"One thing that we have to say about the Kardashians is they know how to create buzz. They are really marketing geniuses. For the past decade, we've been in an Instagram era … so everything has been super hyper curated — and the Kardashians were a part of ushering that era in. … But from a marketing perspective, things have changed immensely," Patterson says, explaining that what does well on TikTok is content that's really "vulnerable, organic, honest and relatable." She continues, "It's really interesting seeing Kris Jenner work her little magic on pivoting [the family] into a new era. … You cannot tell me this is not a copy-paste of what a typical beauty TikToker does day to day,."
It seems that, nearly two decades into the chokehold social media has on our lives, we are still struggling to work out the line between how polished and unpolished we want to be. Mocoe referenced the move from the 60-photo-deep-album on Facebook to the summer of 2022's rise of BeReal. "I'm sure it's gonna swing [back] again," she said.
Collab of the week: Something Navy x Superga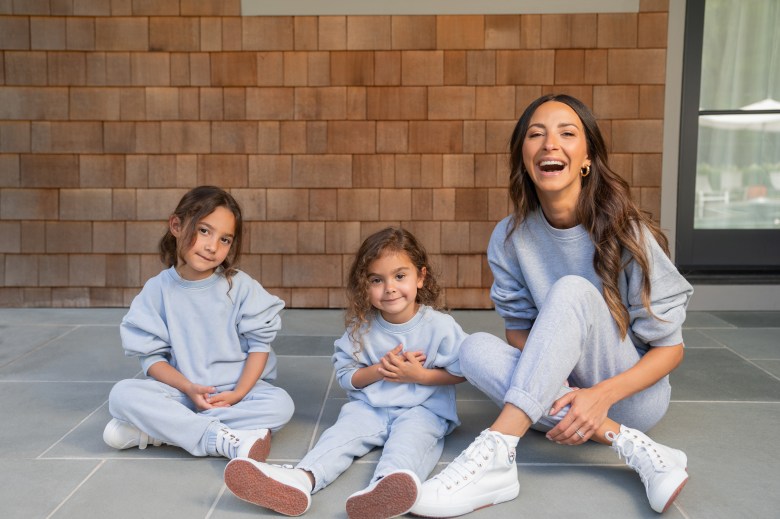 On the heels of a recent brand refresh, Something Navy has introduced a collaboration with Superga, the popular Italian sneaker company. It includes three styles — white leather, pale pink corduroy, and an autumnal olive green corduroy — all of which come in sizes for women and children. Shop it here.
TikTok is thirsty for Jerry Seinfeld in Kith
The below speaks for itself.
Inside our coverage
Susan Miller partners with Brandshare for astrologically-themed beauty boxes
Launchmetrics x Glossy Research: Fenty Beauty and Rare Beauty among 5 buzziest celeb beauty brands
Exclusive: Grace Jones to partner with Boy Smells
Reading List
Gigi Hadid tells all about her new clothing brand, Guest in Residence
Kourtney Kardashian is launching a new brand called "Lemme"