To receive the Glossy Pop newsletter in your inbox every Friday, click here.
All products featured on Glossy Pop are independently selected by our editorial team. However, when you buy something through our retail links, we may earn an affiliate commission.
Two years after its launch, Arielle Charnas's Something Navy, the blog-turned-apparel brand is reintroducing itself. With its fall collection, the first installment of which dropped on Thursday, the brand is both stepping up the quality of its clothing and introducing a more minimal, less trend-driven aesthetic. The individual pieces are meant to be the building blocks of a timeless wardrobe.
Ninety percent of Charnas's followers — a group of 1.3 million on Instagram — have followed her since the birth of her first child, now 6 years old. As Charnas put it, they, and their senses of style, are evolving as she does. "They're growing up, and they're also growing up with the brand. And they're evolving, the way that Something Navy is evolving. It would be almost a disservice to keep it the way it was from the beginning because that's not who they are anymore," she said via Zoom earlier this week. Plus, she said, speaking to the brand's newer, more refined style, "As you grow up, you're more inclined to spend on classics and well-made products than a fashion trend that'll be gone."
As Charnas sees it, she has two audiences. For one, there are her followers who are like a very large, extended family. They support her, her brand and her family, and want to know where she's eating, what lipstick she's using and what her kids are wearing. Then, there's everyone else. Those are the people who might be more skeptical of wearing or purchasing clothes from an "influencer-founded brand." "It's not [that it's] frowned upon, but it's not what people want to promote that they're wearing. It's just not something that feels cool," Charnas said. Charnas, like many influencers, has faced criticism. In the summer of 2020, she faced judgment for her handling of Covid symptoms and diagnosis, though her followers seem to have remained loyal fans.
That said, of course, she is not blind or naive to the fact that her platform is what allowed her to build a brand, to begin with. "I don't want you to think I'm not proud of it being an influencer brand. I think it's incredible what influencers have the capabilities to do these days. I wouldn't be able to do any of this without my followers. So there are a lot of plus sides to being an influencer-started brand," Charnas said.
On the other hand: "I founded Something Navy, but we have a team that is running the show. I'm not the designer for Something Navy. I sit in all the meetings and I give my opinion and my thoughts, but it's really focused on the overall customer and the data that we've been able to collect over the years. We're seeing what they're excited to buy, and what they're returning, and really basing it off of that," she said. Charnas is Something Navy's chief creative officer.
"I'm very open about the fact that I've hired extremely talented people to carry out the vision I have for Something Navy. I want people to see Something Navy for the people that work behind the brand," Charnas said. "They're very talented, and they get the vision. It's not just me, but it's all different kinds of women. It's women who have different styles, and who have different life stories and different passions. But we all understand the Something Navy girl. We all feel like we carry a part of the Something Navy girl in us. And that's what I'm trying to do — to not separate it from me, but to make it more about all of us," she said.
Charnas and Something Navy's CEO, Matt Scanlan, do not plan to necessarily announce this "relaunch" of the brand, but rather allow customers to discover it and experience it for themselves. "We didn't want to draw attention to the evolution of quality, because from day one, we've always wanted to [be known for] better quality product at all costs," Scanlan said.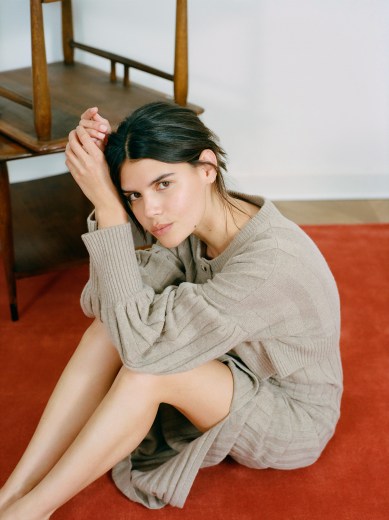 Another change: creative input from Charnas's sister, celebrity stylist Danielle Goldberg, whose clients include Laura Harrier, Camille Rowe and Greta Lee. She styled the lookbook for the fall collection, giving it a more elevated aesthetic than past marketing materials. Goldberg also hired the team that worked on the lookbook, including the set designer, photographer, hair stylist and makeup artist.
The other part of the puzzle, Scanlan said, was the shift in "thought process, to merchandising a collection to build a wardrobe." That includes determining how much of a collection is "fashion basic items, that you are building a wardrobe out of," versus how much is "purely occasion dressing." The fall collection, which features a silky slip dress and a three-piece suit, does both. "There are the pieces that are novel enough that there's a reason to buy them, but are staple enough that you wear them season after season," Scanlan said.
"The things I keep in my wardrobe, collection-to-collection from Something Navy, are the classic pieces: the cashmere sweaters, the T-shirts, the tank tops, the simple jeans. I do feel like my customer really appreciates those, [too]," Charnas said.
Scanlan said the fabric choices — including silks and Tencel — will speak for themselves, as customers begin to experience the items in the new collection. These are "fabric choices that are meant to last," he said. The brand moved most of its fabric sourcing to Italy and Europe, where it has more transparency into material origins and labor practices. Prices have gone up, as a result.
Charnas is happy to let the clothes speak for themselves. "The other night, I was at this restaurant, and I saw this girl wearing one of our dresses. I was so excited. I went up to her and I was like, 'I love your dress,'" Charnas said. "And she was like, 'Thank you.' It made me so happy that she had no clue who I was. It was just something that she saw, she loved and she purchased. That, to me, felt like a success."
Visit the Pop Shop to browse all products featured in Glossy Pop.
Crooked Media teams with Cariuma on sneakers to get out the vote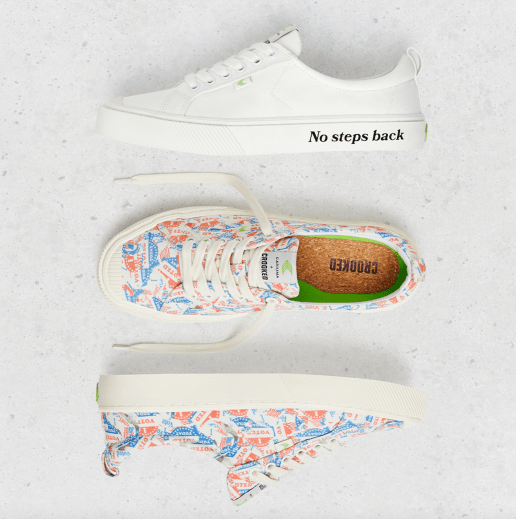 Crooked Media, home to blockbuster podcasts like Pod Save America and Lovett Or Leave It, has teamed with Cariuma on two special edition pairs of sneakers. For every pair sold via Crooked Media's site, a portion of proceeds will go to VoteRiders, an organization that works to inform citizens of their state's voter ID requirements and helps them secure documents necessary to vote.
Visit the Pop Shop to browse all products featured in Glossy Pop.
Sally Hansen's new nail topper helps DIY the Hailey Bieber effect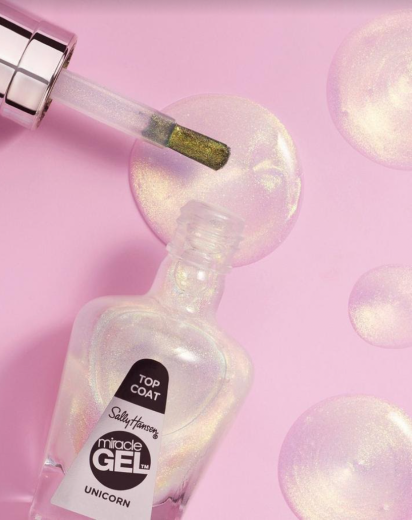 For weeks now, everyone has been talking about Hailey Bieber's 'glazed donut' manicures. Essentially, they involve chrome-topped nails that, if done ever-so-slightly wrong, could border more on a grandma-at-a-wedding vibe than that of a young fashion star. Coincidentally, as anyone who works in beauty knows, products are developed years in advance, Sally Hansen just launched a new topper, the Miracle Gel Special Effects Top Coat in "Unicorn," which gives a similar effect. Simply brush it over a neutral shade. Bieber's manicurist uses OPI's Funny Bunny to get the look.
Visit the Pop Shop to browse all products featured in Glossy Pop.
Inside our coverage
The weird, wacky world of Vacation Inc., where branding goes to creative new heights
Erin Kleinberg's Sidia ventures further into beauty with hand care
D.S. & Durga's Studio Juice scents are the 'street drops' of fragrance
Reading List
Emma Watson directs and fronts Prada Paradoxe campaign
Joe Jonas told us all about his first time getting injectables