In February 2021, D.S. & Durga, the 15-year-old Brooklyn-based fragrance brand, launched 100 bottles of Pistachio, the ninth scent in its collection of limited-edition drops, or Studio Juices. Each of D.S. & Durga's two shops — one in Williamsburg and one in Soho — had only five bottles each. Another 90 were available online. Pistachio sold out in two hours, with those on social media documenting their adventures to try to get their hands on a bottle.
D.S. & Durga has launched 3-4 50-milliliter Studio Juices a year, sold for $250 each, since 2020. On Thursday, the brand launched Wipeout, its 11th Studio Juice.
"I have a million ideas and want to make a million things. It's not sustainable to do that for a scalable business or for the consumer," said David Seth Moltz, co-founder and perfumer at D.S. & Durga.
Wipeout is inspired by Moltz's childhood, growing up in a small ocean town just north of Boston. "It doesn't matter where you are. There's always a surf shop that smells like suntan lotion, and there are flower prints all over the place," he said. The fragrance's notes include Hawaiian flowers, like frangipani and tuberose, plus suntan lotion and coconut milk, Moltz said.
Like all D.S. & Durga scents, Moltz created a playlist for the launch, featuring surf music, which can be found on the brand's Spotify. 100 distributed in same channels as above. Unlike the brand's permanent collection, marked by very simple labels with the scent of the fragrance in all-caps sans-serif type, the packaging design for Studio Juice bottles is more colorful and adventurous.
When asked a week ago what the brand planned to do to promote the launch, Moltz said, frankly, "Nothing." He owed it to the fact that limited bottles would be available.
"We don't preview it, we don't do anything. An email is deployed, and we post it on Instagram the day it launches. No one knows about it beforehand, and we sell out in 24 hours," said Donna DiDonato, D.S. & Durga's global president. Fragrance brands including Byredo and Creed also rely on the limited-edition drop model to keep their cult status.
In recent months, thanks in part to the rise of #PerfumeTok, D.S. & Durga, which has a higher price point of $190-$280 for most scents, has reached new audiences. Fragrance influencers like Professor Perfume and Nearly Nose Blind have posted professing their love for the brand. Debaser, a fig-based D.S. & Durga scent, is a TikTok favorite, and the hashtag #dsanddurga has 786,000 views on the platform.
As for the Pistachio scent, the brand has taken a "give the people what they want" approach and will introduce it to its permanent collection in 2023, said Moltz. "Pistachio makes sense in the line. We don't have an unabashed gourmand, and it garnered a lot of interest," he said.
Of its popularity, the brand's co-founder and David Seth Moltz's wife, Kavi Moltz, said, "Food references are always easy for people to get excited about because they're very familiar with them. People might not be familiar with all the perfume notes we talk about, like the esoteric materials David works with."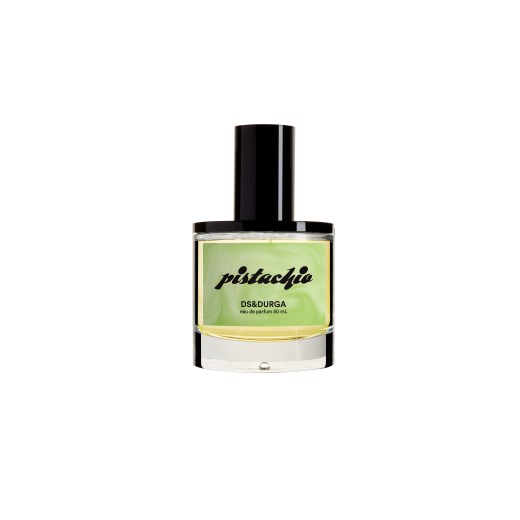 Studio Juices represent a way to introduce new audiences to the brand — and they're inherently membership cards, of sorts, to an exclusive club, given the limited availability of each scent.
"It's a moment. People will ask, 'Will there be samples of this?' But, that's not the spirit of it. It's just this fun little thing they can be a part of," David Seth Moltz said. "There's something to be said about committing. It's like, 'I love D.S. & Durga. Wow, they made this crazy thing. It sounds so cool.' And then you're part of it. And if you don't want to take the chance, that's totally fine."