To receive the Glossy Pop newsletter in your inbox every Friday, click here.
All products featured on Glossy Pop are independently selected by our editorial team. However, when you buy something through our retail links, we may earn an affiliate commission.
In 2020, the experts at trend forecasting agency WGSN and color analytics firm Coloro started predicting a purple wave to come in 2023 — "digital lavender," to be precise. It is now their "color of the year."
Three months in, the trend's in full swing: From lip glosses and eyeshadow palettes to sunglasses and summery tops, everything's coming up lavender.
According to Caroline Guilbert, Coloro's head of creative content, the color represents "holistic wellness and digital optimism." It also brings a sense of stability, which people are now looking for following (and during) a tumultuous few years. "It evokes serenity and balance," she said. "It's the perfect color because it reflects the hopeful view of the future that we need to approach this new reality."
WGSN and Coloro say another reason for the color's popularity and resonance is its unisex appeal, making it a draw with Gen Z. "Gen Z is questioning a lot of more traditional and conservative practices," Guilbert said, regarding shifts the Coloro team is perceiving around color.
In fashion and beauty, digital lavender has become nearly ubiquitous. According to Guilbert, WGSN's catwalk analytics data showed the color gaining traction during the spring 2022 catwalk shows, in September 2021. Across men's and women's shows, designers including Gucci, Fendi, Solid Homme, Homme Plissé Issey Miyake, Privacy Policy, Stine Goya, Jil Sander, Brandon Maxwell and Ester Manas showed the color. WGSN catwalk analytics data showed that pastels made up 57% of the designers' purple styles.
On the red carpet, the color is trending, too. In January, Fashionista dubbed purple the "trending color" on the Golden Globes red carpet. Kaley Cuoco, for one, wore a pale lavender gown by Vera Wang. Meanwhile, at the SAG Awards, Antonia Gentry wore a muted lavender gown by Celine. And bolder shades of the color showed up, too — like Angela Bassett's regal purple Moschino gown at the Oscars.
On TikTok, the hashtag #digitallavender has 1.3 million views. The content includes analyses of the trend itself, a lot of nail content (the color is hot for manicures), fashion mood boards and demos of eyeshadow looks.
The color is also ruling the contemporary fashion category. At Anine Bing, known for its weekly drops that often sell out, the color has outperformed expectations. "We research and evaluate trend predictions and then look to reinterpret those findings in a way that is true to our brand aesthetic and values," said Jordyn Pressler, the brand's director of merchandising and design operations. "Digital lavender was predicted to be the color of 2023 because it represents well-being, optimism and stability, which are characteristics that resonate with us as a brand. We explored this color in novelty fabrications, luxurious silks and activewear to encompass our spring 2023 collection's message of hope and rebirth."
The brand's name-emblazoned sweatshirts are constant sellouts, and the lavender interpretation — a washed, almost tie-dye take on the color — has been no exception.
At Clare V., too, purple is found throughout the spring collection. Though the brand has dabbled in purples before, this season, they're featured more heavily, in styles from baseball hats to dresses to leather bags. Clare V. has favored a brighter take on the trend than the more muted lavender hues seen at Anine Bing.
"We always look to our city to spark ideas ahead of each season," said Clare Vivier, founder of Clare V, of her inspiration. "We're excited to see our favorite trees — the jacaranda — in bloom. They make the city feel alive and beautiful. Coming out of Covid, and after all the rain, the nature in L.A. seems like it's in technicolor. That's especially the jacaranda trees that line our streets."
Of the specific color featured in this season's collection, Vivier called it a "saturated lilac that we think looks great with everything, from khaki to denim to heather grey and other bright colors."
She added, "We noticed the lavender trend emerging last spring, and we expect it to be even bolder and better this year." To that end, the brand's Midi Sac in Lilac Rattan ($385) became a top seller within a week of its launch.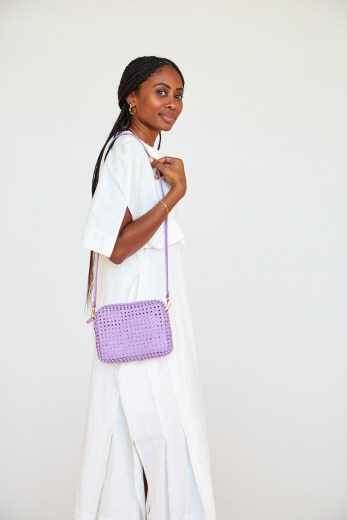 Clare V. has also seen its Shortie Strap bag in Dark Lilac Resin ($85) take off, Vivier said. "It can be added to anything," she said, noting that it provides customers a way to dip their toes into the trend without a large investment.
Part of what made the color worthy of its "color of the year" status, according to Guilbert, is the fact that it isn't a single-category trend. Lavender is trending just as much in makeup as it is in fashion. In mid-March, clean-beauty makeup brand Lawless released a Lavender capsule collection. In January, trend-forward, affordable makeup brand Morphe also launched a collection around the color trend. It included a 35-pan palette. "In the first month of sales, the artistry palette beat sales forecasts by 27% in all channels," a rep for Morphe shared.
In July 2033, Ilia launched the Liquid Powder Eye Shadow Tint in eight shades. Aster, which it describes as "soft lavender," gained traction on TikTok before selling out. Charlotte Tilbury's Pillow Talk in Ultra Violet, a sparkling bright purple, has sold out on its own site.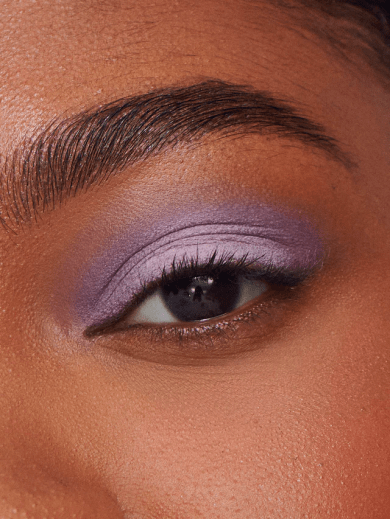 "This color is tied to the customer sentiment," Guilbert said."It's gained so much traction over the past few years, and I don't see the [trend] stopping anytime soon."
Shop the trend
Featured
Visit the Pop Shop to browse all products featured in Glossy Pop.
Inside our coverage
'Every vagina is different': Christina Aguilera joins Playground lube to champion sex positivity
DP Hue launches first TikTok campaign to appeal to younger consumers
Oribe doubles down on the 'skinification' of scalp care
Reading list
Gwyneth Paltrow's courtroom glasses have already taken off with Gen X
E.l.f. collab'd with American Eagle & a butt mask is involved
How to apply bronzer for a warm, sculpted spring glow, according to Pat McGrath