All products featured on Glossy Pop are independently selected by our editorial team. However, when you buy something through our retail links, we may earn an affiliate commission.
Soft-launched in May 2022, Playground, a sexual health and wellness company with one product, made a louder splash on Tuesday with its announcement of Christina Aguilera as co-founder and chief brand adviser.
The brand launched with one product, a water-based personal lubricant selling for $25. It comes in four scents, which the brand refers to as "essences.' Playground expects to release five more products this year.
Aguilera was introduced to Playground co-founder and CEO Catherine Magee through her fiancé, Matthew Rutler. "He heard about the product, and I was like, 'Tell me more.' [Women's sexual health] is something I can talk about for days. it's been a vital part of the messaging in my career. And I've always wanted to empower women to feel safe enough to open up, share stories and talk about it. Every vagina is different," Aguilera told Glossy.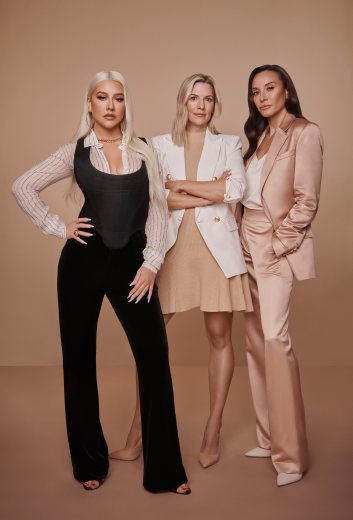 In the past couple of years, the sexual health category has been on fire. Ulta Beauty and Sephora have both begun to sell vibrators and lubes, expanding the definition of a beauty or wellness product. What's more, there have been countless lube launches. Magee noted that, in spite of the proliferation of launches, there hasn't been innovation. "Most of the brands that are new and part of this renaissance are just white-labeling a drugstore formula," she said, explaining that lubricant must be FDA-approved.
Playground's formula is different from its competitors, she said, noting, "We have six ingredients that have never been put in a lubricant before." The brand uses a proprietary adaptogen blend that includes ashwagandha, black cohosh and horny goat weed, all of which increase blood flow, she said.
"Six out of 10 women have arousal issues — in some cases, dysfunction," Magee said, referring to Cedars-Sinai research. "And women are prone to irritation from sperm and condoms. We use hyaluronic acid and vitamin E to help lock in moisture."
"It's a wellness issue," Aguilera said, of her new mission to bring attention to Playground. "It was so sad to me to realize that [women] walk into a store and think nothing of buying a hair or makeup product, to make us feel pretty. But … [wellness] starts on the inside. I was shocked to find out … that this is a decades-old space that has predominantly been taken over by men who don't have vaginas and who are putting harmful ingredients for women [in these products]."
Magee's background is in beauty: She previously held roles in marketing at Bare Minerals, Rodan + Fields and The Balm. She said one of her goals is for women to speak as freely about sexual wellness and self-care as they do their beauty routines. To that end, it's not surprising that Playground is design-forward. The blush bottles are designed to be a "bedside best friend," according to Magee. "It's so pretty, it's so soft, and it just fits in with your other products," Aguilera said, of the packaging.
In tandem with the brand's announcement of Aguilera's involvement, it will debut a "personal conversation" between Aguilera and Dr. Emily Morse (@sexwithemily; 500,000 Instagram followers). Playground, Aguilera and Morse will share the video across social media platforms. Aguilera, or @xtina on Instagram, has 8.9 million followers. Aguilera's role with the brand is more about being a "voice" than a "face," Magee said.
"She really wants to help change us change the stigma around [sexual health]. So that's step one," she said.
In April, Playground will launch at Revolve and Urban Outfitters. To date, the brand has been available on Amazon and its own website.
Aguilera hopes to inspire other women with her own view of sex positivity: "The vagina is our epicenter and our source where everything's dumped out. If our vagina feels good, we feel good. I just want to keep progressing and pushing the conversations forward, making this safe and also fun! Sexuality is a fun thing. Case in point, with the name: Playground. We are our own playground and our own vessel. [Vaginas] deserve respect and love and to be taken care of and nurtured. That's what we're trying to do with this special product — to give people something they can feel good about in their hands, and vaginas."
Featured
Visit the Pop Shop to browse all products featured in Glossy Pop.