To receive the Glossy Pop newsletter in your inbox every Friday, click here.
There's a new sound on TikTok. "OMG! Your Eras Tour outfit looks so fucking good!" a voice says, before moving into the chorus of Taylor Swift's song "Karma" from her newest album, Midnights. It plays over a transition of someone wearing a low-key look to wearing a glitzy outfit for Swift's Eras tour, currently sweeping the nation. The Eras Tour kicked off on March 17 in Arizona and has all but dominated TikTok feeds ever since. Even non-Swifties are reporting to me that "Eras Tour content" has taken over their TikTok.
The noise around the Eras Tour has been building for months, following its historic rollout of ticket sales in November. It caused Ticketmaster to crash, and ultimately led to congressional involvement. In the four months since, Swifties have only become more excited, to say the least.
The hashtag #ErasTour has 3.5 billion views. #TheErasTour has 2.2 billion and #ErasTourTaylorSwift has 736 million. #ErasTourOutfits is its own sizable category, with over 318 million views. #ErasTourOutfit has 148 million views and #ErasOutfitIdeas has 29.9 million views.
The past few years, particularly those since lockdown amid the rise of TikTok, have changed the meaning of concert fashion. Whereas once, what one wore to a show did not matter — after all, they were there to watch someone else perform — concerts have become veritable runways in their own right. They are breeding grounds for creating content and, in the case of artists like Taylor Swift and Harry Styles, for fans to showcase their dedication and creativity. The resulting outfits lie somewhere between displays of personal style, costumes and pure homage.
A scroll through the #ErasTourOutfits tag showcases Swift fans' extreme devotion, time and commitment. There are outfits dedicated to the aesthetics of every Era — for example, rebellious looks for Swift's 'Reputation' era and prairie girl vibes for "Folklore." There are TikToks showcasing impressive transitions as people share their pre-concert "Get Ready With Me" videos, and there are street-style posts of fans filming other fans' best looks at the stadium.
For a true sense of the fashion scene at the Eras Tour, I spoke to a number of fans who've already attended a show.
Mary Berry, 45, founder + CEO of skin-care formulation company, Cosmos Labs, went to the March 31 show in Arlington, Texas with a group of eight moms and daughters, all of whom dressed for different Eras. Berry wore "a midnight-blue sequin top, faux leather skirt and bejeweled Gucci boots with a snake on the sole — and lots of Taylor friendship bracelets with her lyrics that my daughter and I made!" But the pièce de résistance of her outfit was her $275 manicure, a painstaking tribute to Ms. Swift's albums. "My nail artist (dylana.do.my.nails) painted them and then glued them to my nails," Berry said.
Berry posted about her nails and her night at the show on Instagram Stories. "Everyone was so amazed by the nails, especially," she said. "I received so many comments about how the details were so tiny and intricate. People loved how each nail represented each album so creatively."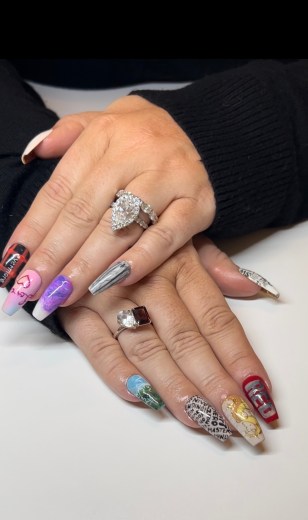 Amber Fillerup, 33, influencer and founder of descriptor Dae Hair, went to one of Swift's Las Vegas dates with her sister. In terms of her look, she said she aimed to tread a line between comfort and style. "I wanted to wear something I could just be cozy in all day," she said. She noted that she had VIP tickets and arrived at the venue at 3 p.m., even though the opening acts didn't go on until 6:30. "But I also wanted to have something that felt unique [and] that I could have forever," she said.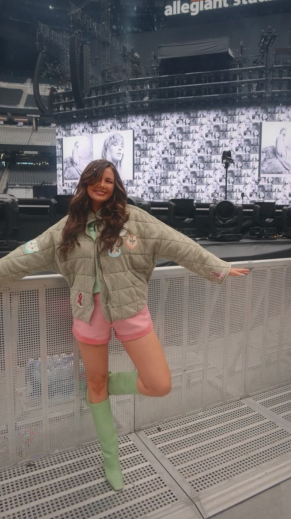 Fillerup took a DIY approach to her look. She wore pink leather shorts from One Teaspoon and green Miista boots, which she paired with Free People's bestselling Dolman jacket. She customized the jacket with patches designed by the graphic designer she employs for Dae and her blog. There were patches for Swift's cats — Meredith Grey, Olivia Benson and Benjamin Button — as well as Swift's lucky number 13 and her various eras. The back of Fillerup's jacket featured patches spelling out "SWIFTIE ERAS TOUR." Fillerup has been a longtime fan of customizing via patches, she said. "You can put them on a piece you already love and is flattering on you, versus trying to find something Taylor-related that you're not obsessed with."
Clark shared the look with her 1.3 million Instagram followers, originally intending to even share the patch patterns, too. Ultimately, her lawyer advised against that, she said. "They were like, 'She has her cats trademarked. She has basically everything trademarked. So probably don't share them with your followers, just to avoid anything.' But [my followers] loved them," Fillerup said.
Amy Beihl, a 32-year-old digital consultant who works with nonprofits and political campaigns, flew from NYC to Arizona for the second night of the Eras Tour. She went with a group of five friends. One, based in Arizona, had purchased the group of tickets. For her part, she said, "I was a little bit stressed, mostly because I didn't have a lot of time to execute on an idea." She went with a "Reputation"-inspired look. "I ended up wearing a black V-neck dress with fishnets, and then I did elaborate makeup and used a lot of the sticky gems, very 'Euphoria,'" she said.
Beihl anticipated that attendees would show up having given consideration to their looks, but said, "It was way more intense than I imagined." She noticed tons of handmade outfits and said that every detail — makeup, hair, shoes, bags — had been thought through and coordinated. Many chose to have their outfit correspond with a certain Swift era, she said.
"There were also [those] who did deep dives into Taylor's Instagram and dressed up as her from a particular paparazzi photo or Instagram post. These people went all out," she said. Furthermore, she said, fashion was a prevalent topic of conversation. "When I was standing in line for a drink, all you could hear was, 'Oh my god, I love your outfit!' 'Oh my god, I love your outfit!' Like, 'That's so cool — did you make that?'"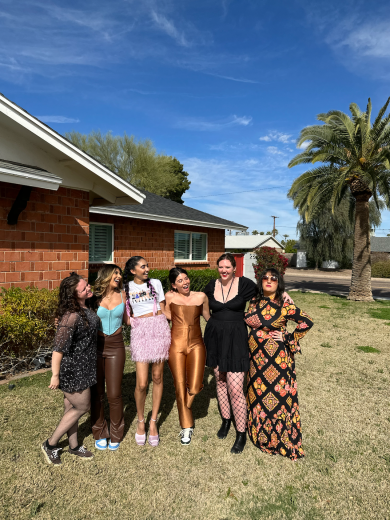 Beihl got the impression that some fans were trying to out-Swiftie each other. "Some people's outfits [referenced] deep cuts … like Swift's graduation speech at NYU. They wanted to show that [they were] the most loyal Swiftie, which I thought was kind of funny." Of course, in a perfect world, they'd get Swift's attention, too.
On TikTok, others showcased the time and devotion they gave to their Eras looks. For example, in a post with over 313,000 likes, TikToker @adrianamarie2013 shows herself bedazzling her outfit, gemstone by gemstone. A prior post notes that her look took over 1,500 rhinestones and three months.
Concert fashion is not what it used to be. There is a give-and-take of sorts between artist and fan. Harry Styles fans are known for the whimsical, colorful all-out looks they wear to his shows — especially when he does special 'Harryween' shows for Halloween. For this very reason, he was dubbed 2021's "ultimate style icon" in a Glossy Pop article.
Swift's own looks, engineered by her long-time stylist, Joseph Cassell, have fueled the fire. She's been seen in floaty frocks by Etro, Alberta Ferretti gowns, and bejeweled (pun intended) looks by Zuhair Murad and Oscar de la Renta, and all of the Eras shoes are by Christian Louboutin. These looks are getting their own share of social buzz, so it's no surprise that fans want to play the game, too.
Ultimately, Beihl found a sincerity in the experience of dressing up for the show and fans enjoying one another's creativity and shared love for Swift. Given the constant turmoil of the external world, people are looking for havens where they can find them. Shared love of a musical artist, one whose lyrics are so well-known that 70,000-person packed stadiums can sing along, is an unsurprisingly positive space.
"There's an earnestness in it — that, and the idea of a safe space. People really wanted to show off their creativity and they wanted to … maybe even impress [Swift] a bit. You were almost making a deal with her. She's [putting on] this amazing show, so I'm gonna show up and look amazing. I didn't see a single person who was just in jeans and a T-shirt. Everyone did something, and that was really cool."
Ardell goes from mass to Sephora

On April 6, Ardell, known for its false lashes available at mass retailers like Target and CVS, is launching at Sephora. The brand is owned by American International Industries, maker of Duo Lash Adhesive, which is already sold at Sephora. For Ardell's Sephora launch, the brand partnered with the retailer on two exclusive styles, to start: Faux Mink 018 Dramatic and Faux Mink 023 Natural. Unlike other Ardell lashes at Sephora, they will be sold with the Duo Lash glue and each will be priced at $14.99. Faux lashes currently available on Sephora's site are primarily by Lilly Lashes and range from $20-$35.
Inside our coverage
Bandier & Body Roll's collaboration proves to be TikTok gold
With new C-suite and beauty brand launches, Maesa plots 2023 growth
Express's losses may get it delisted from the NYSE
Reading list
In 2023, will everyone abandon their facial filler?
Bath & Body Works makes C-suite changes
Gen Z is worried about climate change — and their shopping habits prove it