From Olivia Rodrigo's album cover to the Met Gala red carpet, stick-on beauty was everywhere this year.
While 2020 gave rise to the decorative zit sticker, 2021 has seen a surge in stickers as makeup. With a wave of new launches over the course of the year, there's now a sticker for everything, including decals for nails, eyes and body. Driven by pop culture, celebrities, influencers and social media, the rise of stickable makeup is part of a broader embrace of self-expression and bold looks in beauty — and an answer to demands to make them easier for the average person.
"Stickers could be the future of makeup because they're so accessible, instantaneously gratifying and easy for anyone to use," said Donni Davy, makeup artist for HBO's "Euphoria," who discovered eye stickers on Instagram while researching looks for the character Jules. She used several looks from eye sticker brand Face Lace in the first season of the show that aired back in 2019, helping to catapult the trend into the mainstream.
"People want to do fun makeup. People who are not quote-unquote 'good' at makeup or super experienced with it — even those who don't have all the tools for it — are interested in doing cool makeup. They [want to] use their face to express themselves or just to decorate for fun," she said.
Since "Euphoria" first aired, the eye sticker trend has only gotten bigger. In February this year, Davy launched a collab with Face Lace for "Euphoria"-themed eye art stickers, and a contingent of new entrants have since entered the market. In August, L.A.-based DJ sisters Simi and Haze Khadra launched their beauty brand Simihaze. The brand's bold eyeliner stickers have gained visibility from celebrities like Hailey Bieber, who posted a selfie on Instagram wearing their holographic stick-on eyeliner, and the members of Blackpink, who showed off the brand's neon looks on their joint Instagram account. PaintLab also launched colorful eyeliner stickers in the summer of 2021, which were promptly picked up by Urban Outfitters.
Twentysomethings are an especially big driver of the eye sticker trend.
"Our demographic is focused on Gen Z and even zillennials," said PaintLab founder Karina Sulzer. "They're making the trends. And we want to keep up. Scrolling through Instagram or TikTok, you'll see people wearing bright colors and cool patterns, and mix-matching styles, and we wanted to emulate that in our brand."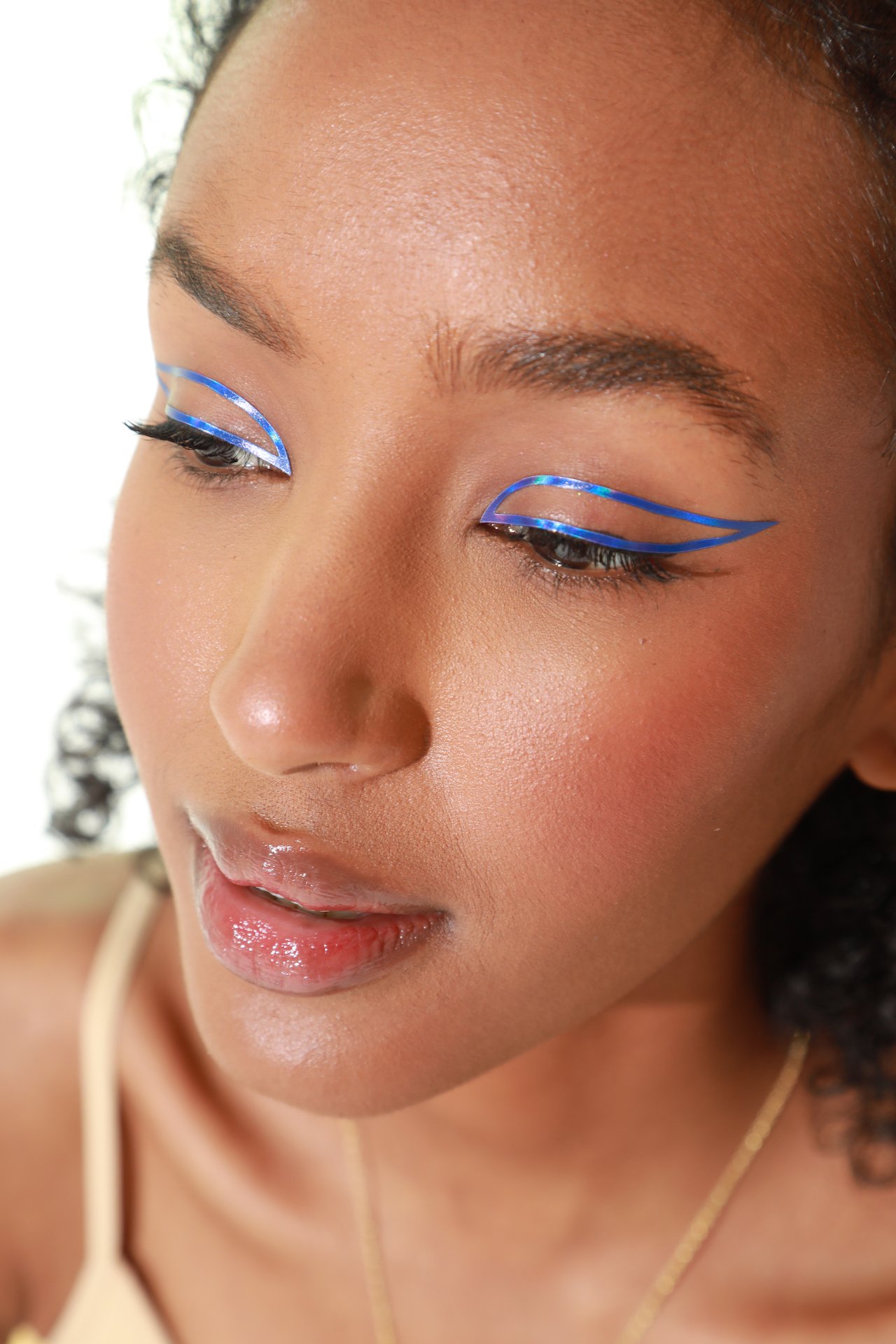 Also driven in large part by "Euphoria" is the return of the stick-on face gem. The look found its way to the Met Gala red carpet this year via guests including Amanda Gorman, Lil Nas X, Julia Garner, Grimes, Ella Emhoff and, naturally, "Euphoria" actress Storm Reid.
"I feel like all I've seen is rhinestones on Instagram and TikTok. That really blew up after 'Euphoria' Season One," said Davy. She predicted that "using them in a more refined way is the next big thing." This may be driven by Season Two, which airs in January and will feature "really tiny" rhinestones on the makeup looks. "That was a fun way of approaching rhinestones, because instead of really looking like gems, they have this more subtle twinkle to them," she said.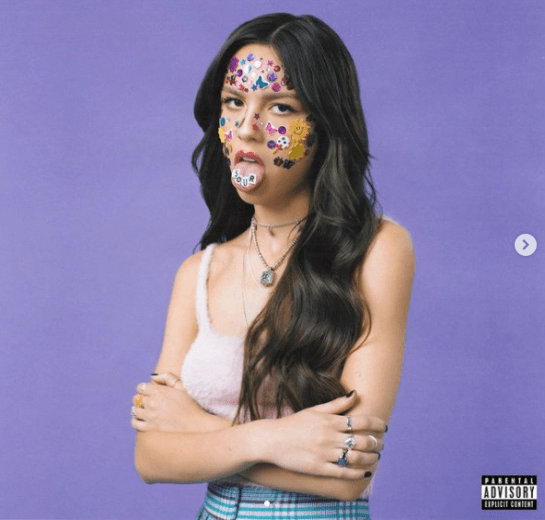 As Olivia Rodrigo's bold album cover showed, sticker decals aren't limited to eyeliner. Brands are launching face and body decals, too. Most recently, beauty influencer Pony's collab with Morphe included face decals as part of its collection.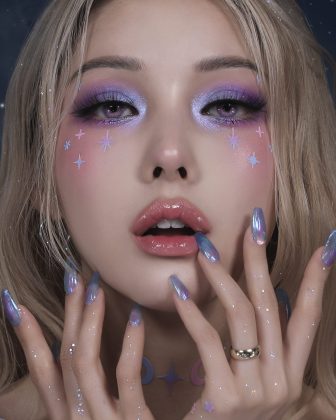 The face decal trend certainly isn't "new." Decals in decorative shapes were actually used throughout the centuries to cover face lesions from diseases such as smallpox. Now rediscovered by Gen-Z and millennial consumers, they're all about self-expression.
"Makeup as an art form allows one to express themselves in so many different ways, using products or items that are outside of that 'traditional' makeup product assortment," said Pony. "We've been seeing a growing trend in incorporating decorating gems or pearl pieces to create a look. Decals are also a great way to add that extra sprinkle of pop to your makeup, and they can be used by anyone, as they're easy to apply." With Coachella slated to make a comeback, she expects to see many decal purchases for festival season.
The sticker craze has also caught on in nails, via a wide range of brands including Deco Miami, Olive & June, Jinsoon, Gucci Beauty, Sephora Collection, Coach and Ciaté London.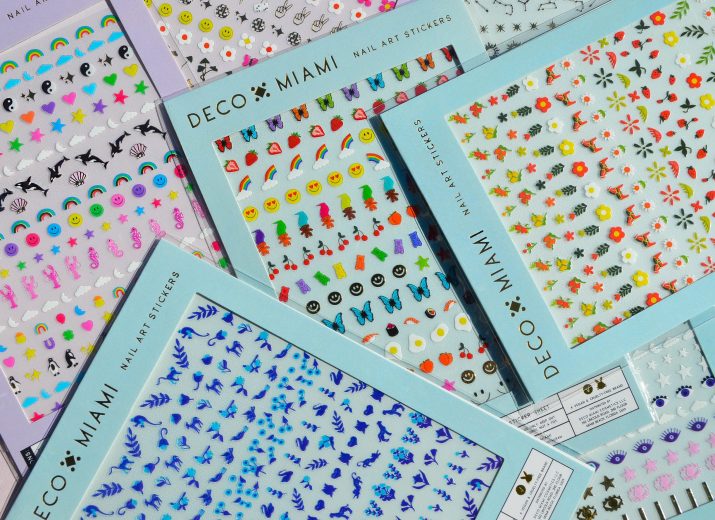 Nail decals have been a growth driver for brands. When Julianna Dahbura launched her nail startup Deco Miami in 2015, the initial focus was nail polish. In 2018, she started working on a set of nail stickers, which she thought would be a fun extra to her collection. Created using images she illustrated by hand on a Stylus, the decals saw a surge in demand when the pandemic hit.

"It became immediately clear with my 2020 audience and customer base that I had something very special with the stickers," said Dahbura. The stickers are now her best-selling product category, and she has around 30 different themed nail art sheets. She now considers her other nail products to be "secondary" items for the brand. Like PaintLab's eye stickers, her stickers have also been picked up by Urban Outfitters, with the brand's "evil eye" collection serving as a best seller.
Also launching nail stickers in 2020 was Ciaté London, which gained visibility for the product when TikTok star Addison Rae wore the brand's smiley face stickers on her nails in a TikTok post.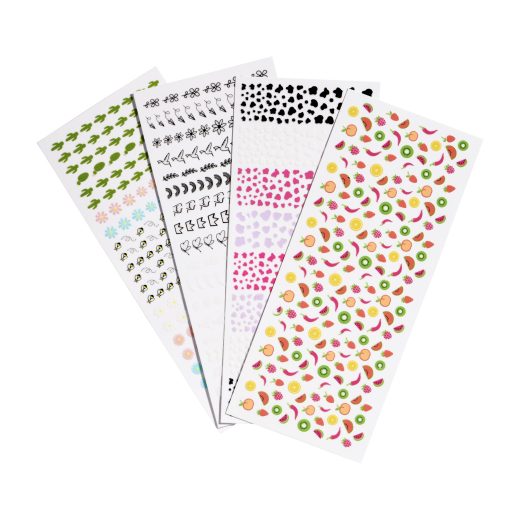 In addition to decals, Ciaté London has also joined in on the nail wraps boom, along with brands including ManiMe, Orly, Glamnetic and Artips. A sticky alternative to the hard press-on nail, nail wraps deliver instant, perfect-fit nail art "manicures" to nails.
Inspired by the rise of nail art on social media that's been driven by nailfluencers and celebrities, Gen Z and millennials are the main consumers in the nail sticker category.
"We've definitely seen that [products with] more playful designs, like our Tie Dye Nails Wraps and Garden Party Cheat Sheets, get more love on platforms that are oriented to a slightly younger audience, e.g. TikTok," said Charlotte Knight, founder and CEO of Ciaté London, via email. "And more classy designs, such as metallic ornaments, will get more features within millennials' Instagram and YouTube videos."
Gen-Z celebrities and influencers have been big drivers of the sticker nail art trend. Earlier this month, Gucci announced a collaboration with Billie Eilish featuring logo-clad nail decals, while Lil Huddy launched a nail wrap collaboration with Glamnetic in August.
According to Knight, the pandemic was also a factor in the growth in the designs' popularity.
"When our stickers were still in the development process, we didn't foresee at the time that the nail salons would close or what a hit the [product] would be," she said. The idea "was to create a product that is easy for consumers to use at home. We wanted them [to be able] to get creative and recreate the nail art seen and inspired by social platforms such as Instagram."
The rise of stickers doesn't necessarily mean minimialism is dead when it comes to beauty, however.
"You can have a really cool, elegant and minimal look that involves an adornment of some kind," said Davy. "That's almost my favorite kind of look. I love doing extravagant, layered color scapes on eyelids that have different textures going on. But what's really beautiful is a minimal, earthy, almost nude look that uses an adornment of some kind."