According to Glossy-exclusive Launchmetrics data, TikTok is the ultimate platform for driving interest and virality for mass products.
For the month of July, the most talked about mass beauty brands and products overall were Maybelline's Sky High Mascara, Nyx's Bare With Me Hydrating Concealer Serum, Revlon's Oil Absorbing Volcanic Roller, Essence's Lash Princess Mascara and Milani Cosmetic's Color Fettish Matte Lipstick. These brands are ranked by MIV, a proprietary Launchmetrics metric standing for media impact value. MIV tracks the impact of influencers, print media, celebrities, official third-party partners and a brand's own media channels.
"Looking into drugstore makeup brands that gained popularity in 2022, it is evident that many cosmetic products can gain virality through social channels thanks to providing affordable makeup options," said Alison Bringé, CMO of Launchmetrics.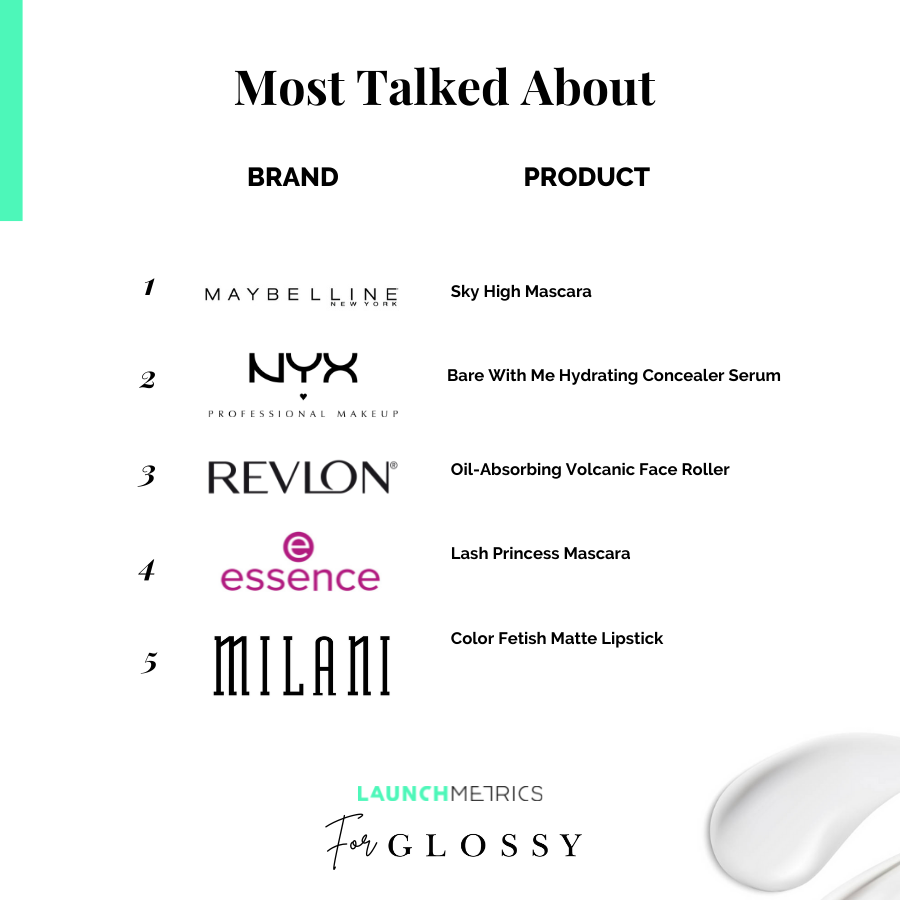 Unsurprisingly, affordable beauty products and even beauty "dupes" have taken center stage. Customers are always eager to experiment with less expensive products, especially in a trend-driven environment like TikTok. But economic concerns around an impending recession have also underscored a shift in consumer behavior. According to Glossy's previous reporting, in addition to "dupe," Google's data found that searches for "buy 1 get 1" increased 60% year-over-year from 2021. Searches for promo codes have also doubled.
Maybelline's Sky High Mascara did exceptionally well this year, earning the brand $7.91 million in media impact value. The mascara found fanfare on TikTok when it first launched in January 2021 with the hashtag #skyhighmascara and received more than 547 million views. It proved so popular that its U.K. launch was moved up by three months, and there, it became the No.1 selling makeup product in Superdrug, according to the U.K. newspaper Independent. And yet, according to Launchmetrics, the mascara — which, in its rose-hued tube, is similar in appearance to Too Faced's Better Than Sex — saw 54% of its MIV generated through placements on YouTube alone.
TikTok overall is the biggest throughline among the top-five ranking products. The No. 2 most popular product based on MIV is Nyx Professional Makeup Bare With Me Concealer Serum. TikTok superstars like Mikayla Nogueira (@mikaylanogueira, 13.1 million TikTok followers) provided rave reviews. In her original video review posted in Oct. 2021, Nogueira said, "This is, hands down, one of the most beautiful concealers I've ever used, and I've used a lot of concealers. I was absolutely shocked. I have absolutely fallen in love with this, and it does deserve to go viral." The video received over 2,200 comments and 460,000 likes.
It's not surprising that TikTok has become a place for beauty discovery. At a recent industry event, a Google executive said younger consumers were turning more toward Instagram and TikTok instead of Google Search or Maps for discovery purposes. A June 20 TikTok from Anastazia Nash (@Stazzylicious; 475,000 TikTok followers) pointed out this exact shift in behavior. That video garnered 145,000 likes and over 780,000 views.
Such product discovery was evident in the case for No. 3, Revlon's Oil Absorbing Volcanic Roller, which captured the attention of TikTokers for its ability to absorb excess sebum oil in an easier-to-use format than blotting papers. Meanwhile, Essence's Lash Princess Mascara is supposedly a No. 1 Amazon best-seller, with over 261,000 reviews and a 4.5 out of five stars ranking on the site. During Prime Day, it was discounted from $4.99 to $3.99. The drugstore brand first launched in Germany in 2001 before heading to the U.S. in 2008. It sells through Ulta Beauty, CVS and, more recently, Target.com. It will expand to over 300 Target doors in February.
The DTC and social media approach has performed well for all the brands mentioned above. Milani Cosmetics, in particular, has seen the payoff after pivoting away from its usual launch strategy. Its Color Fetish Matte Lipstick is ranked No. 5 in MIV. Since 2019, the brand has moved away from traditional media channels in favor of launching products and informing customers via social media. Found at Ulta Beauty, Target, Walmart and Walgreens, Milani is an affordable brand best known for serving diverse consumers. As Glossy reported in June, the brand's strategy has paid off, with Nielsen sales data for lip, eye and face makeup categories ranking Milani at No. 9 for the 12-week period ending April 23. Since the brand joined TikTok in Feb. 2021, four of its 2022 launches have gone viral. The brand credits its affordability intersecting with a cost-conscious younger viewer on TikTok. The Color Fetish Matte Lipstick saw a 328% average weekly sales growth after unpaid TikTok posts gained attraction.
"Milani is poised to continue its social virality and growth trend as consumers make discerning choices during challenging times without having to sacrifice on quality," said Jeremy Lowenstein, CMO of Milani, in a previous Glossy interview. "Milani women do not want to compromise."