All products featured on Glossy Pop are independently selected by our editorial team. However, when you buy something through our retail links, we may earn an affiliate commission.
Following its January 2022 launch, Saltair, a brand created by The Center, a brand incubator, and model and influencer Iskra Lawrence, is in expansion mode. The beauty and personal care brand launched with just body wash, lotions and deodorants.
The brand is launching into hair care with two shampoos and two conditioners: Moisture Bound, a hydrating formula that comes in the brand's hero scent, Santal Bloom, and Recover & Restore, which is made for damaged hair and introduces a new scent, Pacific Pear. According to The Center, the Santal Bloom-scented body wash is consistently the brand's No. 1 seller and accounts for half of its body wash sales. Like the brand's body washes, the new hair-care products come in aluminum bottles with pumps and cost $12 each — though look more expensive. In December, the brand will launch two more hair sets: Curl Control, made for curly hair, and Beach Blonde, for blondes.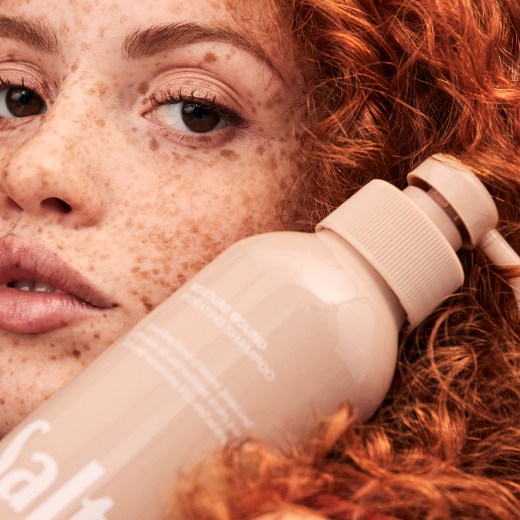 Saltair has become well known for its scents, so the new ones are hotly anticipated. For example, Saltair launched a deodorant in a scent called Seascape and now gets requests from customers to make its body wash and lotion in the scent, according to Lawrence. In addition to body wash, lotion and deodorant, the brand currently has one body oil and one body scrub, the latter of which targets keratosis pilaris.
"It makes so much sense for Saltair to go in [this] direction. We already speak to fragrance layering and we talk about the sensorial experience. And for me, hair care takes that to another level," Lawrence said. "It's been really exciting for me, [because of course I've] known we're launching hair care, and we've seen so many people sharing about Saltair and how they love the consistent story of fragrance, from their body wash to their lotion to their deo. We're in the office saying, 'Ah, they don't even know there's going to be hair care soon."
As for the timing of the launch, it was important that the brand establish its identity before expanding into new categories, saido The Center COO Christan Rhodes. The brand's tagline is "every body is welcome here."
"Iskra has been such an advocate for body positivity. [We wanted] to make sure that our message was super clear that this is a brand for everybody — no matter the category. Starting in body care was a natural way for us to introduce that message," Rhodes said.
Lawrence, 32, grew up, loving Herbal Essences; she recalled watching the commercials in between episodes of "Desperate Housewives," and said that the brand marked a "fun and transformative experience in the shower."
She added, "Obviously, the hair holds fragrance so well. I'm pretty sure that was my first foray into understanding the power of fragrance."
Saltair opened a waitlist for the hair products, which customers joined on its website, and promoted it on social media. It had accumulated 20,000 email addresses as of press time. The products go on sale November 2 on Saltair's website and Amazon.
In January, the brand will launch in a national retailer. Lawrence said that was always the brand's end goal, though she declined to name the retailer. Brick-and-mortar retail will be an important piece of the brand's puzzle, she said.
"2023 is going to be a huge year because if there was anything that was making people hesitant to order [our products], it was [not] seeing it and smelling it," said Lawrence. "But as soon as people do, they buy it."