Since it debuted in 2019, the impact of HBO's hit show "Euphoria" has been wide-reaching. In the beauty space, it has encouraged legions of fans to take more risks with makeup like the stars of the show, Zendaya's Rue Bennett, Hunter Schafer's Jules Vaughn, Alexa Demie's Maddy Perez and Sydney Sweeney's Cassie Howard. Their looks have made the show's makeup designer, Donni Davy, a star herself. Davy's highly anticipated makeup brand, Half Magic, created in partnership with A24 — the production company behind "Euphoria" — launches next week.
Alison Bringé, CMO of Launchmetrics, attested to the show's powerful impact on fashion and beauty. "There is no doubt about the impact 'Euphoria' has had on fashion since its premiere. Each character's unique style has had a strong influence on fashion and beauty trends through fan-inspired content on social channels," she said. Jules Vaughn, played by Hunter Schafer, gains attention due to her recognizable looks with her eclectic makeup and styling. In particular, she has also influenced the popularity of eye stickers, thanks to her rhinestone and bedazzled looks.
According to Bringé, "Wearable face gems are also becoming more mainstream, thanks to their ease of use, especially with the steady return to festival season including the recent Coachella 2022." When Glossy last wrote about Davy, nearly a year ago, the hashtag #euphoriamakeup had 296,000 posts on Instagram. Today, it has 551,000. On TikTok, the same hashtag has 2 billion views.
Exclusively for Glossy, Launchmetrics ranked the top-five buzziest eye decals, gems and stickers in April, based on media impact value (MIV). At the top of the list is clean makeup brand Pley Beauty, founded by actor Peyton List, which launched in January. It was followed by Face Lace by Phyllis Cohen which has collaborated with Donni Davy. Popular brands like Colourpop, in third place, and E.l.f. Beauty, in fifth, also ranked. In fourth was newcomer Simihaze, launched by the DJ duo Simi and Haze Khadra.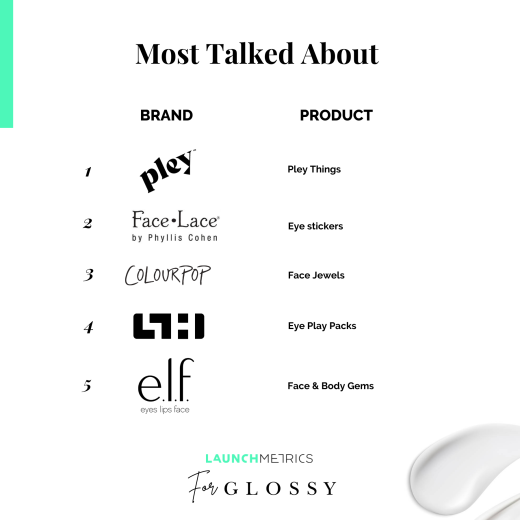 In the years since "Euphoria" premiered, the once "out-there" style of makeup highlighted on the show has gone mainstream, with eye decals, adhesive gems, stickers and other iterations on the trend becoming widely available from a handful of brands.
Pley launched with "Pley Things," a line of face and eye decals. Pley Things were meant to serve as a hallmark of its starting assortment, not an afterthought. "Gems were always central to our launch strategy because they inspire creativity and add a personalized touch to your look," said Laura Staves, general manager at Pley Beauty.
"Our Pley Things [product] has been incredibly well-received," Staves said, noting that customers love the variety and that the post-quarantine timing of the brand's launch has also been a boon. "[People are] ready to wear makeup in new, inventive ways," she said. "They are ready for experiences, like festival season, and they want their makeup to match their moment." To that end, the brand "experienced a healthy spike [in sales] leading up to Coachella weekend." Staves noted that Coachella's first weekend has traditionally been a trendsetting moment, so she expects the sales to sustain "well through the summer months."
"When we were launching these [decals], our only main competition was Amazon options under $10. We thought price points were going to be an issue, but consumers are seeing the value in the assortment and the quality," Staves said. The brand's most expensive option, its Love Child Pley Things, are $24 and best sellers.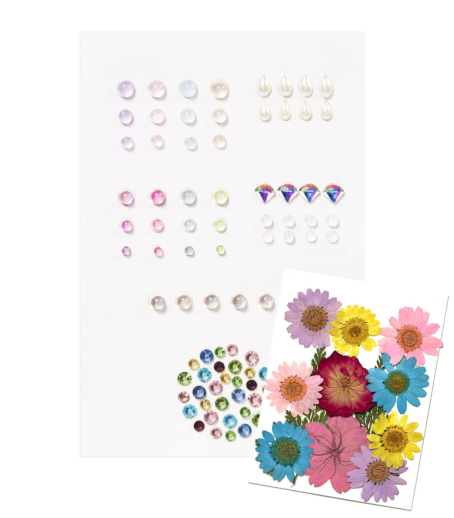 "We are starting to see more brands introduce gem options, which is encouraging because it will push for more innovation and pave the way to becoming a new staple in the beauty category," Staves said of the category's growth. According to research by shopping service app Klarna and published in Elle, "The purchase of rhinestones increased 2,607% from December 2021 to February 2022."
"Face adornments are a hybrid between beauty and fashion, it's a way to accessorize your beauty look to match your outfit much like a piece of jewelry would."