To receive the Glossy Pop newsletter in your inbox every Friday, click here.
All products featured on Glossy Pop are independently selected by our editorial team. However, when you buy something through our retail links, we may earn an affiliate commission.
On the heels of the long weekend and the official start of summer, Pop is taking a look at some key trends in beauty and fashion and the reasons they're resonating. Warning: This week's newsletter may inspire several purchases.
Paging your teen self: Body sprays are back
Makeup and fashion are not the only areas where Y2K is making a comeback — fragrance wants in on the trend, too. According to Spate, body sprays see 91,400 searches on average each month, a growth of 9.8% compared to last year.
"It" brands like Ellis Brooklyn and Michelle Pfeiffer's Henry Rose are newly exploring the emerging trend, while Sol de Janeiro has had huge success with its body sprays for years. Sol de Janeiro's famous Brazilian Crush Body Fragrance Mist has seen search growth of 29.5% year-over-year. Ralph Lauren's Polo Red, Black and Blue Body Sprays are also popular, with an annual search increase of 16.6%. Saltair, the body and hair-care brand founded by influencer Iskra Lawrence, also recently converted three of its most popular body wash and deodorant scents — Pink Beach, Santal Bloom and Pacific Pear — into body "mists," sold for $14 each. Two of the three scents are sold out, though customers can sign up to add their names to a waitlist.
"I've always thought that the best beauty products are a reflection of the times," said Bee Shapiro, founder of Ellis Brooklyn. "Right now, we can all use a little levity, something not so serious. When I think of our body mists, they were created and designed for a little daily joy."
Shapiro and Pfeiffer's new iterations, however, are not the mall-store body sprays you may remember. They're more elevated, and more expensive. Ellis Brooklyn's come in glass bottles and retail for $45 each. The scents are beach-inspired, aptly named Sun, Sand and Sea.
The Henry Rose offerings, which officially launch on July 10, will retail for $75 each. According to Kristy Engels, Henry Rose's vp of marketing, the sprays are housed in aluminum canisters because sustainable packaging was prioritized. The brand's sprays come in three scents: Blonde Barry, Mustang Sally and Boys of Summer.
Body mists have lower concentrations of scent than perfume, so they do require reapplication. "Body mists are easygoing and meant for liberal spraying," Shapiro said.
Vests are summer's must-have top
Once upon a time, the quickest way to complete an outfit was with a "going-out top." Now, a look can be pulled together with a vest. Given the current scorching temps, vests are being thrown on as chicer alternatives to tank tops. And versions by brands including Favorite Daughter by Erin and Sara Foster and suiting go-to Argent are among brand best-sellers.
The trend of vests worn as tops has been popularized by key fashion tastemakers and influencers, said Carla Calvelo, Favorite Daughter's creative design director.
"Blurring the lines of masculine and feminine [style] continues to be an incredibly popular way for customers to dress, and the vest is offers the perfect way to [get the look]," said Jordan Foster, Favorite Daughter's style director. The brand's Favorite Vest has been a customer favorite, she said.
At Argent, "we've seen excitement grow specifically for our tailored waistcoat silhouette since its introduction for fall 2022," said Sali Christeson, the brand's founder and CEO. The brand's spring 2023 iteration — the same style, but in navy linen — is nearly entirely sold out.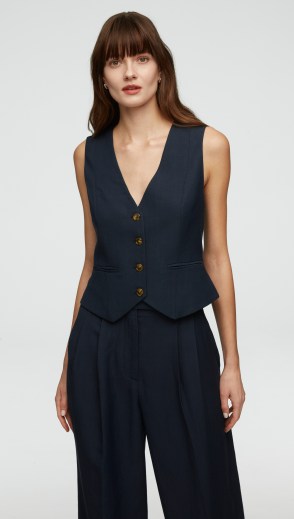 "The vest silhouette is a nod to classic tailoring," Christeson said. "We introduced it as a piece that would layer with our existing blazer and trouser styles for an updated take on a three-piece suit, but we also knew people would respond well to the versatility of the tailored piece that can be worn as a sleeveless top with a pair of wide-leg jeans or over a T-shirt." As a result of the vest's success, the brand plans to introduce new colors.
Matching sets are having a moment across fashion, so in addition to casual styling, consumers are also pairing vests with coordinated blazers and pants — aka, three-piece suits. It's the full-on opposite of the sweatsuits we lived in in 2020.
Ballet flats are still in, but now you need a mesh pair
In October 2022, the Glossy Pop Newsletter reported on the return of the ballet flat. The story included a style by Loeffler Randall, its Leonie flat, which was inspired by creative director and co-founder Jessie Randall's childhood dance classes. In the months since, the brand has continued to iterate on the popular style. In April, it introduced a mesh style embellished with crystals and offered in two colors: a caramel and a baby blue. Both sold out within 48 hours. When the brand launched a restock in May, it sold out again — this time, in three days, said Lucy Hinchliffe-Schwartz, the brand's senior director of sales, merchandising and planning. Its retailers, including Bergdorf Goodman, Saks and Shopbop, have similarly sold out of the style. The brand is aiming to restock the style once again in August.
Other brands including Dear Frances, Sandy Liang and Mango have also seen success with mesh takes on the classic ballet flat.
8 beauty launches to know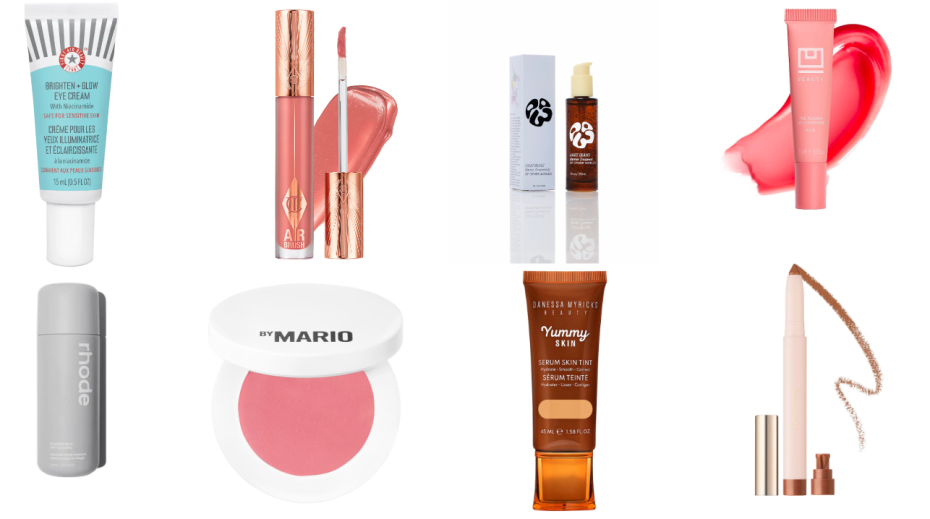 These eight beauty launches, all of which have debuted in the past couple of weeks, are worth knowing about.
First Aid Beauty, Brighten + Glow Eye Cream with Niacinamide ($36)
This eye cream's touted long-term benefits are great — who doesn't want to reduce the appearance of dark circles? But its immediate benefits are also worth noting: It's said to offer a pearlescent glow that instantly smooths and brightens. It works on its own or under makeup, and helps erase the evidence of a bad night's sleep.
Charlotte Tilbury, Airbrush Flawless Matte Lip Blur Liquid Lipstick ($35)
The beauty of Charlotte Tilbury's reinvention of the liquid lip lies in its versatility and non-drying formula. A lighter coat can be blurred out for an undone look, while heavier coverage gives a bold, high-impact and pigmented look.
Of Other Worlds, Light Beams Barrier Treatment ($68)
This gel-serum feels lightweight on the skin, but it's packed with ingredients that are said to make skin stronger while keeping it calm. Think: moisturizing ceramides, soothing licorice root, antioxidant yerba mate and gently exfoliating azelaic acid. It's the creation of beauty writer and licensed esthetician Simedar Jackson, who is also a graduate of 2023's Sephora Accelerate program.
U Beauty, The Plasma Lip Compound ($68)
U Beauty's lip balm — nay, lip compound — is expensive, but it's got a cult following. Perhaps that's because it includes fancy skin-care ingredients like peptides, ceramides, AHAs, PHAs and BHAs, which together work to help enhance volume and reduce fine lines. Now, fans can get their fix in three tints: Rose, a "pale petal pink;" Fawn, a "warm tawny beige;" and Cassis, a "rich plum wine."
Rhode, Glazing Milk ($29)
For Hailey Bieber's first true product launch since the launch of her brand last summer — apart from new lip balm flavors, that is — she went with an essence. It seemed a bit random, at first. After all, the brand is all about pared-back, excellent essentials, and essences are certainly not essential in the skin-care routines of everyday consumers. But that may be about to change. Ms. Bieber's take is a milky liquid, true to its name, that's meant to aid the user on their journey to Bieber's signature "glazed donut" complexion. It's rich in nourishing ingredients including ceramides, beta-glucan and magnesium.
Makeup by Mario, Soft Pop Plumping Blush Veil ($30)
After the success of his brand's cream-based, compact SoftSculpt Transforming Skin Enhancer, makeup artist Mario Dedivanovic has introduced a blush in a similar format. The new product comes in six pretty shades and contains hyaluronic acid, so skin gets a burst of hydration and a plumping effect, along with a pop of color.
Danessa Myricks, Yummy Skin Soothing Serum Skin Tint Foundation with Peptides + Ceramides ($36)
On hot summer days, no one wants to feel the weight of their makeup. This lightweight skin tint evens any redness and smooths over blemishes, all while feeding the skin with collagen peptides, ceramides and antioxidant-rich cactus extract.
Rare Beauty, All of the Above Weightless Eyeshadow Stick ($22)
Available in six shimmery shades, these new sticks offer the Selena Gomez spin on the perfect on-the-go, no-brush-necessary eyeshadow look.
Spate Trend Watch: Tranexamic acid serum and its skin-brightening capabilities are catching on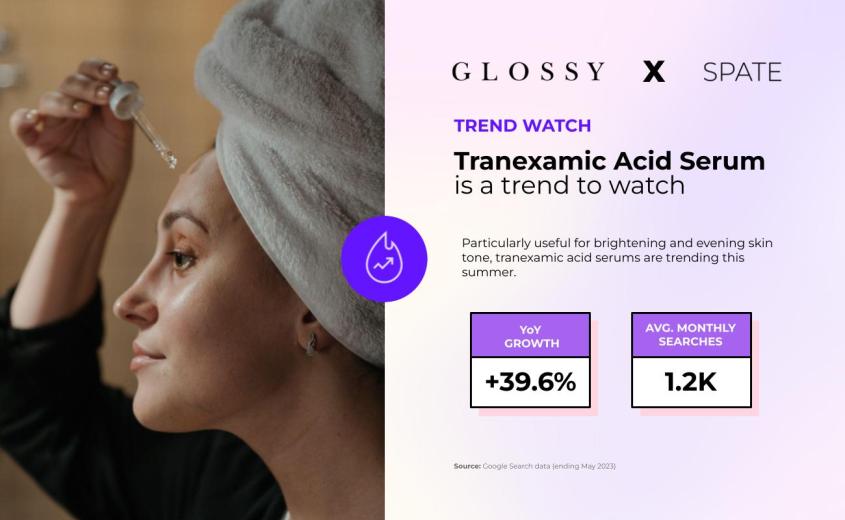 Tranexamic acid-laced serums are on the rise among the skin-care community, with Google searches growing by 39.6% from June 2022 to May 2023, compared to the same period a year before. The term now receives 1,200 searches a month, on average, and it's likely to continue its upward growth in the year ahead, according to Spate's AI forecasting.
A synthetic derivative of the amino acid lysine, tranexamic acid has been widely used in medicine to control bleeding. However, its benefits extend beyond that; in skin care, it has been found to help reduce hyperpigmentation, including dark spots, melasma and post-inflammatory marks. It's also available in pill form to treat the same issues, but serum is the format seeing growth this year.
"Facial serums continue to be a bright spot in the skin-care category, seeing search growth of 9.3% since last year. The recent growth of tranexamic acid serums, a trend with relatively low consumer awareness, is a great reminder for brands that unbranded opportunities still exist in the space. They also offer a way to reinvigorate consumers' skin-care enthusiasm," said Spate co-founder Yarden Horwitz.
Inside our coverage
Armani Beauty tapped 4 male Gen-Z ambassadors to launch its new Acqua di Gio Parfum
'Everything we do is omni': How Peace Out Skincare is meeting consumers where they shop
Instagram's Threads is here — and so are the brands
Reading list
Mass brands are the next wave of beauty M&A
How Style Not Com became the darling of the front row