To receive the Glossy Pop newsletter in your inbox every Friday, click here.
All products featured on Glossy Pop are independently selected by our editorial team. However, when you buy something through our retail links, we may earn an affiliate commission.
In 2020, at the height of the pandemic, Summer Fridays launched its first merch: a tie-dye sweat set, with the brand's name embroidered on each piece. It sold out in three minutes.
"We were panicking on the phone with our merch vendor. We ended up having to do a second order because we had so many people asking to sign up for a waitlist," said Blair Badge, the brand's vp of marketing. "We were like, 'Let's do something that's really cozy and [feels like] self-care, since we're all at home. It started very organically," she said.
Since then, Summer Fridays merch has become a driver of not only sales, but also community. The brand has 632,000 followers on Instagram and 67,000 on TikTok. Those numbers are bolstered by the brand's influencer-founders, Marianna Hewitt (1.1 million followers on Instagram; 172,000 on TikTok) and Lauren Ireland (324,000 followers on Instagram; 23,000 on TikTok).
Other items outside of the brand's core skin-care offerings have taken off to a similar effect. That includes its Cloud Pouch — a $42 cosmetic case originally launched in November 2022 — and The Self-Care Rituals + Daily Planner, originally launched in December 2022. The latter merited a re-order due to its unexpected popularity. It sold out on its original launch day, prompting a waitlist, though the brand declined to comment on the quantity originally available. "We ultimately brought it back in 2023 for our community, and it sold out on the relaunch day," Badge said.
As for why selling a journal made sense for a skin-care brand, Badge said, "For the past 3-4 years, we've been talking on social media about elements of self-care, elements of wellness and the idea of setting up a routine outside of just your skin-care routine. Marianna and Lauren are very thoughtful about how they structure their days — with mindfulness, with meditation." The Summer Fridays team created the journal, based on Hewitt's and Ireland's own self-care practices. They were involved in all of the details, down to the weight of the paper, and they enjoyed the process, she said.
In March, the brand celebrated its five-year anniversary. To mark the occasion, it hosted a weekend-long pop-up at Upside Pizza in NYC's Soho and launched a "birthday collection" including New York Summer Fridays sweatshirts ($75). "Every time we have an event, leading up to it, we're like, 'Hopefully people will show up.' But for the pizza pop-up, there were lines around the block," said Kristin Patter, Summer Friday's director of influencer marketing and PR.
The brand teased the pop-up on Instagram a week and a half before it opened, and gave its TikTok community an exclusive first look at the merch and products that would be for sale. "We continued to promote the pop-up on social media leading up to opening day," Patter said. In tandem with the anniversary, the brand also launched two new shades of its best-selling Lip Butter Balm: Cherry and Pink Sugar. Both sold out globally online less than a week after launching. One tube of the balm now sells every 17 seconds.
As it grows and matures, Summer Fridays wants to position itself as a lifestyle brand, Badge said. Merch is part of that. But merch isn't a fit for all beauty brands, she said. "It comes down to the brand's ethos. At, Summer Fridays, we speak to lifestyle and 'that Summer Fridays feeling.' We're very clued into our community and what they're doing outside of their skin-care routine, and how we can add value outside of their skin-care products. It's a very natural extension. But, for a clinical skin-care brand, for example, it doesn't really make sense."
The Summer Fridays lifestyle extends to "purposeful merchandise and immersive in-real-life experiences," Patter said, noting that the brand has used its social media platforms to "establish strong connections with [its] community." That includes leveraging collaborations, social polls and user-generated content. "Ultimately, our goal is to extend 'that Summer Fridays feeling' to everyone through our online and offline experiences, and to partner with brands that share our brand ethos." The brand primarily targets millennial and Gen-Z skin-care enthusiasts.
"We've always thought of the Summer Fridays brand as a feeling. The merch is an extension of the brand. We're mindful about the merch we create as we want to ensure it serves a purpose, and our community has responded so positively to it," Hewitt said.
Some of Summer Fridays' merch items intentionally tie back to items in the skin-care collection. The Cloud Pouch, for example, currently comes in two colors: Jet Lag — named for the blue packaging of the brand's debut hero product, its Jet Lag Mask — and Vanilla, named for a popular flavor of its Lip Butter Balm.
The brand also ties merch to moments. For example, it introduced a limited-edition lilac Cloud Pouch ahead of Mother's Day this year. It decides what stays based on community feedback and sale, and it will often bring back limited-edition items if the demand is strong enough.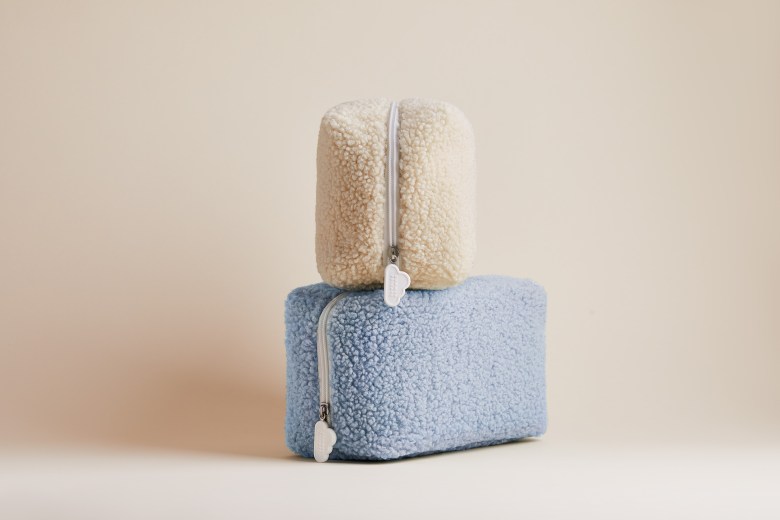 So far this year, the Cloud Pouch has been the bestseller in the brand's "Apparel + Accessories" category, Badge said. "We're exploring different iterations of our Cloud Pouch — different colorways, different sizes. We get so many inquiries on social, saying, 'I want to see XYZ version of the pouch.' So, that's the hot one for 2023. And we're already working to push ourselves and [create] the next big thing for 2024." Brand representatives declined to comment on the percentage of sales that come from apparel and accessories.
A bit reason the merch does so well is the brand's community — and the Summer Fridays team is investing in spending time with the community this summer. Last week, it kicked off a summer-long initiative, "Spend a summer Friday with Summer Fridays." As part of the campaign, the brand will host a number of events across the country, including in its hometown of Los Angeles, and also in Dallas, Chicago and Miami. "We selected these five cities based on our social media and Shopify stats [on where our most engaged customers live]. We are inviting our highest engaged community members and top customers," Patter said. The events will be intimate, with just 30-40 guests. At some of the events, guests will have the chance to preview new launches, Badge said. In LA, the series kicked off at Gran Blanco, a restaurant in Venice.
The purpose of the events is "not necessarily big bashes with hundreds of people," Badge said. "Instead, it's intimate events where our team members can have one-on-one conversations with people who live and breathe Summer Fridays."
Lunya invents a 'sleep skirt'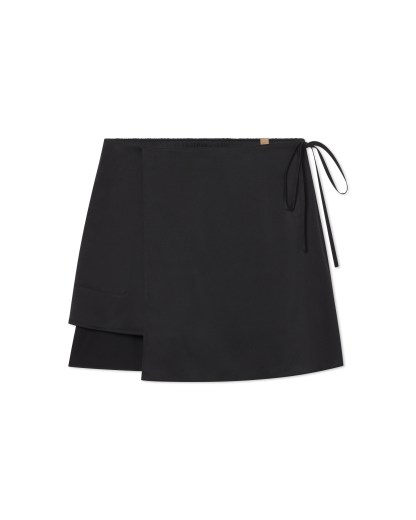 "We're so used to the idea that you can wear a dress, shorts or pants to bed," Ashley Merrill, founder of luxury sleepwear line Lunya, told Glossy. "But skirts have always felt very impractical and off limits." She wanted to change that — and the result is Lunya's Washable Silk Wrap Sleep Skirt. "We did some painstaking designing to make a skirt that is as functional for relaxation as it is cute. We landed on a stay-put design that won't ride up or twist or leave you overexposed." The fact that it's cute enough to wear outside doesn't hurt, either.
Collabs of the week: Doublesoul x Afffirmations socks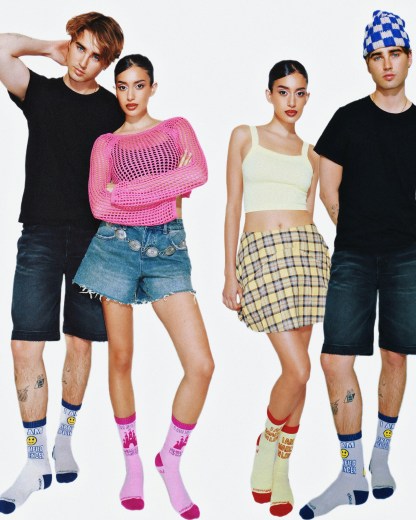 This pairing is what Gen Z dreams are made of. Doublesoul, a sock brand worn by the likes of Ella Emhoff, Pete Davidson and Emma Chamberlain, has collaborated with everyone's favorite nihilist Instagram account, @afffirmations (1 million followers). The collab, which is currently available on Doublesoul's website, includes four pairs of socks featuring the social media account's signature quirky, meme-ified affirmations. The phrases that made it onto socks include, "I am CEO of Small Talk," "I am not 2AM Awkward Silence," "I am madly in love," and a surefire hit, "I am certified influencer."
Each pair is $14. Two-packs are available for $26, and the whole collection can be purchased for $50.
Spate trend watch: Mini perfumes are having a moment

When it comes to fragrance, perfume lovers want to sample with reckless abandon. The increasing interest in mini perfumes this month reflects this desire for newness, but growing price sensitivity, as well.
During the pandemic, as stimulus cash came in, interest surged around pricey fragrances like Maison Francis Kurkdjian Baccarat Rouge 540. Now, though interest in perfumes has slowed, consumers are prioritizing fragrances that are as affordable as they are adorable.
Mini perfumes, relative to their full-size counterparts, are, of course, always cheaper. Oftentimes, they also come in sets, which also appeal to fragrance-happy or curious customers — and sell at a discount. On average, "mini perfume set" sees 4,400 searches each month.
"Brands searched alongside mini perfumes include Ariana Grande, Chanel Dior, and Versace. Of these, Dior is driving the most significant year-on-year growth, at +38.8%. Consumers specify Miss Dior. This, alongside growing searches for Ariana Grande mini perfumes — up +16.1% since last year — shows how minis are especially popular among a younger crowd seeking fruity or sweet scent profiles." said Yarden Horwitz, Spate Co-Founder.
According to Spate, there's room for this trend to grow in the coming months. What's more, brands with gift sets inclusive of mini perfumes, particularly those available for the holiday season, will see success.
Inside our coverage
OurX launches customized platform for textured hair care
Beauty brands and influencers join Lemon8 with 'TBD' mindset
Reading list
Why are so many women founders leaving their beauty brands?
With a new Rhode product launch, Hailey Bieber tells Vogue Glazed-Donut Skin is still in