From Christen Dominique to Victoria Lyn, influencers with millions of followers on TikTok, YouTube and Instagram can now be found on TikTok owner ByteDance's Lemon8.
They are among the numerous major and mid-size beauty influencers that, along with a handful of brands, have opened accounts on the app, which launched in the U.S. in February. RMS Beauty, Youthforia and Essence Cosmetics were among the first beauty brands to open Lemon8 accounts.
"If creators are taking a stab at this new platform, we definitely want to be involved. And it's good social listening," said Elaine Sack, COO of RMS Beauty, which posts on Lemon8 twice a week, offering a 20% Lemon8 discount code each time.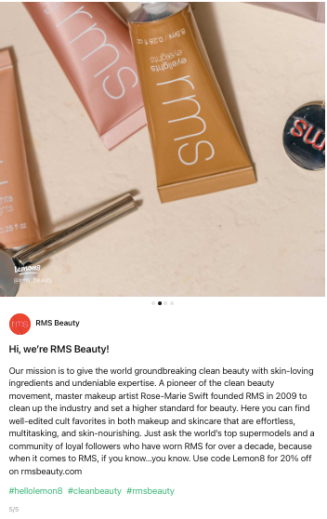 Content on Lemon8 is described as a cross between that on Instagram and Pinterest, with an Instagram-style feed that allows both photo and video posts and the ability to like, comment, save and share posts. And in the spirit of Pinterest, users can also overlay posts with text features offering designs that some influencers have compared to those on Canva.
"It's heavily focused on tutorials, outfits, recipes, travel –- all the things that really succeed on Pinterest," said Ali Fazal, vp of marketing at creator management platform GRIN. In addition to Pinterest, the focus on text overlays and tutorial-style content has also been compared by Rita Liao at TechCrunch to Chinese social app Xiaohongshu, which is known for lifestyle trend content.
Beauty influencer Sarah Wolak, who has 1.5 million followers on TikTok, launched her Lemon8 profile on April 3 after seeing influencers posting about it during the TikTok ban scare in March. When she launched the account, she promoted it on her Instagram Stories and shared the link in her Linktree list. Although she has 849 followers, she said Lemon8 is now her third-biggest platform of focus after TikTok and Instagram.
"I've been posting little by little, but I'm slowly getting used to it and understanding how the app works," she said. She posts around once a week, sharing watermark-free TikTok videos she screen-records in draft mode to both Lemon8 and Instagram's Reels.
Other beauty influencers on the app include skinfluencer Glow with Ava (1.7 million TikTok followers), nailfluencer Bre Sheppard (675,000 Instagram followers), lifestyle influencer Jasmine Nguyen (773,000 TikTok followers) and makeup artist Jaleesa Jaikaran (101,000 TikTok followers).
While most influencers have less than 1,000 — and more often less than 100 — followers on the app, some are seeing more. Anna Sitar, who has 12 million followers on TikTok, now has over 21,000 on Lemon8.
"I found it on TikTok because, for a weekend [or so], a lot of people were talking about how they're creating Lemon8 accounts," said Fiona Chan, founder and CEO of beauty brand Youthforia. "Everyone's kind of testing the waters."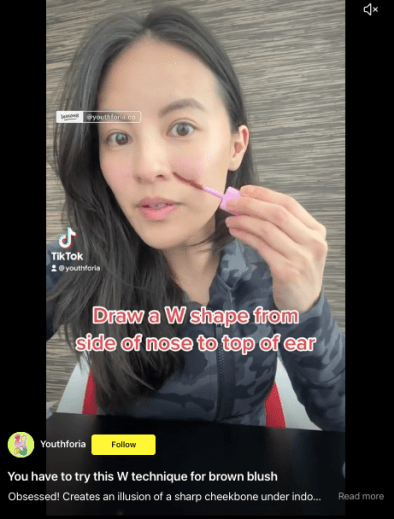 Lemon8's cachet of ByteDance ownership has been capturing the attention of influencers and brands. While Sack said that previous buzzy apps like Clubhouse and BeReal were "not for us," she became interested in Lemon8 because of its parent company. "It was like an instant, 'Let's log on,'" she said. "Anything that TikTok has done has been great, and we really want to participate."
In March this year as a congressional hearing worried influencers about a potential nationwide TikTok ban, Lemon8 hit the top 10 in the iOS App Store for the U.S. Currently, it ranks No. 46 for lifestyle. Since then, Montana's governor signed a statewide law banning TikTok, prompting a lawsuit by TikTok calling the ban unconstitutional. Because of the fact that Lemon8 is owned by TikTok's parent company, it could face similar issues in the future.
According to articles by Insider's Marta Biino and The New York Times, ByteDance has been paying influencers to post content on Lemon8. It is also building a global team to manage relationships with creators on the app.
Several influencers, such as Sydney Adams, McKenna Ashcroft and @nk.medani, have promoted Lemon8 on TikTok with the hashtag #Lemon8partner. On a post by Sydney Adams, influencer and former "Bachelor" contestant Kit Keenan commented, "Wait need to download it," and currently has an account on the app.
"The whole thing about whatever new apps pop up is that they have to provide a way for creators to monetize quickly, because otherwise, top creators are not going to spend their time creating content," said Fazal.
As of June 6, ByteDance had four Lemon8 creator partnerships position listings open in New York for fashion, lifestyle and food. Outside the U.S., there were nine creator partnerships positions listed in the U.K., Thailand and Vietnam in the beauty, fashion and family categories. Responsibilities for positions listed include "sourcing, outreach, contract implementation, content delivery and quality, report and analysis," for creators, as well as content performance analysis and support in helping them "achieve platform success." A New York position also lists the responsibility to "Coach and guide creators on how to edit posts (photo/video) to improve platform content quality and create external facing graphics/visuals when needed." They also must "educate creators on our best practices to help them accelerate their growth and ensure creator deliverables meet business expectations."
"It seems like they're heavily incentivizing creators to come to the platform and create content, and they're making sure that they're paid well in return for their efforts," said Fazal.
"Quite a few people DM me privately, being like, 'Oh, I saw that you have an account. What are your thoughts on the app? Do you recommend I download it?'" said Wolak. "It's good to spread yourself out onto different platforms and make sure you have a little footprint everywhere."
As for the future potential of the app, experts have different opinions.
"I think Lemon8 is still a big TBD," said Chan.
A May blog post by influencer marketing platform Fohr said it "found only 350 people mentioning Lemon8 [on social media] out of more than 180,000 influencers," and offered a prediction by its founder James Nord that stated, "I don't think a new platform will emerge and gain the necessary scale to matter in the influencer marketing industry. I believe we will still be talking about TikTok, Instagram and YouTube two years from now. I don't see that changing dramatically."
Meanwhile, Fazal said that he's "seeing a lot of very early encouraging signs from both consumers and creators about its future." These include the caliber of the influencers joining the app, the app's willingness to financially incentivize them to join, and the fact that it is "already starting off with a really best-in-class algorithm," thanks to ByteDance's success with TikTok.
"I would say if a brand is not considering Lemon8 right now, they should definitely start — or in a couple of months they might already be behind," said Fazal.