To receive the Glossy Pop newsletter in your inbox every Friday, click here.
All products featured on Glossy Pop are independently selected by our editorial team. However, when you buy something through our retail links, we may earn an affiliate commission.
In April, HBO debuted a new docuseries, "Not So Pretty." Narrated by Keke Palmer and broken up into four episodes, each episode focuses on a different segment of the beauty industry. "Makeup," "Nails," "Skin" and "Hair" are the titles of each show.
The first episode, "Makeup," focuses on talc. Talc is a mineral found frequently in beauty and personal care products, ranging from eyeshadow to, infamously, Johnson & Johnson's Baby Powder. Some talc is contaminated with asbestos, a known carcinogen that can cause cancer.
As Popsugar reported, "In 2018, Johnson & Johnson was sued by 22 women who claimed the company's baby powder contained asbestos-contaminated talc, which lead them to develop cancer. In the case, the company was ordered to pay over $4 billion in damages."
In the 35-minute episode, "Not So Pretty" filmmakers interviewed people like Corrin Ortillo, who was diagnosed with mesothelioma, a tumor caused by inhaling asbestos. As a viewer, it is natural to empathize with a subject's experience. The information revealed about the presence of asbestos in makeup also elicits concern for oneself and loved ones that use makeup. The episode "Makeup" invokes an understanding that governing bodies (like the FDA) people assume should be making sure stuff like this "doesn't happen," aren't always doing so.
A resulting hashtag, #notsopretty has since spawned 19.6 million views on TikTok. In many of the TikTok posts, creators record themselves throwing away heaps of makeup, presumably after reevaluating their stashes since watching the episode and feeling driven to eliminate talc from their routines.
Victoria Morgan, 25, is one of the users who threw away her makeup. In a 44-second video, she tosses products from Anastasia Beverly Hills, Laura Mercier and Urban Decay, to name a few. While purging, she declares, "you're done," to each as it goes in the trash. "I am a huge documentary fan, and Keke Palmer was narrating the show," Morgan said. She told Glossy, "I was shocked, I had no idea talc was used in makeup. I knew about the Johnson & Johnson lawsuit, but I never imagined talc was being used in the products I used for so many years."
"I got rid of about half of my makeup. As I looked in my trash can, I knew I'd eventually see a creator doing something similar, so I took everything out and took out my phone [to record the process]. It was a good way to show just how many high-end products contain talc. Where is change when there is no outrage," Morgan said. Influencer Remi Bader commented on Morgan's post, "I had a talc-free phase and used cover fx which I liked. But most things have talc so I gave up 😳" Clean beauty brand Saie saw the 'Not So Pretty' conversation as an opportunity. "This sounds like a job for us," the brand commented, suggesting itself as a talc-free option.
Consumers are right to be concerned, to an extent. The FDA could be a "little bit stricter in terms of how it regulates cosmetics," said Javon Ford, a cosmetic chemist who posted a contrasting response to the documentary. Ford, who has 184,000 followers on TikTok said, "Y'all do not have to throw out your talc-based makeup."
The documentary, Ford said, presents the issue as overly black and white. However, "like most things in life, it's a spectrum. It's always the dose that makes the poison," he said.
"To [the filmmakers], any amount of asbestos in the product is considered dangerous," Ford explained, noting that in cosmetic testing typically there is a threshold that is considered acceptable. "[The filmmakers] aren't looking for the absence of asbestos in general. Realistically, you can't avoid it because it's a natural compound. It's going to be present. To blindly say to others that asbestos is toxic isn't helpful from a practical standpoint."
To further complicate a complex issue, alternatives for talc in cosmetics include mica, which comes with its own set of issues. Refinery29 called mining for mica the beauty industry's "darkest secret" in 2019 because it is often obtained via child labor. Another substitute, silica, "can cause silicosis (a lung disease) if you breathe in too much," Ford said.
When Ford received questions from concerned viewers of the documentary, he recognized people were actually feeling scared by what they saw. That was his main issue with the docuseries, he said. "It should be making people question things and want to do their own research, it shouldn't come to a conclusion in and of itself.'"
Still, consumers have to decide where to draw the line for themselves.
"Regardless of what label is on a product, 'clean' or 'green,' always patch test a cosmetic for a week to make sure your body will react to it well. You can have an allergic reaction, and it can be a perfectly safe product by modern definitions, and your body just won't like it," Ford advised. "None of [these products] should be [inhaled]."
"This is a tough issue to comment on, as it's still in development," said Emmy Ketcham, co-founder and chief product officer at Experiment. "From a formulator's perspective, it's important to vet a supplier's analytical methods, especially for ingredients with known contaminant issues. Talc shouldn't be demonized as an ingredient, as it's largely contaminant-free, but it's tough for a consumer to know what's safe and what's not without access to the raw material documentation."
Instead, her hope is that the FDA will expedite updating the guidance on asbestos testing so "we can resume using talc without fear."
Launches to know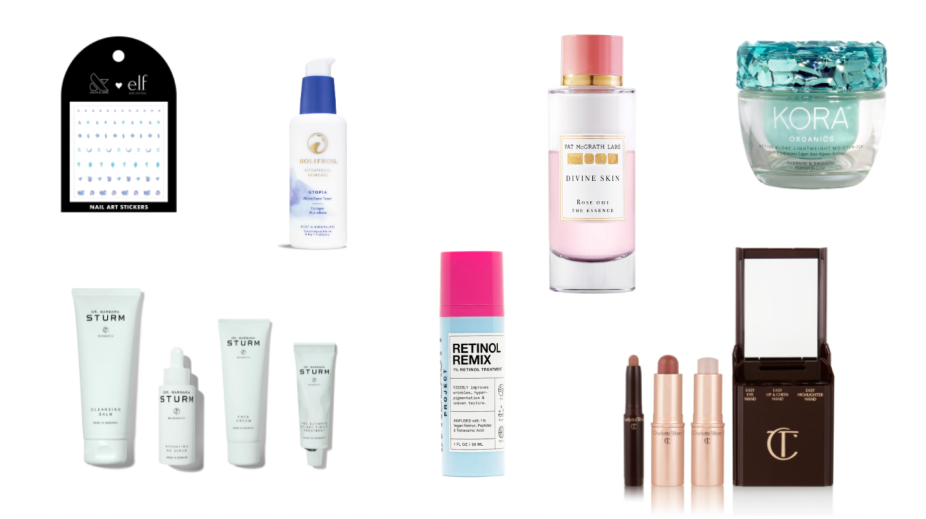 Olive & June x elf Moonstone Shine Nail Art Gems, $9.00
This summer, we're bedazzling everything — nails included — and Olive & June and elf are making it easy thanks to this new collab.
Dr. Barbara Sturm, Microbiotic Collection, $35-100
The luxury skin care line is making a play for a younger (and uh, less wealthy) customers with its new four-piece collection, rich in pre and probiotics for stronger skin. If in need of a new spot treatment, try the very well-named "Ultimate Stinky Pimple Treatment" — shop it here.
Holifrog Utopia Microflora Toner, $44
Fortifying the skin barrier is still a focus of brands and consumers — and this new toner (not the strip-your-skin kind) is right on trend with a bevy of barrier-boosting ingredients — hypochlorous acid, apple cider vinegar, fermented honey, and pre and probiotics.
Innbeautyproject Retinol Remix, $48
We think of retinol as effective, essential, scientifically-proven…but not fun. With its latest launch, Innbeautyproject seeks to make skin care's most renowned ingredient a little more playful, without compromising efficacy. The formula includes peptides and tranexamic acid too, all of which work to firm and brighten skin.
Pat McGrath, Rose 001 The Essence, $86
Any launch by Dame Pat McGrath is a highly anticipated one, so you can imagine the excitement as she introduces her first skin care product — a dual-phase essence that smells like a bouquet of roses. Naomi Campbell fronts the campaign and is an early fan. "I wouldn't use anything else. The glow, the luminosity, the hydration, it's unparalleled. It's perfection," she said in a press release.
Kora Organics Active Algae Lightweight Moisturizer, $56
Miranda Kerr recently added this lightweight, refillable moisturizer to her collection. In the jewel-like jar, a plethora of organic ingredients like green tea, Alpine rose, green algae and Swiss glacier water work together to soothe, nourish, and, of course, moisturize skin.
Charlotte Tilbury Quick & Easy Makeup, $75
Never has something shaped like a box of cigarettes been so chic. This truly innovative little box from Charlotte Tilbury includes the bare essentials for a less-than-5-minute face — an eyeshadow stick, a lip/cheek stick, and a highlighter stick. Getting ready has – true to its name — never been so quick and easy.
Inside our coverage
Hairstylist and brand founder Andrew Fitzsimons takes to Instagram in defense of Roe v. Wade

The next frontier of inclusive hair is textured hair styling

The menopause category is heating up
Reading list
We shouldn't glorify Kim Kardashian's Met Gala crash diet
SZA's Crocs collaboration is some woody goodness — see photos

In 2022, it's still impossibly hard to be a fat content creator online