Celebrity hairstylist Andrew Fitzsimons has been busy. In April, he launched his namesake hair-care brand at Ulta Beauty in the U.S. and Boots in the U.K. He's now overseeing that, on top of catering to his cadre of extremely high-profile clientele. Fitzsimons's team said he hasn't had a day off in months.
Fitzsimons arrived in New York City at around 2 a.m. on Met Gala Monday. Later that day, he worked from the Carlyle Hotel prepping pop star Camila Cabello for her turn on the Met Gala red carpet. She donned a flower-bedecked updo, which Bustle called "the prettiest topknot."
Shortly after the Gala, like everyone else with a phone, Fitzsimons received word of leaked draft opinion that would overturn the ruling on the landmark Supreme Court case Roe v. Wade. If Roe v. Wade is overturned, it would allow states to determine the legality of abortion, rather than leaving the decision about what happens to a pregnant person's body up to that person.
Fitzsimons immediately pivoted from providing Met Gala coverage to sending a different message to his 627,000 Instagram followers: "FUCK THE MET GALA WE HAVE TO TAKE TO THE STREETS" he stated in an Instagram Story that included a shared Politico post on the Supreme Court's vote.
By Tuesday morning, Fitzsimons was already in his seat on a flight back to Los Angeles, but he made time to share with Glossy before takeoff why he didn't hesitate to use his platform to speak out.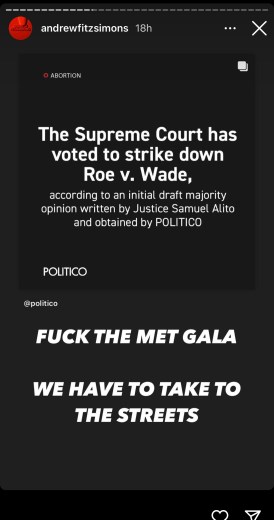 What was that moment like for you, from going from this night that is the pinnacle of glamour to seeing the SCOTUS news?
"It was very shocking. We're used to refreshing our phones and looking at the [Met Gala] styles and it being a very playful day, rather than a heavy day. It was the most shocking, incomprehensible news. Being in a room — excuse me, I'm very tired and emotional — being surrounded by women and working with women, every day… Sometimes in our job, it's hard to keep things in. Nobody was really talking about it. Everyone was really focused on the job at hand. But for me, it's hard to focus on something as surface as beauty or fashion when something like this happens. As a feminist, I chose to speak up because that's what has to happen.
A lot of people are counting on people not speaking up. There's this trend of a lot of people with power and influence being silent in these moments that are polarizing. That's especially in this country because it halves their audience and halves their income, maybe.
I don't care. This is an affront to women, and not only women, but men, too. Men are able to become pregnant and give birth also. But for this to even be a suggestion, it's such a slap in the face in a country that does not provide universal health care. This is only going to impact the most vulnerable women and people. I'm just angry and confused, and I'm looking for how we can all band together and fight this."
Do you think it's because of money and a fear of losing followers that so few people speak out?
"I don't want to speak for anybody, but that's an assumption I made. When things are in the headlines that are affecting everybody every day, I assume it's because it's a better business model to be politically impartial. But it's not a time to be impartial.
It's disappointing when I see people, especially men, who are benefiting from women and working with women, not speaking up on behalf of women, especially when they have a voice. I'm someone who came from a single-parent household; [it was] just myself, my mom and my sister. My job revolves around women. I respect women, and I want to protect women. I want to be an ally to women, and not speaking up in a situation like this feels cowardly."
Will Andrew Fitzsimons Hair be taking action?
"Yes. Right now, I want to direct people to operationsaveabortion.com. [People] can volunteer to escort patients into clinics [and] help patients find financial assistance. It's a great organization. And I make a monthly donation to Planned Parenthood.
A lot of our protective rights are being slowly dismantled, but I didn't realize it was going to be this immediate or this overt. My brand is who I am, so my brand will be supporting women and doing whatever we can to help at least have a conversation and march, and provide resources and materials for anybody, and do whatever we can, as a brand. It's very important to me that we work with women, [since] we're selling to women. I don't ever want to take away [from them], I only want to support. [My team] will be having meetings [about this] when I land in L.A."
Is there anything you would like say to other people and brands with a platform?
"Use your voice, use your platform. It's moments like this where you see how surface-level brands and influencers can be. If you really support women, that means you support a woman's right to choose. And please, please, please use your powers for good."