To receive the Glossy Pop newsletter in your inbox every Friday, click here.
All products featured on Glossy Pop are independently selected by our editorial team. However, when you buy something through our retail links, we may earn an affiliate commission.
Thanks to social media watchdog accounts, plastic surgeons with TikTok accounts and big mouths, Hollywood beauty secrets are not so secret anymore.
For example, if you've ever researched how celebrities seem to have longer or more hair than the rest of us, you've probably come to know that the answer is extensions. And now we know who's providing the goods.
In the case of the high-end, virgin Russian hair worn by many A-listers, that's Violet Teriti, better known as @chaviv_hair (304,000 Instagram followers). Teriti has been making a name for herself in the hair-extensions space for 15 years. She got her big break as an assistant to Kim Kimble, a hairstylist known for working with Beyoncé.
"I got into this industry because I've never had good hair," Teriti said. "It was always my dream to have long and thick hair. [One day] I was at the salon getting my hair colored and highlighted, and I saw someone sitting next to me with short hair. … By the time they were done with my color, highlights, rinsing and blow drying, this woman was walking out with this long, beautiful hair."
Teriti was around 19 at the time and had never "seen anything like that before," she said. She started asking the client questions: "You're going to go home, and then how are you going to take them out?" The woman explained she'd leave them in for at least two months. Teriti then asked the stylist who applied the extensions if she could get an appointment. The stylist, she recalled, was like, "You can't afford this, you're a kid." This conversation inspired here to enroll in beauty school.
As she began her career, referrals fueled her business, and Teriti grew acclaimed for her technique. But at the same time, she found that the quality of hair available in the U.S. is not up to par. "Everybody would say that my installations are the best in the world. But the hair we have [in the states] is shit. My European clients would [say], 'They don't use this in Europe, they use real European, Slavic hair.'"
So more than a decade ago, Teriti went to Russia seeking high-quality hair. "I would go from salon to salon and ask the stylists, 'If you guys cut people's hair … what happens to the hair?' They said they throw it away. I was like, 'What, they throw it away? Can I buy it?'" And she began buying bundles from each salon.
In 2018, Kim Kardashian posted an Instagram captioned "Glam Squads Rule! 💋💕💋" and tagged Teriti, and the floodgates opened. Overnight, Teriti accumulated a waitlist of thousands of people hoping for a consultation.
Now, a quick scan of her Instagram shows that Kardashian is far from the only superstar to use her hair. Chris Appleton uses it on J.Lo, Halsey wears it in her music videos, Megan Fox wears it on the red carpet, and the list goes on. And Teriti said there are countless others whose names she hasn't been authorized to mention or post about.
The cost of the extensions ranges from $4,000-$12,000, depending on the length and fullness. That said, Teriti noted, people can wear these extensions for up to a year. "The hair can last up to three years, but the bonds need to be changed," she said, referring to the process by which the extensions are attached to a client's natural hair. The process takes at least two to four hours, often longer.
Given that celebrities like the Kardashian-Jenner sisters often arrive on a red carpet with waist-length locks days after being seen at another event with a shorter chop, Teriti said the floodgates have opened. "I [wondered], 'How can they say [it's real], if one day they have short hair and, the next day, it's long. They were like, 'Well, our fans are not stupid. They already know.'"
Amanda Kloots (731,000 Instagram followers), the fitness instructor turned talk show host, started getting extensions with Teriti in 2020. She'd never worn hair extensions before. "Now, I don't know what I would do without them," she said.
As a member of the uninitiated, I asked a simple question: "Why?"
"I just have very thin hair. Because I'm blonde, from bleaching and from bad bleaching, my hair has been ruined. It's a slow process of trying to rebuild [my] hair, especially after pregnancy, being 40, and continually having to color my hair because of being on television. Violet gave me the hair that I've always wanted — the long, thick, full hair that I saw so many people have. I was always like, 'Gosh, I wish I could have that hair.' And now, I finally have it," Kloots said.
Kloots has become more enmeshed in Hollywood and recently filmed a movie. And she's become increasingly aware of the prevalence of extensions. "If they don't have the kind that Violet does, they use fake hair pieces or wigs. Men can get away with their own hair, but [women] need help [for their hair] to be fuller. And [extensions] to a better job [than natural hair] of maintaining curl or style," she said.
With Hollywood's stamp of approval, Teriti's DMs are consistently flooded. And, she said, she's got a direct-to-consumer brand in the works. However, it's too soon to share more details, Teriti said.
Vacation x Prince: Merch for an imaginary event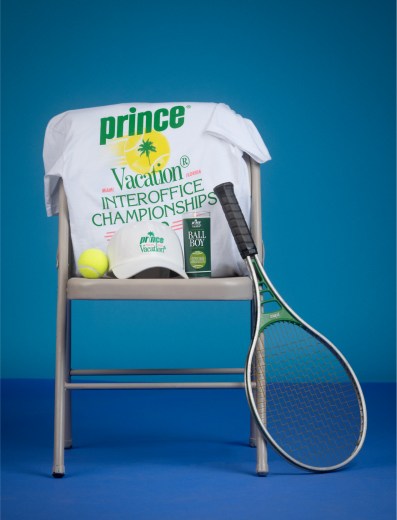 Vacation is known as much for its quirky, imaginative branding as it is for its post-worthy sunscreen. On October 5, it introduced a three-piece capsule collection with legacy tennis brand Prince. It includes a T-shirt, a baseball cap and a candle called "Ball Boy," with notes of "freshly uncanned tennis balls, Vacation sunscreen, Prince cotton sweatbands and cucumber sandwiches."
"On August 28, 1992, Prince and Vacation held their 7th annual interoffice tennis championships in Miami Beach, Florida. Legend has it that on this day, Vacation employee Brian Maurice Bell stumbled upon an idea that would make history for the Vacation Sunscreen Corporation," a press release read, elaborating on details of an event that absolutely never happened.
"Our team is collectively obsessed with those late-night ads that try to sell you 'commemorative' spoons, coins and hand-painted plates. When the opportunity to do something with Prince came along, this was on our mind, and we couldn't stop laughing about creating a commemorative candle and merch set around a fictitious Vacation x Prince event that held great fictitious importance for our company," said Lach Hall, co-founder and executive chair of marketing.
Visit the Pop Shop to browse all products featured in Glossy Pop.
Inside our coverage
Benefit doubles down on brows for its second TikTok campaign
Kardashian makeup artist Ash K. Holm on what makes her new 30-piece brush set special
People are flying across the world for TikTok's viral hairstylists
Reading List
How Betsey Johnson won over a new generation of fashion fans
Elon Musk sells millions worth of new perfume, 'Burnt Hair,' within hours of its release
p.s. We want to hear from you.Take this quick five-minute survey to help Glossy learn how to make our products even better and you'll be entered to win one of five $25 Amazon gift cards.