All products featured on Glossy Pop are independently selected by our editorial team. However, when you buy something through our retail links, we may earn an affiliate commission.
On September 30, celebrity makeup artist Ash K. Holm launched a collection called Sculpt, with U.K. makeup tools brand Spectrum. The 30 brushes included in the collection give Holm's 1.1 million followers on Instagram a chance to work with the same tools she does. Holm counts Ariana Grande, Ashley Graham, and Kim, Khloe and Kourtney Kardashian as clients. Mama Kris even helped her make a little promo video in honor of the brush set's debut.
We asked Holm about the process of creating a brush set worthy of the most famous faces, plus we got her top tips for taking care of makeup tools.
How did the partnership with Spectrum come to be?
"The owners of Spectrum Collections discovered me and my work by word of mouth. I say this all the time in podcasts and interviews that I've done, [but] it's so important to maintain an ethical reputation. Not only do you need to be good at what you do, but [you also need to be] kind and not let your ego get in the way. That will take you places in life."
As a makeup artist, what makes a good brush?
"To actually add a brush into my makeup kit that I use on my celebrity clientele, the fibers have to be extremely soft. The softer the fibers, the more seamless the blend. The craftsmanship of the brush matters, too. Every brush in my 30-piece collection is handmade and trimmed to perfection. Depending on the shape of the brush, I'm able to create very detailed works of art on my clients.
It's important to have a variety of small detail brushes and larger, fluffier brushes, in order to create a look. This allows me to experiment and create any look I can dream of. The tools I use are more important than the actual makeup. With the right tools, I can make inexpensive makeup look expensive. It really is all about the brushes, since I'm an artist. I couldn't do my job without them, which is why I wanted to develop a quality set. The handle is made of wood and the brush ferrule is made of copper. This combination will last for years, and unlike other brush brands out there, you don't have to worry about these brushes shedding. The shedding is minimal like a durable brush should be, which gives the brush longevity."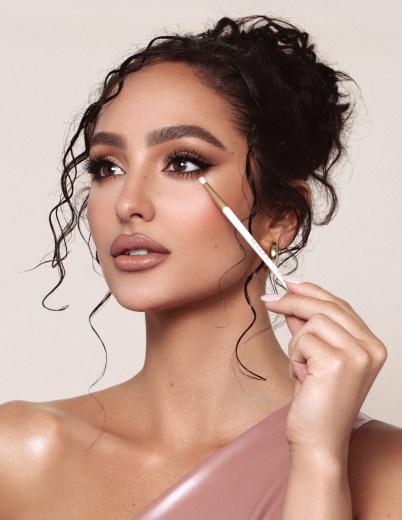 How did you decide what brushes to include in the set you created, and what makes them different?
"This is the first time ever we are seeing this mini micro detailing eye brushes in a set. The shapes are extremely well-thought-out, [able to create] any makeup look you have in mind. There's a brush for every feature of the face, with extras to spare. I knew I needed everything from body brushes to face and eye brushes. My favorites have to be the eye detail brushes, as well as the two eyeliner brushes to create the sharpest wing liner.
The brush fibers are also antibacterial, which has never been done before. We are extremely proud of this new innovation. By using this collection, you are actually taking better care of your skin."
What are your best tips for brush care and cleansing?
"Makeup brushes are an investment. If you take care of them, they will last for years to come. When I'm on the go in between clients, I like to use the Cinema Secrets brush cleanser. It contains alcohol which speeds up the drying time and kills any germs. I also like giving my brushes a nice shampoo with the Spectrum solid brush soap for an even deeper way to clean my brushes.
It's just like washing your own hair. You want to make sure you've rinsed all the soap out. Squeeze the excess water from the brush with a towel. Always hold the brush in your hand over running water and never submerge the entire brush under water. This can cause the glue from the ferrule to get loose and damage the brush.
This is also a good time to reshape the brush with your fingers or towel by pinching it into the desired shape so it looks new once it's dry. I also recommend letting the brushes dry over the edge of a table or counter to prevent the brush from mildewing and allowing it to completely dry."
Visit the Pop Shop to browse all products featured in Glossy Pop.