In today's Beauty & Wellness Briefing, I take a look at the stylish cannabis brands catering to the emerging female marijuana customer and Biologique Recherche's new Los Angeles spa location. Scroll down to use Glossy+ Comments, giving the Glossy+ community the opportunity to join discussions around industry topics. 
Cannabis use is no longer just about being high. Thanks to the queens of the new stoner age, it's about being high-class.
Once tied to Baja hoodies, Bob Marley posters and monstrous bongs bought at local bodegas, marijuana use is shelling off its dorm-room feel and stepping into art and design-led aesthetics. Leading the charge are newer dispensaries, which are incorporating fashionable designs and color palettes, including rich jewel tones and velvet furniture, and selling equally trendy products. Among the elevated brands they're offering are Beboe, Flower by Edie Parker, Her Highness, House of Puff, Gossamer and Tetra, all launched in the last seven years. These brands specialize in fashion-forward bongs, lighters, rolling papers and ashtrays, catering to the desires of female consumers.
Such an approach is aiding in the revolutionizing and proliferation of cannabis use, similar to how Juul made it so easy and attractive to vape compared to conventional complicated and unattractive vaporizers. Juuling became a verb, demonstrating its impact. Or perhaps a more apt comparison is the way Virginia Slims cornered the female cigarette smoker with its feminist-focused advertising, which aided the acceptance of women smoking throughout the 1970s.
Virginia Slim's iconic advertising was the inspiration behind a Flower by Edie Parker's campaign in April. Flower by Edie Parker is a sister brand to the 12-year-old Edie Parker evening bag and homeware brand. It sells products like fruit-shaped glass pipes, rolling papers with flower designs and elegantly tapered bongs in the style of Venetian glassware. Rolling paper sells for $10, while pipes and bongs are $95-$795. 
Founder Brett Heyman, who's worked at Gucci, said the idea to sell cannabis products four years ago arose from team conversations around female cannabis use and items other than wine that a person could bring to a party for a good time. Like brands in other beauty and wellness categories, Flower by Edie Parker aims to take an item once hidden in a drawer or behind a cabinet and elevate the aesthetic so it can sit on a table shame-free.
"Cannabis was so male-dominated or medicinal and felt old-timey. There was nothing innovative that had shelf appeal," said Heyman. "Women are a fast-growing category for cannabis and are coming to cannabis for non-traditional uses like period cramps. Cannabis is having a cultural reckoning; it's what's happening in culture."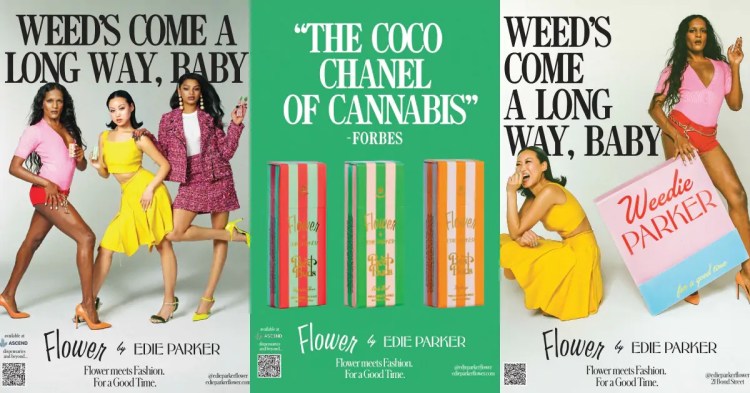 Indeed, the influence of cannabis culture and cannabis as an industry have yet to reach their peak. In October, President Biden pardoned thousands of people convicted of federal charges for marijuana possession. And recreational marijuana use has been legalized on the state level in Colorado, California, Massachusetts and New York. In 2020 alone, legal cannabis sales in the United States were upward of $17.5 billion, and New York has estimated that the industry could create as many as 60,000 new jobs in the state by 2026.
In addition, cannabis is becoming more popular as a consumer product, especially as alcohol use and its adverse health effects become more apparent. According to the Centers for Disease Control, 48.2 million people, or about 18% of Americans, used cannabis at least once in 2019. Female cannabis use, in particular, is a massive opportunity for companies. Cannabis delivery company Eaze, in its annual State of Cannabis report, found that 48% of its new customers in 2021 were women, compared to just 38% in 2018. Millennials made up 44.6% of new customers, followed by Gen Z, Gen X and Baby Boomers. Adequate national data on marijuana consumption between genders is hard to come by, though data from the National Survey on Drug Use and Health estimated that about 13.7% of non-pregnant women of reproductive age used cannabis in 2018. 
Design-led cannabis brands are all going after a similar female customer profile: a millennial or Gen-X person colloquially referred to as "canna-curious," meaning she wants to dabble in marijuana use without getting into the particulars of flower strains, terpene profiles, potency and different equipment.
Kristina Adduci, founder and CEO of 5-year-old House of Puff, said the cannabis accessories brand sits at the nexus of cannabis, art and social justice. Adduci and Holly Hager, COO of House of Puff, came from the contemporary art world and used that background to shape their brand's products and collaborations with artists like Chris Wilson and Paula Flores. House of Puff sells rolling papers in packs of two for $12, one-hitter pipes for $32 and ashtrays for $58, among other items. Hager said year-over-year sales have increased since the brand's launch, but declined to share specifics. She added that she and Adduci began dedicating more time to House if Puff in 2020.
"What I was trying to accomplish in the art world was to make art more accessible to regular people and more inclusive of women and BIPOC artists," said Hager. "Through House of Puff, we realized we can accomplish that mission much better than in the art world. We dip into our artist network [for designs] and use that to show how cannabis can be a stylish lifestyle." 
As the cannabis industry becomes less stigmatized, more monetized and likely federally legal, it will generate new opportunities for the wellness and fashion industries. It's already pulling people away from the fashion industry. That includes Hayley Dineen, who previously worked at streetwear brands OVO and Yeezy and now runs 4-year-old cannabis accessories brand Sackville & Co. CBD had a similar effect in 2020 when heritage beauty execs decamped for CBD indie brands as CBD promised to change the face of wellness. Fashion brands are also getting into the space through merch and accessories. Meanwhile, Urban Outfitters sells rolling papers and lighters.
"Fashion, when at its best, holds up a mirror to what's happening culturally. More people in fashion will inevitably get involved in cannabis," said Heyman.
But currently, there are still plenty of challenges, from esoteric tax codes and local distribution regulations to online marketing and advertising barriers and a lack of access to working capital. 
For its part, Flower by Edie Parker relies on the audience of its 12-year-old sister accessories brand for brand awareness. It sells its cannabis accessories online and via 100 dispensaries in states like Pennsylvania and Colorado. The majority of its sales are wholesale through dispensaries, Heyman said.
According to Monica Khemsurov, co-founder of Los Angeles-based retail shop Tetra, which also makes its own smoking accessories, the company is prohibited from advertising on social media. What's more, Shopify charges Tetra five times the transaction fee of brands in non-high-risk categories, she said. Tetra sells lighters for approximately $45, ashtrays for $48-$800 and pipes for $48-$85. In 2020, the company's sales significantly increased, said Khemsurov, though she declined to share specific figures. She speculated that the lockdown period drove people to look to recreational cannabis as a source of amusement or as anxiety relief aid while stuck at home.
Meanwhile, House of Puff has taken to investing in SEO terms like "How to use a joint holder" and "cute pink pipe." House of Puff also invests in creating instructional YouTube videos hosted by Adduci. A less than three-minute video titled "How to roll the perfect joint," published in 2021, garnered over 1 million views through its account with less than 5,000 subscribers. Adduci said House of Puff emphasized the video's set design and sound quality, ensuring a relaxed atmosphere was conveyed to make it more relatable. In addition, it was hosted by a woman.
"Legal cannabis is novel for both new and experienced consumers. We're all climbing an education curve, and a lot of the content that exists today is about fast-moving trends. But we're going back to the basics [with our educational content] because a lot of our consumers just started consuming these products, even if it's just CBD," said Adduci.
3 questions with Biologique Recherche's Margot Humbert
Since launching in 1992, French skin-care brand Biologique Recherche has built a reputation as a clinical brand with a wide roster of loyal customers that includes beauty editors, makeup artists, aestheticians and A-list celebrities. Distributed in hundreds of spas globally, the brand finally opened its first branded location in the U.S. in August, in Los Angeles. Margot Humbert, U.S. gm for Biologique Recherche, shared more about the heritage's brand newfound focus with Glossy contributor Dahvi Shira.
Why was Los Angeles the first market the brand decided to tackle in the U.S.? 
"Wellness is booming in the U.S. and is one of the last things consumers are willing to cut back on. We entered the U.S. in 1998 and have been building brand awareness since through our network of exclusive spa partners. This is still the brand's core business model, but we wanted to offer a place where we could showcase a full brand experience like we have in our Champs-Élysées Ambassade in Paris. Los Angeles was the right choice for two reasons: first, the clientele. The brand has a lot of L.A.-based celebrity clients who are longing for more options in their city. We also wanted to grow our presence in Southern California where demand has been increasing."
What is the company's current and planned distribution strategy? 
"We can be discovered in some of the most sought spas nationwide but are still only in 1% of the spas nationwide. We also have our own digital platform, MyBR.com, which is like a digital members' club where we offer online skin consultation along with our full range of products. Finally, we want to open more [spas], which will serve as flagship locations to help us build awareness and traction for the brand in strategic regions."
Do you believe Biologique Recherche's arrival in the U.S. reflects a local demand for French beauty brands?
"I think it [instead] reflects the increased demand from consumers for wellness and personalized skin care."
Inside our coverage:
Nest home fragrance jumps on the livestream shopping bandwagon.
Mask and sanitizer brands revamp their approach.
Spas aren't as relaxing as they used to be.
Why Bobbi Brown Cosmetics is so good at selling skin care.
What we're reading:
AR company Perfect Corp. goes public via SPAC
Meta and L'Oréal partner on metaverse startup accelerator
Makeup brand Saie kicks off a beauty collab with Reformation fashion label
Want to discuss this with our editors and members? Join here, or log in here if you're already a member.