All products featured on Glossy Pop are independently selected by our editorial team. However, when you buy something through our retail links, we may earn an affiliate commission.
Violette Serrat, the influential makeup artist behind the brand Violette FR, is known by her 494,000 Instagram followers for her chic French beauty style. It consists of a bold red lip or colorful eye, and — this is key — no foundation. But interestingly, her brand's best-sellers are in the skin-care category.
When Violette FR launched in 2021, it did so with a smattering of products beyond the color cosmetics category. They included Avec Amour, a roll-on fragrance; Frange Puff, a brush-on dry shampoo; and Boum Boum Milk, a three-in-one spray, meant to take the place of a toner, a serum and a moisturizer. The latter remains its bestseller. On Tuesday, it launched The Sérum Superlatif Set, a collection of five curated serums that sells for $220. The individual serums are $46 each.
"The philosophy in France is to take care of what Mother Nature gave you, and stylize that with fashion and makeup," said Serrat, who goes by Violette. "[Fashion and makeup] are ways to express your style and your identity, and to celebrate who you are. We never use makeup as a way to hide or fix." Given that, it is perhaps less surprising that skin-care products are a focus of her brand.
Violette formulated the serums around "the five issues I've seen most in my 19 years of touching skin," she said. The five serums are: Skin Barrier Rescue, Blemish Rescue, Reactive Skin Rescue, UV Damage Rescue and Dullness Rescue. "There are core skin-care products, and there are solution-oriented products. … I wanted to develop those 'S.O.S.' types of products," she said, noting that her own life inspired the collection. She has contact dermatitis and said her skin reacts to most products.
Violette said she doesn't plan to grow Violette FR into a brand providing every step of one's skin-care routine. What's more, she said, the serums aren't for everyday use. "You need to let your skin breathe and do its job," she said. Her recommendation is to use each solution for 48 hours, as needed. During the testing phase, the brand found that, when using the Reactive Skin Rescue Serum, for example, 80% of subjects experienced an objective improvement in redness intensity after 48 hours. In the same time period, 100% of testers reported irritation relief, reduction of itchiness, skin soothing and calming.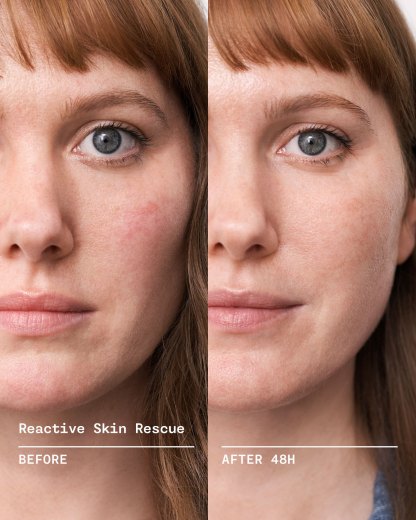 Violette said she's concerned about sustainability and aware that producing any products contributes to the problem. As such, she said, "I'm just going to focus on what doesn't exist in the market — either the color doesn't exist or there's not a vegan version of it."
As such, she has no plans to create a cleanser, despite customer demand. And, of course, she has no plans to create a foundation — she's often spoken about her distaste for the coverage that foundation provides, calling it overkill.
Violette recently launched in Moda Operandi's new beauty department and it has a pop-up at Le Bon Marché, where its sales have exceeded expectations, according to Violette. New York City- and Dallas-based celeb esthetician Joanna Czech carries the brand, which serves as a "great endorsement," Violette said.
In France, Violetter FR is sold at less than 10 of those legendary French pharmacies. "Because we manage the relationship directly with the pharmacies, it's actually a lot of work," she said. "We could go through a big distributor, but then our products would be blasted to every pharmacy. Like everything I do, it has to be intentional."
This year, Violette plans to strategically expand the brand to more retailers. "The retailer has to make sense for the brand, and it can't cannibalize our other channels," she said.
To market the new serums, Violette FR will selectively gift Violette's friends and "people of influence." Rather than traditional influencers, these will include "a painter, a lawyer," and other people across age ranges "who have an opinion and talk about it, and who I admire," Violette said.
She added, "I receive so many [mailers], and it's always so much waste."