All products featured on Glossy Pop are independently selected by our editorial team. However, when you buy something through our retail links, we may earn an affiliate commission.
At New York Fashion Week, unsurprisingly, the focus is on the fashion. But in the last decade-plus, beauty brands have increasingly joined the conversation. They're getting in on runway moments with their nail polish, their hair spray, their lipstick, their eyeshadow — and, somewhat curiously, their moisturizer. How investing in a runway presence makes sense sense for a skin-care brand's business comes down to savvily curated social media moments, brand introductions to notable models and makeup artists, and established alignment with like-minded brands.
While a lipstick can be identifiable on a runway, a moisturizer doesn't have a chance of recognition. So we spoke to five skin-care brands, four of which put money behind their NYFW efforts this season, about their motivation. They also shared what goes on backstage, when it comes to skin care prep, and how they measure their ROI.
The brands included Dieux Skin, Noble Panacea, Tata Harper, 111 Skin and Ever/Body. Executives from all of these brands called New York Fashion Week a platform for building brand awareness and content generation — which can amount to free advertising, when notable people post about the brand.
This was cosmetic dermatology studio Ever/Body's first season partnering with a show at NYFW, said CEO Amy Shecter. Ever/Body worked with Hydra Facial to bring its mini device backstage at Luis De Javier's runway show. There, it provided models with "perk" boosters, or services focused on refreshing the eyes and lips.
"Education is the foundation of everything that we do," Shecter told Glossy, noting that backstage serves as a prime opportunity to capture content. That content, she said, helps the brand showcase that "skin care is the foundation for any great look or any big event you have." It also announces to the brand's audience that it had a presence at fashion week.
Ever/Body will use the content generated backstage in its social posts and emails. This was the first time a skin-care technology, rather than just a topical skin-care brand, has had a presence at the shows, according to Shecter. It was also the only partnership among brands sourced for this story in which no money was exchanged.
Last season, the buzzy indie skin-care brand Dieux, which launched in September of 2020, sponsored two shows. This season, it upped that number to five, putting money behind Collina Strada, Sandy Liang, Tia Adeola, Marrisa Wilson and Alejandra Alonso Rojas — all female-founded brands. Dieux itself has three female co-founders.
Underscoring the importance of sponsoring NYFW as a key opportunity for content generation, co-founder Marta Freedman said the brand hired a photographer, Nesrin Danan, both seasons to capture content backstage. Aware that moisturizer is, in fact, invisible, Freedman said the brand banks on the branded nature of the line's hero product, its $25 Forever Eye Mask. The Forever Eye Mask comes in different designs, which Freedman thoughtfully pairs with each show. For example, last year, Dieux sponsored Mirror Palais. The show took place in a church, so Dieux provided its angelic tattoo-design eye mask to match the aesthetic.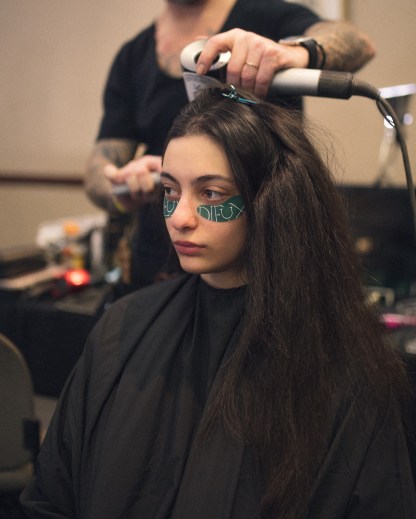 The masks are also a smart makeup tool for use in runway shows, as they help prevent eyeliner and eyeshadow from moving, Freedman said. Freedman provides the brands with enough product that models and makeup artists can take samples home. In some cases, such as for Wilson's show, guests are gifted product, as well, furthering the goal to increase brand awareness.
After two seasons sponsoring Jonathan Simkhai, this year, luxury skin-care brand Noble Panacea sponsored Khaite's show. Noble Panacea global marketing director Mollie Meyer said the brands made a good match due to their shared sophistication. "[Khaite designer and founder Catherine Holstein] has the same values we have, when it comes to sustainability, sophistication and quality," she said. And she noted that, given the fashion brand's aesthetic, it is also one that allows the skin to shine through.
"When you're watching a show, you're of course looking at the gorgeous clothing, but you're also looking at the model from head to toe. And the designers we work with aren't [the ones using] heavy makeup, so the skin is important," Meyer said.
Khaite (545,000 Instagram followers) and Noble Panacea (58,000 Instagram followers) posted jointly on Instagram. Makeup artist Diane Kendal (108,000 Instagram followers), a longtime NYFW mainstay, also posted organically about using Noble Panacea backstage to prep models' skin. "This is about awareness, but it's also about advocates. Catherine and Diane Kendal are individuals with the right network. [When their followers see] that they're advocates, it's a great synergy. And to us, it's a sign of success."
British luxury skin-care brand 111Skin has been sponsoring shows since 2018. This season, it worked with Jason Wu. "Backstage beauty has become just as important as the clothes themselves, and [media] coverage during NYFW is holistic," 111Skin co-founder Eva Alexandrides told Glossy. "People want to know what skin care is being used and recommended by professionals, because healthy skin has never been more important. It gives people confidence and is an essential part of one's total look."
Like her fellow brand sponsors, Alexandrides uses NYFW as an opportunity to build an army of brand advocates, by way of "seeding" products and new launches to "models and professional makeup artists and hairstylists backstage," she said. This season, the brand promoted its Celestial Black Diamond Essence, a more recent launch.
Alexandrides said the sponsorship doesn't place requirements on social posts, but when posting does happen, it has a very positive impact. "The traction we have been able to generate is purely organic," she said. "We've had models such as Candice Swanepoel share photos on social media wearing our masks backstage at NYFW, which is free advertising for the brand."
She noted that the rate to sponsor a fashion show can range from $2,400-$15,000. She bases the ROI, in part, on the number of social posts and the amount of editorial press generated, as well as the relationships built. Sponsoring shows has provided a vehicle for creating a "community of loyal brand fans," she said.
Tata Harper has been sponsoring shows since 2016. This season, it worked with Batsheva and Gabriela Hearst. "Fashion week is not a tremendous undertaking, and we find that being able to showcase our products at such an iconic event is truly invaluable to our brand," Tata Harper, the brand's co-founder and co-CEO, told Glossy. "These partnerships are very natural and something we enjoy doing every season."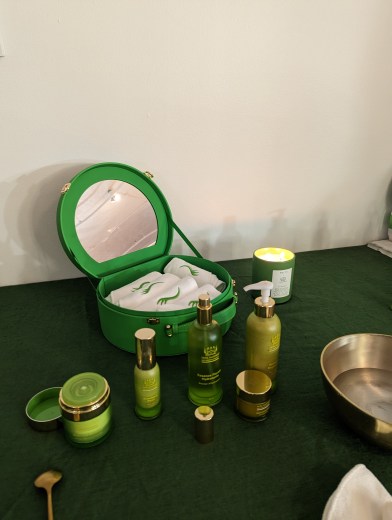 Harper also noted that providing a couple minutes of skin care gives the models a brief respite from the madness of their weeks. "The instant glow that is brought to these models' faces and their happiness after seeing the results is such a rewarding experience. We see a lot of the same models backstage after doing this for so many years, and they're always excited to see us and get a facial. It's what keeps us coming back year after year."
Shop the shows
Featured
Visit the Pop Shop to browse all products featured in Glossy Pop.
Phone cases are now runway-worthy accessories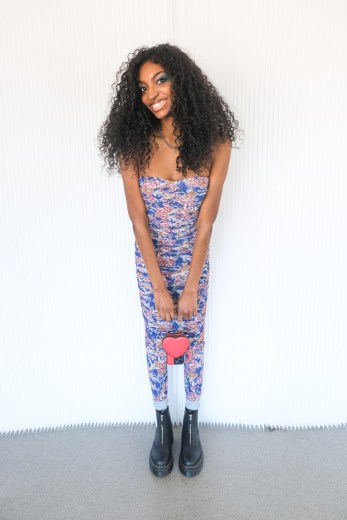 Given that, for better or for worse, our phones have practically become extensions of our hands, perhaps it's unsurprising that phone cases made their runway debut this season. Bandolier's crossbody-chain phone cases made their debut on Colin LoCascio's runway on Wednesday.
"Phones aren't just phones anymore; they're our content portals, our ID, our currency, our keys and so much more," said Adam Derry, creative director and CMO of Bandolier, which what is it known for. "The runway represents a literal bridge from personal artistic expression to global popular culture."
As for Bandolier cases showing up in the styling at the Colin LoCascio show, Derry said, "We love Colin. His designs always feature such a wonderful blend of textures and colors and usually come with a twist or surprise that makes wearing them so satisfying. Our brands share the same spirit of innovative design, luxury positioning and overwhelming spirit of fun that's infused into everything we do. It made sense for us to connect and be a part of this story." The Bandolier products were part of LoCascio's styling, rather than an official collaboration, and are available on the Bandolier's e-commerce site.
Meanwhile, Private Policy collaborated with Casetify on a case for the Samsung Z Flip4. The case matches Private Policy's fall 2023 collection's motifs, with faux fur checker-print and denim checker-print versions available.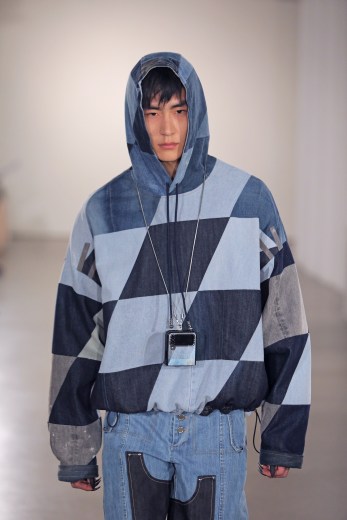 "When Private Policy reached out to partner with Casetify, it felt like things just clicked into place. Our missions, our visions, everything aligned perfectly", said Wes Ng, Casetify CEO and co-founder. "Casetify has always been a fashion accessory, a way for our customers to express themselves. Debuting our signature cases on the runway brought that reality to the forefront and solidified our products' place in the fashion industry." Casetify designed these cases specifically for the Private Policy show and could not yet confirm whether they'll be made commercially available.