All products featured on Glossy Pop are independently selected by our editorial team. However, when you buy something through our retail links, we may earn an affiliate commission.
For those who choose to leave the house, New Year's Eve, is often a time to don your sparkliest apparel. And for the fashion set marking the start of 2023, that meant Retrofête. The brand was seen on Shay Mitchell, Alessandra Ambrosio and Cardi B, among many others. Retrofête's popular Alphabet earrings ($109 per letter) had some major pre-New Year's Eve exposure, thanks to their appearance on Selena Gomez in Rare Beauty's campaign for its new highlighters.
One look at the brand's website and it's unsurprising that it was a popular pick for New Year's — almost everything is sparkly, glitzy, and dripping in, as TikTok would say, "main character" energy.
"Retrofête styles make you look and feel your best. They're super sexy and feminine, and create a show-stopping moment," said Ohad Seroya, creative director and co-founder of Retrofête. "Over the years, we've become a one-stop shop for party wear. And we recently expanded to jewelry and handbags." The brand introduced bags in October, while the letter earrings launched, exclusively with Net-a-Porter, at the end of 2019.
The 5-year-old brand typically sees an organic spike in purchasing around the holiday — and has also encouraged it with strategic gifting leading up to the festive season. This year marked a high point for the brand: October 2022 through December 2022 marked its highest ever quarterly sales. And between December and January, it gained more than 16,000 Instagram followers — it currently has 363,000. According to Retrofête, all placements during the time period were the result of gifting or stylist pulls; it did not pay influencers to wear its clothing and accessories.
This year, Retrofête opened its first-ever physical retail space — a pop-up shop at 99 Spring Street in Soho, NYC. According to the company, the store was spurred by customers requesting a space where they could interact with the brand and see the clothes in real life. It has a large retail presence with retailers including Bergdorf Goodman, Revolve, Shopbop, Net-a-Porter, Nordstrom and Neiman Marcus.
"The pop-up was only meant to be open for the month of December. However, seeing its success and our brand DNA come to life, we've decided to keep it open through 2023," Seroya said. The brand hosted a party to celebrate the store's opening in December. In advance, it collaborated with stylists Danielle and Alix to dress a host of influencers who then wore the brand to the party. Guests included Christine Quinn, Camille Kostek, Shea Marie, Sophia Culpo and Meredith Duxbury.
Of the brand's New Year's Eve ubiquity, Seroya said, "We always make sure our muses have exactly what they need to kick off the new year." To a number of VIP influencers, the brand sent earrings similar to the ones pictured on Gomez (above) — one featured the number 2, and the other, 3, for 2023. Influencers Tinx, Delilah Belle, Kate Bartlett and actor Sarah Hyland all rang in the new year with the numbers sparkling on their ears, according to their Instagrams.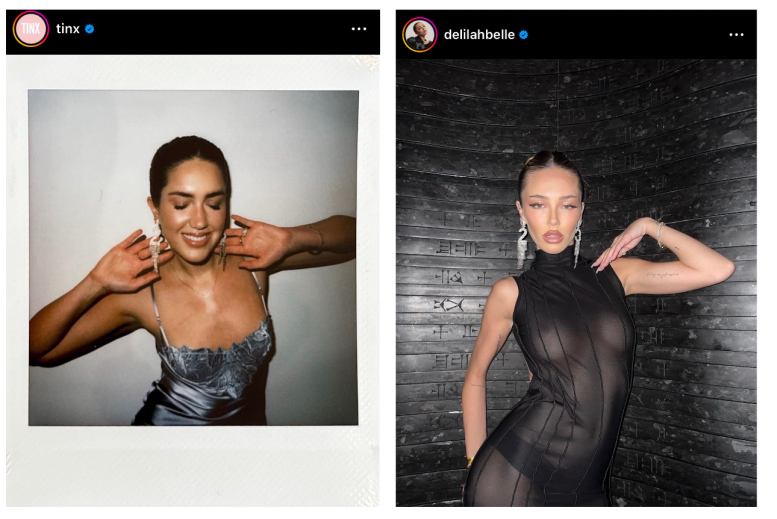 In keeping with the 2022 trend, Retrofête has noticed its silver styles spiking in popularity. The Sirena Feather Sequin Dress in silver, Holland Crystal Dress, the Ruby Crystal Skirt, the Irina Dress in black and silver, and the Vinci Dress in black and silver all saw a pickup in sales in advance of New Year's Eve.
Natalia Baker, 27, a beauty and fashion publicist, wore a skirt from the brand to celebrate. "Retrofête has been on my radar, but I'd never bought [any of its styles] prior to this year for New Year's Eve." She paired the lavender Celestia Sequin Skirt with a basic black tank, a blazer and strappy acrylic heel. "Retrofête pieces are an investment, but the skirt I purchased is something I expect to layer into my everyday wardrobe," she said.
Lauren Kleinman, 33, co-founder of shopping site The Quality Edit and PR agency Dreamday, wore a floor-length sequin Retrofête dress to a partly outdoor New Years party. The brand has become her go-to for special occasions, she said.
"[For New Year's Eve] I wanted something that felt elegant but still fun, unique and striking. Most Retrofête pieces encapsulate those four qualities. … When I came across this dress, I knew it was the one," Kleinman said.
"The holiday season is where the brand really shines. We look forward to it all year long," said Denise Vizcarra, Retrofête's vp of communications. "We notice that our customers take more liberties with sequins this time of year, and it's so exciting to see how confident they feel in our designs. But we want them to realize that this is a feeling that doesn't have to go away after the holidays. Sequins and crystals are meant to be worn and adored year round."