Gen Z-focused Hally, the at-home hair-color brand, introduced 100 new brand ambassadors on Tuesday, and they're all students at Baylor University. The noise they're set to make on social media is one step in a multi-pronged marketing plan centered on college students. The students have social followings ranging from 1,000-200,000.
"When we thought about what our products offer and how we could authentically grow our brand relevance with the right core demographic," college students and the 18- to 25-year-old demographic were the answer, said Kathryn Winokur, founder and CEO of 2-year-old Hally. The brand is sold at Ulta Beauty, Urban Outfitters, Revolve, Target and Amazon.
The students will be posting about Hally's $10 Shade Stix, which the brand is launching on Tuesday in yellow and green, Baylor University's school colors. Shade Stix are like "makeup for your hair" and applied with what is essentially a giant mascara wand, Winokur said.
"You can streak your hair and wash it right out, so it's perfect for sports and concerts, and it makes a lot of sense when we think about school spirit," she said.
The launch of the products is particularly notable because it marks the first time a beauty brand has partnered with a university in an official capacity. The collaboration is only possible because of a recent change in the rules around Name, Image, License (NIL), now allowing athletes to work and earn as creators.
"[The rules] changed in July of 2021, and student athletes can now use their own name, image and likeness for brand endorsement deals and for compensation," Winokur explained. "They can't, however, take any photos in school trademarks, because that's the school's name, image and likeness."
In this case, Hally also struck a licensing deal to use Baylor's insignia on the packaging of its new shades.
"We have 100 creators who are all student athletes [and will be] posting across TikTok and Instagram on Tuesday with yellow and green hair," Winokur said. Hally, which has 34,000 followers on Instagram and 13,000 on TikTok, will repost the atheletes' content.
Overall, the partnership breaks down into a three-part strategy: There's the license to use the logo seen on the packaging. There's the partnerships with athletes as content creators, leveraging them for brand content creation. Finally, there's the partnership with the school, allowing the athletes to wear Baylor uniforms in the posts.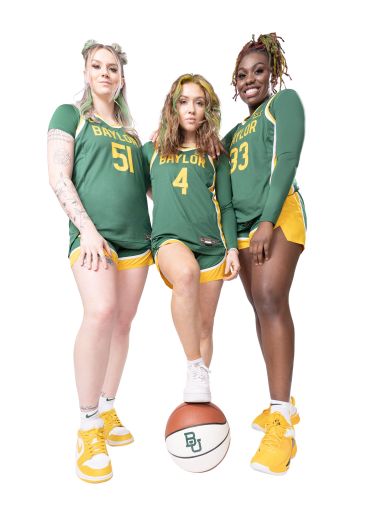 And this is just the beginning. Hally has 26 college sports partnerships coming up in the next 12-18 months.
Winokur said the brand, which is venture-backed, has a comprehensive marketing strategy that includes traditional influencers and paid digital ads, along with the college program. It plans to put paid media behind the Baylor campaign.
All of this follows the brand's 2022 tour, in which it visited 19 schools in a branded bus, in partnership with hair accessories brand Scunci. It will visit another 20 before the school year ends in June. "It was a combination of going to bid day and doing a bunch of Kappa girls' hair in pink when they got into Kappa. We also went to Clemson [University] and did tons of fans' and students' hair in orange and purple for the game," Winokur said. The bus is still on the road, with its latest stop being in New Orleans to visit Xavier and Tulane.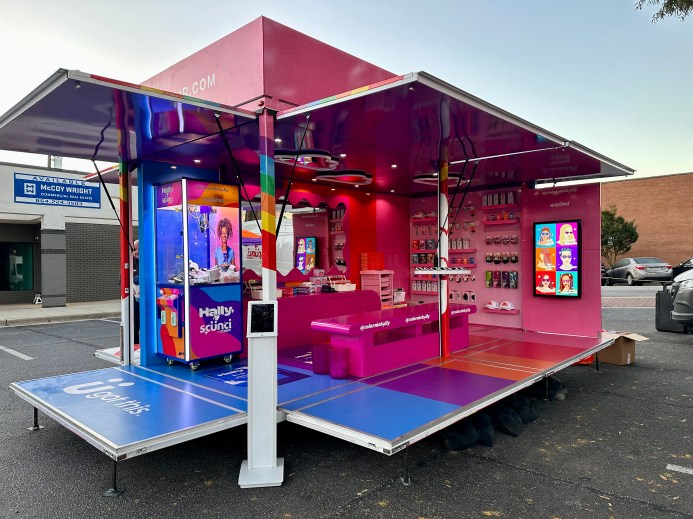 The marketing plan is not the most expensive, but it is an effort-intensive one, Winokur said. In January, Hally hired a senior manager to focus exclusively on its college-related marketing efforts — the brand recruited them last fall during a bus visit to a Georgia Tech game.
"At the end of last year, when we had early results of the college tour, we shifted a lot of our traditional Instagram digital spend to experiential and grassroots marketing [for college students]. … It's much more of a slog, and these students are busy — they'll ghost you. But we feel like we're creating a lot of value," Winokur said.
She said the tour's success was based on the quality of engagements, the number of organic social media posts and shares, and the regional sales lifts.
Winokur noted that Hally's college strategy takes inspiration from brands including Red Bull, Bumble and Rent The Runway, all of which have also had successful college ambassador programs.
She added, "[College students are] starting to experiment and develop hair color routines, so this is the perfect entry point for our brand."