To receive the Glossy Pop newsletter in your inbox every Friday, click here.
All products featured on Glossy Pop are independently selected by our editorial team. However, when you buy something through our retail links, we may earn an affiliate commission.
On March 30, Good American, the denim brand launched by Khloé Kardashian and Emma Grede in 2016, announced the seven winners of its fifth annual open model casting, a program that has become a hallmark of the brand. In step, Emma Grede, co-founder and CEO of Good American — and also a founding partner of Kardashian-founded brands Skims and Safely — sat down with Glossy Pop. Along with the successes of the program, she discussed the state of inclusivity in fashion. Though brands often cite finances as the reason they haven't expanded their sizing options, inclusivity has proven a successful business strategy for Good American. The brand achieved more than $200 million in sales in 2022, which was a 30% year-over-year increase.
The Open Casting program allows anyone to apply to be a part of the "Good Squad," Good American's growing community of ambassadors. Those who are chosen to participate are not paid but are cast in the brand's next campaign, plus they receive mentorship sessions with experts at modeling agency Natural Models, where they are all offered modeling contracts.
This year, the program received its highest number of applicants, at 40,000 from across the globe. Through the Good American website, applicants submit a "full-length photo, posing straight on to the camera," according to the site. Good American partnered with Zoom to eliminate geographical barriers to participation in the contest, allowing anyone to apply from anywhere. Revolve, one of Good American's main retail accounts, was also a partner, hosting in-person global casting sessions. The program officially lasts one year. Seven Good Squad members were chosen this year, though the number varies from year to year.
Some past members, such as Roxy Reyes (@theroxyreyes; 77,000 Instagram followers) have been able to leverage the experience and make careers as content creators.
The Good Squad reached the tabloids in 2019 when chosen member Jordyn Woods was eliminated from photoshoot imagery for a Good American campaign. That was after rumors circulated that Woods had been caught "getting intimate" with Kardashian's boyfriend at the time, Tristan Thompson. Woods did not take part in the Open Casting program. 
Reflecting on the beginning of the program, Grede said, "If you go back six years [when we started working on the concept], the conversation around inclusivity and body positivity was there, but it wasn't like it is now. There are so many brands that are performative in this space, putting girls in campaigns and not actually producing the clothes to go along with it." From Good American's inception, she and Kardashian wanted a commitment to inclusivity to ring throughout the brand, at every level.
"[Inclusivity] should show up in the e-commerce, it should show up in the campaigns, on our design team, and in everybody that works at [our] headquarters, from logistics to operations to finance. The company should be what, or who, it's representative of," Grede said. "That was the initial thinking: Everything we do should embody what we aim to become."
In 2018, the contest was announced by Kardashian on her Instagram and during a guest appearance on the radio program of Ryan Seacrest, producer of "Keeping Up With the Kardashians" and Hulu's "The Kardashians." The final winner served as models, but also influencers for the brand. Good American has 2.4 million Instagram followers and 201,000 on TikTok.
When Kardashian initially announced that she was starting a company with a mission around body positivity and inclusivity, and that invited people to get involved, it instantly resonated, Grede said. Then, when the Good Squad launched, "the feedback [from customers, via social media] was immediate, strong and positive; there was such camaraderie between the women, and it felt like a natural extension of the business we were trying to build," she said. As such, it became a pillar upon which she and Kardashian decided to build.
"There was a need, and we were actually filling the need. And we were getting people to come and be in our jeans," she said. "And when you create 19 sizes, you need a lot of different women to represent that."
But Good American's approach to inclusivity isn't always about size. "Sometimes it's about age, sometimes it's about ethnicity, sometimes it's about hair texture," Grede said. But size inclusivity is a key focus. The brand's TikTok bio reads "Representing Body Acceptance," and the company popularly requires any retailer selling its styles to sell its full size range of 00-32. They also must merchandise them in the same department, versus moving some into a "plus" area. On the brand's e-commerce site, a customer can view products on models size 0, 8 or 16.
During Fashion Month Fall/WInter 2023, in February, fashion weeks globally caught flack for featuring less inclusivity and body diversity than in prior seasons. What's more, "thin is in" has made a comeback, the 'Bold Glamour' filter briefly took over TikTok, and Gen Z-ers have rushed to get plastic surgery.
All this comes as we approach the one-year anniversary of Roe v. Wade being overturned. It is a hard time to be a woman in modern society, to say the least. Grede is thinking about these issues, too.
Though it may not be in government or on the runway, Grede believes that a cultural shift is happening: "Now you have women of all sizes who are like, 'I am sexy. I do look good. I am going to embrace my body.' This idea that we would be so absorbed by size and our differences all the time is archaic and unmodern," she said.
Reflecting on what is happening in these institutions, Grede got passionate: "Fashion is deeply unfashionable right now," she said. "If you think about who's turning up to the [fashion] shows, who cares? And [in terms of] how that's being reported and the importance of traditional fashion media, it's like, 'Womp, womp.'"
Meanwhile, the interesting, meaningful fashion content is being made on TikTok, she said. On the platform, the hashtag #GoodAmerican has over 171 million views. And, indeed, the posts show women of all sizes trying on the brand's clothes.
"[People] would honestly rather see what's happening on some 19-year-old's TikTok as she's talking about how she's feeling than read some of those prominent, institutional publications that have traditionally ruled the roost. … Fashion and that traditional fashion cycle of [seasonal] shows is proving itself to be irrelevant." And, she said, the idea that runways are disconnected from what customers want isn't new.
She added, "It's easy to put a plus-size girl and a Black girl and an Asian girl on your runway, and then forget about it next season because you didn't really care in the first place. You were box-ticking." What's more, seeing three plus-size models during fashion week is not a win, she noted, urging the fashion community to demand more.
"[Women] can never be complacent," she said. "The minute complacency starts is when real progression starts to die."
She said the same rule applies to all issues negatively affecting women now. "Everything is not OK. You can safely and easily get an abortion in California, but that doesn't uncouple us from the fact that, for most women in this country, that is becoming less of a reality. … It's important we remember that our voice matters. We have to be active; we should not be passive."
As for Good American's ability to enact change, Grede said the company is working on it. "It's like baby steps to move society forward; it takes a really long time. We're trying to erase patterns that have been formed over decades. … So it's not going to be five years of Open Casting, and then [we're] done. We're trying to fundamentally shift the [beauty ideals] that have been pummeled into women for decades."
Of course, having Kardashian as the brand's biggest, built-in ambassador also helps. Kardashian has 304 million Instagram followers. "Khloé is speaking to such a wide selection of very impressionable women," Grede said, noting that this is a mainstream, middle-American audience. "Nothing happens when it only happens in one section of society."
As for the 100-plus-member Good Squad, Grede likened it to a modern take on Avon ladies. But in addition to influencing consumers to make a purchase, they evangelize body-positive messaging. "This is about giving those women a platform and an opportunity to use their voices," Grede said. But it's about influencing the way women can influence how one another feels, she said.
"It's about taking this idea of body positivity and making it something that permeates through a larger group of women," Grede said. "When you see your friend, and she's like, 'Oh, my God, you look amazing!' And you're like, 'Oh, my God, I'm wearing Good American and they make my size, and I feel so good.' It's that cyclical, overall community effect of it that we're interested in — the trickle down."
Brandon Blackwood on his new Starbucks collab and the must-have bags for summer
Designer Brandon Blackwood has teamed with Starbucks to release two limited-edition bags, each designed to match one of Starbucks's two new drinks: the new Ready-To-Drink Paradise Drink and the company's Pink Drink. The bags are available, as of Friday at noon Eastern, for $75 each on starbuckssipandsling.com. Below, a chat with Brandon about the unexpectedly fun collab.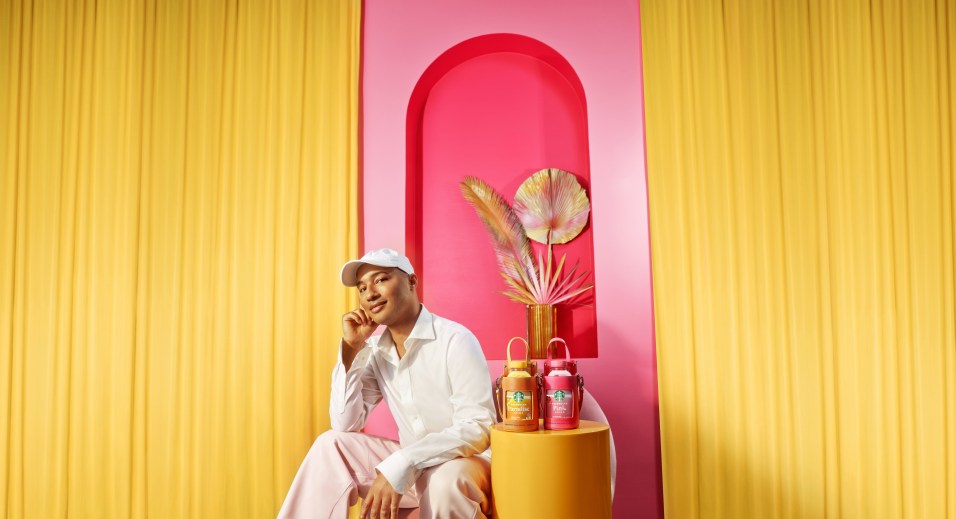 How did this opportunity come about, and why did you want to collaborate with Starbucks?
"Starbucks initially reached out around three months ago, and I was super excited. They gave me the freedom to do whatever I wanted with the two products coming out. So I had to do it. And I've been having fun the whole time."
Tell us about the bag.
"It's really cool. It has a back pocket for your phone, your keys and your wallet. And then the front is perfectly designed to fit either [Starbucks'] Pink Drink or its Paradise Drink. It's a very New York bag; it's very functional. And the color really makes it pop. It's very juicy, very summertime. When you look at the drink, when you taste the drink, and when you look at the bag, something happens up here [in your brain], and it makes sense."
How will the launch play out?
"It's gonna be a bit of a rollout. If you follow like my brand, you know that I love a good teaser. I love getting people excited. So, we're gonna play into that. We're doing the rollout on all social channels — Instagram, TikTok, Twitter — and Starbucks is going to be posting. It's going to be major."
What other bags do we need this summer to round out our collections?
"We just launched our spring/summer collection a couple of weeks ago, and it did better than I thought. It's always the styles that I think are going to be [just] OK that are the first to go. I did this giant fringed basket bag, and it sold out in, like, 10 minutes. But in summer, [I like] anything rattan, raffia — I love a good texture. I love a muted tone. The outfits are always super bright. So, I like to make the perfect accessory that's not gonna fight with it."
Spate trend watch: #PerfumeTok isn't going anywhere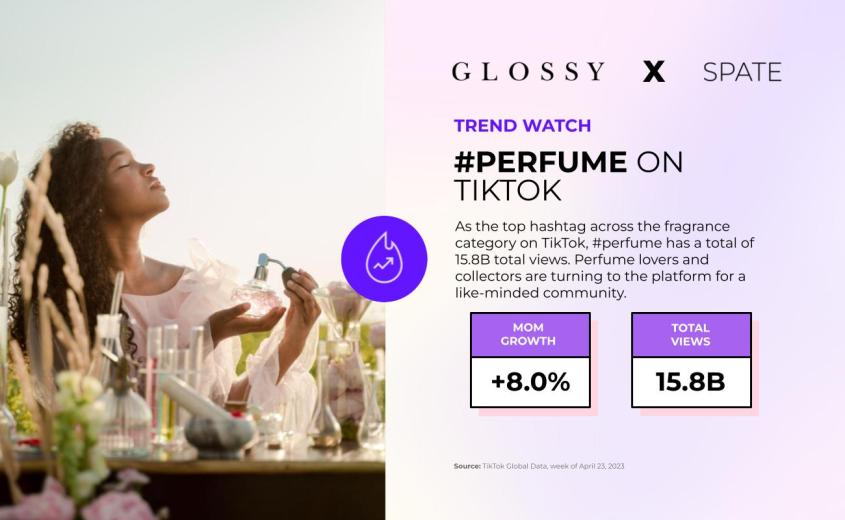 Despite the inability of TikTok viewers to smell through their phones, PerfumeTok continues to thrive. The hashtag #perfume has 15.8 billion total views in on TikTok.
So, what's driving the craze? Alongside #perfume, which is the most-viewed TikTok hashtag in the fragrance category, branded hashtags driving views include: #arianagrandeperfume, #pacorabanne, #carolinaherrera and #glossieryou. Heritage brands Paco Rabanne and Carolina Herrera are capturing interest alongside Ariana Grande and Glossier. It begs the question: What do these top fragrance brands have in common that appeals to TikTok viewers?
Fragrance-note hashtags driving views include #strawberry, #coconut, #lavender, #chocolate and #pheromones. The trend toward sweet scents aligns with Grande's fragrance lineup, which is nothing if not fruity and gourmand. Views of #pheromones indicate viewers are also using fragrance to tap into their animalistic instincts to find a mate.
Inside our coverage
Molly Sims on developing YSE Beauty: 'I didn't want it to be another celebrity or influencer brand'
Beauty & Wellness Briefing: Hydrafacial is upping its cool factor, one brand partnership at a time
Why Billie Eilish and Jennifer Lopez lead the top 5 celebrity fragrances
Reading list
He's not a regular dad. He's a 'Girl Dad.'
Jill Biden doesn't want to tell you what she is wearing
Oprah Winfrey invests in Dr. Barbara Sturm's skin care brand