All products featured on Glossy Pop are independently selected by our editorial team. However, when you buy something through our retail links, we may earn an affiliate commission.
Nudestix, launched in 2014, is best known for its stick-format makeup. In October 2020, it introduced Nudeskin, a tight edit of skin-care products.
Now, Nudestix is taking category expansion a step further with the introduction of Nudebody, a three-piece collection created with Sofia Richie, the brand's "Nude Beauty Director." Richie's role follows the brand's innovative "CSOP" model, a long-term partnership in which influencers receive equity in exchange for regular content creation. The collection launches via a pre-sale on Wednesday, which Richie will announce to her 8.1 million Instagram followers. The products will be available to purchase on Nudestix's own site on March 22 and will launch on Revolve in April.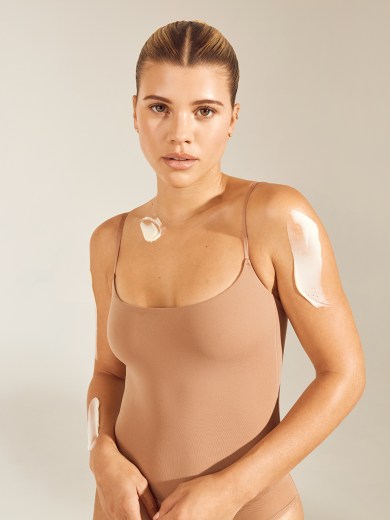 "A few years ago, when a core color cosmetics brand would approach Sephora or any retailer or media outlet, and say, 'We're launching skin,' or 'We're launching body,' they would say, 'Why are you doing this? Stay in your lane.' Now, you're seeing a lot of color cosmetic brands enter different worlds," said Taylor Frankel, co-founder of Nudestix.
To Frankel, growth into new categories is part of building brand loyalty. And "the 'masstige' body care world was not very saturated," she said, citing Sol de Janeiro as one of few examples.
She added, "Our community was looking for a simple, minimalist [body care] regimen. Every product that we do is multitasking, but also gives results and efficacy."
To that end, the debut Nudebody collection is made up of a $22 Exfoliating Butter Body Wash, a $28 Resurfacing Body Toner and a $38 Peptide Body Creme.
Richie was involved in the development process for the three new products. "For one of our first meetings, they were like, 'Why don't you bring in your favorite skin-care products, from body to face," she said. "So I brought in four or five products that I've used for a long time. It was a long meeting. We went product by product, ingredient by ingredient, and [pinpointed] the key things that I feel are important for skin care and that they feel are important. They have much more knowledge than I do, [when it comes to] mixing ingredients."
"[Richie] wanted [the collection] to serve as a self-care ritual, rather than just three products," Frankel said. The most unique product is the body toner. It uses 5% glycolic acid, 5% lactic acid, 0.5% salicylic acid and a 1% fruit acid complex. Users can apply the liquid treatment to their whole body, but Frankel recommends using it to spot-treat problem areas, like rough heels, elbows or knees.
Nudestix is marketing the new collection with its first wild postings in New York City, as well as 50 "junior billboards" throughout Los Angeles. It will also run an influencer campaign, though that talent has not yet been finalized. "Our whole campaign is 'Love your Nude Body,' whether it's parts that you deem sexy or parts that you deem a bit unsexy, like your underarms, your bikini line, your heels — things we don't take care of as much," Frankel said. A goal is to showcase body diversity, and the influencers will be chosen accordingly, she said.
Frankel acknowledged that it can be tough to gain credibility in a new category, especially when customers have associated a brand with its core category so strongly, for a long time. Ultimately, winning in new categories comes down to communicating the same brand values the company has always held, Frankel said.
"We've experienced the challenge of gaining credibility, within the skin-care world," she said. "But we know our community looks at minimalist, multitasking [products] as a lifestyle. And, whether it be makeup, skin care or body, they're looking for this similar philosophy."
Shop the collection:
Featured
Visit the Pop Shop to browse all products featured in Glossy Pop.