Welcome to the Glossy+ Research Briefing, your weekly curation of fashion and beauty research insights. Glossy+ members have full access to the research below.
In this edition, we share focal points from Glossy's newly released second installment of our YouTube Influencer Index series.
Interested in sharing your perspectives on the future of fashion, luxury and beauty?
Apply to join the Glossy research panel.
Sponsored GRWM videos and longer-form videos perform best
This is the second installment of Glossy's two-part Influencer Index series. The first installment looked at YouTube brand partnerships and the types of influencers that are best for brands' marketing playbooks.
Influencer marketing has become an essential part of every brand's playbook. No longer just a novel tactic for product launches, it has become an important method of connecting with customers and building awareness – and loyalty. Glossy+ Research analyzed a list of influential beauty and fashion creators who are making waves on YouTube to assess their performance as brand partners, both strengths and weaknesses. In part two of our YouTube Influencer Index, we dive into the research findings and provide strategies to keep in mind when developing a YouTube partnership.
Key findings:
Sponsored content presented in a "get ready with me" (GRWM) style performed the best in terms of audience engagement. GRWM videos often relay an influencer's authentic experience with a product or brand, rather than serving viewers a highly curated product ad. GRWM videos earned 0.8% more engagement through likes and 1.6% more through comments, compared to tutorials.

Posting longer-form sponsored content on YouTube results in a more attentive audience eager to interact with the video and possibly a brand, according to Glossy's analysis. YouTube videos that are 15-30 minutes in length receive more views, on average, than those shorter than 15 minutes. A constant stream of catchy, short videos can dilute the impact of a sponsorship, as inclusion in a quickly-forgotten clip provides minimal value.
Research Rewind: Only 32% of consumers shop for luxury items in-store locally or while traveling
In case you missed it, less than a third of luxury shoppers regularly shop for luxury goods in-store, according to Glossy's recent report on the luxury market. In April, Glossy partnered with Saks to survey 3,944 luxury consumers and found that the people who are buying luxury goods mostly on either a desktop website (25%) or a mobile website (30%) made up more than half of all respondents, and those shopping on mobile apps accounted for another 10%. Conversely, in-store shopping locally (23%) and while traveling (9%) are far less common.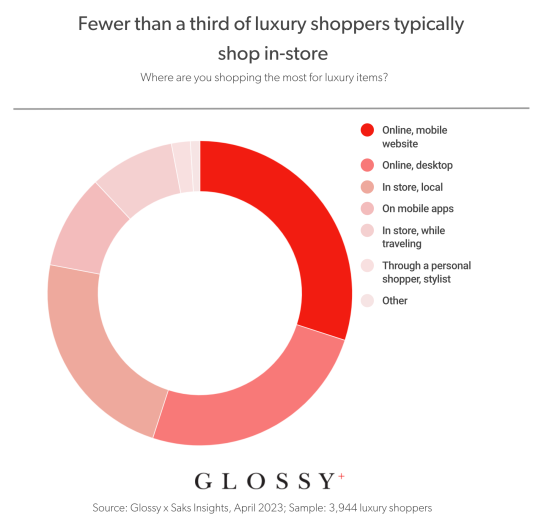 Key findings:
When segmented by age groups spanning 10 years, respondents are progressively more likely to shop in-store the older they are. Only 18% of consumers ages 21-30 shop for luxury in-store regularly, while 50% of those ages 61-70 do.

Forty-four percent of shoppers said they're investing more in quiet luxury — items that are luxury quality and may be recognizable to people in the know, but aren't drenched in logos and recognizable brand trademarks.
See research from all Digiday Media Brands: