To receive the Glossy Pop newsletter in your inbox every Friday, click here.
All products featured on Glossy Pop are independently selected by our editorial team. However, when you buy something through our retail links, we may earn an affiliate commission.
One to watch: Allison Bornstein is offering more than just hauls, unboxings and OOTDs to fashion fans on TikTok
"Sporty. Demure. Opulent." Those are the three words stylist Allison Bornstein selected to describe Princess Diana's style on TikTok using her now-signature "three-word method." Michelle Obama's are "Bold. Polished. Daring." With these descriptions, Bornstein is guiding her nearly 74,000 TikTok followers in defining, or redefining, their personal styles, many after a two year work-from-home hiatus. Bornstein has accumulated most of these followers since the beginning of May, when she started taking TikTok "more seriously." Her tips are gaining traction — a May 5th video in which she identifies Mary Kate and Ashley Olsen's "three words" (Mary Kate: Oversized. Undone. Refined.), Ashley (Oversized. Refined. Minimal) has nearly 500,000 views.
Being a self-described millennial, Bornstein readily admits she did not take to TikTok's more haphazard, chaotic aesthetic. Luckily, hairstylist and influencer Matthew Newman, aka @Mattloveshair on TikTok (1.4 million followers), is a childhood friend, and he doled out valuable advice for succeeding on the Gen-Z-favored app. "The reason you're not getting views is because when people are scrolling and they see your posts and they have a high production value, they think it's an ad. So they're just gonna keep scrolling," Bornstein recalled Newman telling her.
"I'm such a millennial, I was worried about how the grid looked," Bornstein said. Now, she's found her niche. Her three-word tips might have helped her following grow, but her advice for editing one's closet is keeping up the momentum. Unlike the endless hauls, outfits and unboxings typically seen on TikTok, Bornstein's content exemplifies how to shop one's closet and make use of the things one already owns.
Like many stylists, Bornstein's career started in editorial and celebrity dressing, which is to say it focused on special occasions. Bornstein quickly found, however, that she is more interested in dressing people for everyday life. As such, she pivoted her career to help people create their wardrobes.
"The fashion industry can be exclusionary. It can be not very inviting and not very warm. And that bums me out, because we all have to get dressed in the morning. And for a lot of us, that's been a really traumatic and hectic process. And that's how you start your day, every single day — being like, 'This doesn't fit me,' or 'I hate this,' or 'I hate everything in my wardrobe.' That's a horrible way to start your day," Bornstein said. Her belief is that, if "we can figure out a way to make it a joyful process," it makes it better.
Bornstein's bio on the app reads: "Fashion is wellness."
The beauty industry, she noted, has done a great job at staking a claim to wellness. "It's not just about changing your face with makeup, but it's also about skin care. And the same can be said about fashion. You can wear stuff that just makes you happy. And that makes you feel like your most genuine self," she said.
The #Kravis wedding sheds light on sponsored nuptials (Newsflash: They're a thing)
Over the weekend, Kourtney Kardashian and Travis Barker got married — for the third time — in Portofino, Italy. No matter the shape, size or format this wedding took, it would have generated an astonishing amount of public attention — like most everything the Kardashians do. But, surprisingly, the newlywed couple decided to share the spotlight with — of all things — Dolce & Gabbana.
Controversy-ridden Dolce & Gabbana seems to have sponsored the wedding. The brand dressed not only the bride and groom, but also Kris Jenner, all the Kardashian and Jenner sisters, and their children — not just for the wedding but for the entire weekend full of photo ops and yacht hangouts. When asked if the brand had, in fact, sponsored the wedding, Dolce & Gabbana said it had "hosted" the "happy occasion."
"The amount of FTC scrutiny this would be subject to and the fact that no disclosure was made on any of the Kardashian/Jenner social posts makes me think that there was no money directly paid out in exchange for posts. If they had paid for it, it would have been at least $10 million," said James Nord, founder of influencer marketing firm Fohr.
"The more I think about it, the more it feels like a publicity stunt on Dolce & Gabbana's part and, sort of, the ultimate, final chapter of its comeback. When you have unlimited resources, power and status, you can't really be canceled," said trendspotting TikToker Mandy Lee (@oldloserinbrooklyn) in a May 25 TikTok post with over 255,000 views.
TikToker Audrey Peters criticized "Kravis" for partnering with the brand. "Imagine being the most influential family in the world, basically having unlimited funds, and consciously choosing to partner with a notoriously racist and homophobic brand for your wedding. I already think it's very tacky to have a sponsored wedding, but if you're gonna do it, do it right," she said in a May 23 TikTok post with over 538,000 views.
Tacky or not, sponsored weddings are gaining traction. Permele Doyle, founder and president of creative agency Billion Dollar Boy, said these collabs are more common than people realize. "There are many influencers we work with who have had their weddings fully sponsored," Doyle said, noting that it is sometimes bittersweet as it means the bride does not have the final say in every decision. That said, "ultimately weddings are a pretty fantastic opportunity for brand placements," said Doyle.
Many were confounded by the decision on the Kardashians' part. Surely, they can afford clothing, and they have relationships with other high-end brands — plus, Stefano Gabbana once called the famous family "cheap." Perhaps, Nord said, it's a "power play to get the brand who called you cheap to pay for your entire wedding."
The "deal" seems to have been mutually beneficial. By Monday, May 23, Dolce & Gabbana had already accrued over $47 million in MIV (media impact value), according to data and analytics company, Launchmetrics.
Pop makes a podcast cameo
I joined senior fashion reporter Danny Parisi for a special Pop edition of Glossy's Week In Review Podcast. Tune in to hear more thoughts on the Kravis wedding, as well as our discussion on Emily Weiss stepping down as CEO of Glossier and the new Balenciaga and Adidas collaboration.
Subscribe: Apple Podcasts • Stitcher • Google Play • Spotify
Collabs of the week
The home, fashion and beauty categories continue to blur together. This week, a look at two collabs further driving the trend.
Mejuri x Claude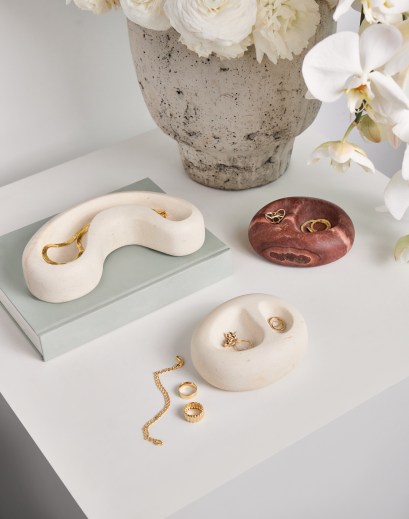 DTC jewelry company Mejuri has partnered with minimalist home goods brand Claude on a capsule collection of three photo-ready jewelry dishes. To complete the look, just add chain necklaces and hoop earrings. Shop it here.
Baina x Lesse
That "it" girl you follow stocks her bathroom with towels by Baina. Now, the brand has collaborated with skin-care line Lesse to create a towel in the latter brand's signature blue hue. Shop it here.
Inside our coverage
62 beauty and wellness brands join the Don't Ban Equality coalition in support of abortion rights
Home cleaning products want space in the 'shelfie'

Jessica Alba on Honest Beauty's first concealer, 'clean-washing' and TikTok
Reading List
Gucci x Oura launch a $950 smart ring to help you discover yourself

Austin Butler named Cartier ambassador

The sunsetting of the girlboss is nearly complete