Olympic snowboarder Shaun White hung up his board professionally back in February. Now he's turning his attention to a new venture with the launch of his brand, Whitespace.
Whitespace initially soft-launched during the February Beijing Olympics and debuted formally Monday with new clothing and gear. The athletic brand includes a 3L Performance 3-in-1 Sherpa Jacket ($499), a Signature Puffy vest ($299), and a Merino Thermal Base Layer Mock Neck sweater ($119). Of course, there are also snowboards, with three different options ($550-$595), and goggles ($74-289). Whitespace is sold exclusively through outdoor retailer Backcountry. While the connection to the name partly stems from White's surname, he also wanted it to express the sense of endless possibilities and creativity. White said that snowboarding itself embodies that, in that there are not many rules around it. Plus, people are encouraged to develop their own tricks, such as his own signature move, the Double McTwist 1260.
White retired from professional snowboarding following the Olympics and said having Whitespace to work on has helped during this transitional period. White, speaking to Glossy from Switzerland while testing Whitespace boards and gear, said the brand cannot replace the thrill of competition, but there is a "pure enjoyment" and fulfillment in working and building this next phase of his life. Over the course of his career, White competed in the Olympics five times and won gold three times in half-pipe snowboarding. He holds the world record for the most X Games gold medals and most Olympic gold medals by a snowboarder.
"After years of working with other brands, I realized that my job as an athlete was to best fit their mold — as in their color palette, logo, slogan and video content — and still try to be me," said White. "But when you do something from the ground up, it's your mold, and you don't have to run things up the corporate ladder."
White said he was inspired by the legacies of athletes Tony Hawk and Jake Burton Carpenter, who both founded their own brands. Hawk founded the skateboarding brand Bird House, while Carpenter founded Burton Snowboard and is regarded as one of the inventors of the modern-day snowboard.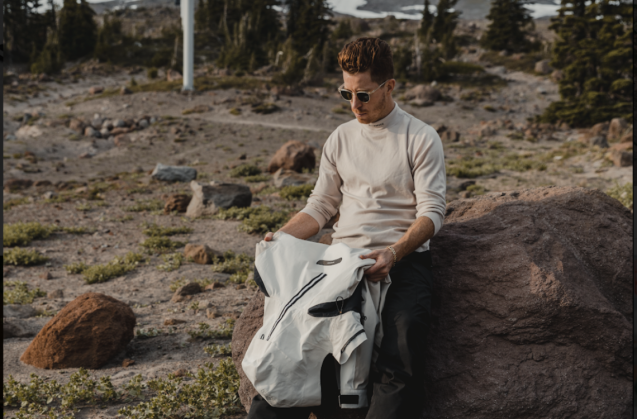 White, who started snowboarding when he was 5 years old, revels in product development. He's involved in every aspect of Whitspace's boards and gear, including selecting the different types of wood for boards and testing the flex and core materials of the board. White is not only interested in the quality of the board and how it can stand out from competitors, but also in the design and branding of Whitespace, he said. The bottoms of the snowboards feature a large white stripe down the middle, which originated before Whitespace when White was free from a sponsorship contract and had a snowboard made for himself. The fastest base material was black, which White found boring and asked for a white stripe down the middle. It's a sophisticated design free of any names or flashy patterns and speaks to White's appreciation for fashion.
White also asked himself what he would pack for a trip and used that as a source for developing the clothing. Items are designed to retain warmth even when wet and can easily be taken off after a day of snow activities. A base layer in the jacket can be worn on its own as part of a stylish yet casual ensemble.
"I wanted to make something universal; you can easily wear it in your everyday life, but the quality [is good enough] to ride in it. With how I ride, it needed to perform," said White.
In 2020, while snowboarding at Mammoth Mountain in California, another rider dressed "head to toe" in Louis Vuitton caught White's attention. That individual was Virgil Abloh, then-creative director of Louis Vuitton and his own brand Off-White. Abloh, who died in Nov. 2021, and White hit it off, and White expressed his desire to launch his own brand. White said Abloh gave him confidence in his vision and advised him on how to best express the story of Whitespace aside from being a snowboarding brand. As the Whitespace brand evolves, White expects it to transcend snowboarding and expand into other sports.
At launch, there are no influencers or other professional athletes involved in marketing, but there are plans to collaborate with influencers at a later time. Speaking on the legacy of Carpenter and Burton Snowboard, White said his company has considered partnering with up-and-coming snowboarders. Speaking about customers, White said he's hopeful Whitespace will be the brand that inspires someone to try snowboarding and has positive ripple effects elsewhere in their lives.
"All the effort and time being put into a product and then seeing someone out enjoying it [offers a] connection. It's what I need right now, as opposed to retirement," he said.
5 questions with Shaun White
What is your version of après–ski or après–snowboard?
"It depends on where I am in the world. It looks a little different in Aspen compared to Europe or my home mountain, Snow Summit [in California], which has a party L.A. crowd with weekend warriors. But I have to be warm and comfortable and be able to shed the layers quickly."
Where do you keep your Olympic medals, and do you let other people try them on?
"I have them in a safety deposit box. You can't really replace those if they go missing, and with my lifestyle, where I'm bouncing around, it doesn't make sense to have them out. My girlfriend [actress Nina Dobrev] jokes, saying, 'I've been with you for so long, where are they?' But I'm not overly protective of them once they're out. I definitely let people try him on. My running joke was that I would leave them out as coasters."
What's your favorite mountain to ride on?
"That's so hard. If I was going to ride for half-pipes, I might go to Laax, Switzerland. But the powder runs in Hokkaido, Japan are incredible. Somewhere that has the most [options] where you get the park, the powder and halfpipe is Whistler Blackcomb, Canada; it's one of my favorite places to go."
Early in your Olympic career, you were dubbed 'The Flying Tomato' for your long red hair. Will you ever grow your hair long again?
"I can be convinced. I did a commercial shoot where they had [me wear a] wig. I asked, 'Can I hang on to this?' and they said yes. I wore it home, and my girlfriend said she liked it."
You had a small role in the 2011 film "Friends With Benefits." Would you ever act again?
"I'd love to do that. I just attended "SNL" [on Oct. 1] supporting [guest host] Miles Teller, and they asked if I wanted to jump in. The thrill is very similar to competing, where the pressure is on to see if you can deliver. Now that I have the time, I'd definitely love to do more. But I'd want to do something where I wasn't [playing] myself. I'm always [asked to be] a weird version of myself, where I'm really mean or vain. I'd want to be a no-name random character like a store attendant."