NYFW is behind us, though fashion month has just begun. Remi Bader, TikTok's queen of the "realistic haul," has been attending the shows as an influencer for the past three seasons. Shortly before the start of this season's NYFW, Bader shared on her Instagram Stories that she would only attend the shows of brands showing models of diverse body sizes and selling clothes she could wear to attend those shows. Bader recently launched a collaboration with Revolve, inclusive of extended sizes for Revolve, dubbed Remi x Revolve.
Bader wound up attending Christian Siriano, Cynthia Rowley, Prabal Gurung, Puma, Tommy Hilfiger and Boohoo by Kourtney Kardashian Barker. For each show, Bader either borrowed or was gifted an outfit to wear, and she was not paid to go to shows.
Below, Bader reflects on the state of inclusivity and weighs on where fashion should go from here.
How did you decide which shows you would attend?
"After last September, I was super down and disappointed. Some shows wanted me to come and didn't have clothes that even fit me. [They] wanted me to come just to have me there. I just kept thinking: 'It doesn't make sense.' A lot of other people were able to get dressed and I wasn't. And then seeing that there were either no plus models in the show or one [plus model] in each show, I felt really upset. I thought, 'If I do this again, I have to make it make more sense, or else it just doesn't align with my brand.'"
How did you communicate that to your team, designers and followers?
"[When I posted the Instagram story you got in touch about], that was the first time I really put it out to my followers. A lot of people reached out and were like, 'I'm happy you're doing that.' But then, no matter what, there is [still criticism for supporting] shows that might have one plus-size or just a curvier, size 12 girl in the show. Another issue is that, a lot of the time, they'll have that one model and then they don't even make that size for people to actually shop.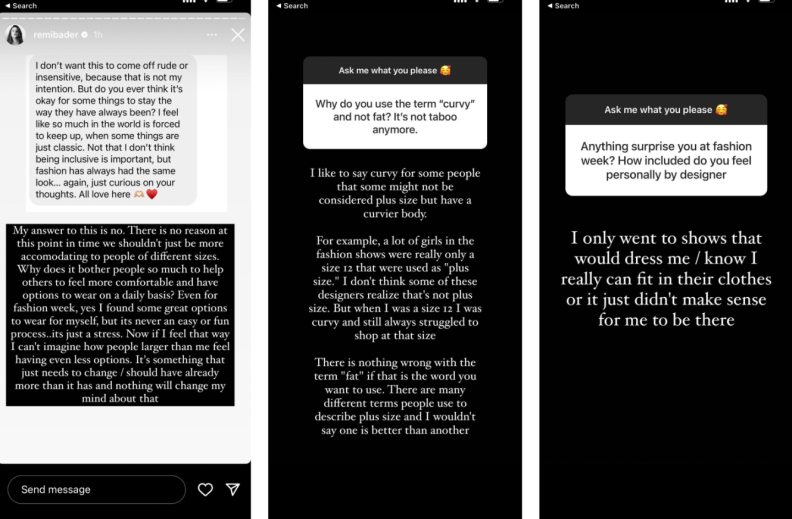 [That said], I do want to celebrate those curvy women or plus-size women that are in shows. I don't think that's not to be celebrated, especially if they're the only one or two with all the other, skinny models. That's like a big deal for them.
It's similar to me launching Revolve and people saying going up to 4X isn't enough, or me working with Victoria's Secret Pink and people saying that what they're doing isn't enough. I always believe that having a little bit of a change will lead to a lot more, so that's why I'm supportive of those shows.
For next season [I am wondering], 'Do I look into it more, and if they have just one plus-size model and don't even have that size available to shop, should I go to that show?'"
This season saw criticism that suggested that diversity on the runways, particularly body diversity, was moving backward. Do you agree?
"That is how I felt. I don't feel like I saw any improvement. I don't think there were any more [plus-size] models than there have been in the past.
I spoke about it on my Instagram that I thought Tommy Hilfiger was amazing because it wasn't just using multiple plus-size women, but it also used plus-size men, younger men, older women, all different [races]. [It] was just people. Why can't every show do this? That's exactly what all the shows should look like. It's weird to me that it's not changing."