Introducing the Glossy+ Luxury Briefing, our newest member product uncovering the strategies driving the success of global luxury brands. For this week only you can save 50% on a three-month Glossy+ membership. Become a member here. To kick it off, we're rolling out the State & Future of Luxury Report in five parts over five weeks. Each will focus on a luxury category across fashion and beauty, and will feature insights from a focus group of luxury marketers, founders, investors and analysts. In addition, we've worked with Saks to compile exclusive insights from its panel of luxury consumers. Week 2 focuses on watches and jewelry with insights from executives from Hodinkee, Avi & Co. and Bezel, among others. –Danny Parisi, senior fashion reporter, Glossy
The new luxury watch consumer
The legendary Swiss watch brand Patek Philippe has a famous marketing slogan: "You never actually own a Patek. You merely look after it for the next generation."
That saying has never been more true than it is right now — not just for Patek, but for the entire luxury watch market. The last three years have seen a massive upswing in luxury watch sales — the global market is expected to be worth $32 billion by 2027. And new consumer segments, including young people, women and consumers outside of the U.S. and Europe — the two largest watch markets for most of the 20th century — are leading the charge.
Recent data from Bezel, a 2-year-old secondhand luxury watch marketplace based in Los Angeles, starkly illustrates these trends. In the last year, sales of luxury watches have grown around 75% month-over-month. Around 60% of Bezel's buyers are millennials or Gen Z, and there's been a 50% month-over-month increase in female buyers. Bezel carries all the major brands like Rolex, Audemars Piguet, Patek Philippe and IWC, selling watches priced from $1,000 to over $250,000.
"A lot of our customers are first-time buyers," said Quaid Walker, co-founder and CEO of Bezel. "So we try to make a human being available for our customers to talk to and ask questions anytime. A luxury watch is such a monumental purchase for a lot of people."
According to the Federation of the Swiss Watch Industry, luxury watch market sales declined 13% in 2020, hit by the same Covid pressures widely affecting retail. But watches made a swift recovery. The value of Swiss watch exports around the world had reached an all-time high of over $27 billion in 2022 alone. A Bain study from April found that Gen Z spending on luxury goods like watches is likely to increase three times faster than for older demographics between now and 2030.
Brynn Wallner operates the women's watch-focused Instagram account and media brand Dimepiece, which has over 40,000 followers. Wallner said that the dominant luxury watch brands haven't traditionally catered to younger consumers or women. Instead, Swiss watches have typically been the domain of older, wealthy men in the U.S. and Europe.
"The advertising from watch brands was never really speaking to me," Wallner said. "Historically, brands would advertise women's watches to men. It was something you could buy for your wife. There wasn't anything really speaking to women, to young people."
Instead, Wallner said it's been institutions outside of the brands — from resellers like Bezel, Wristcheck or The RealReal to watch blogs like Dimepiece and Hodinkee — that have been at the forefront of introducing a new audience to the luxury watch industry. She said she's heard from many women who only started paying attention to the intricacies of women's watches after seeing a watch mentioned on Dimepiece or seeing a celebrity like Bella Hadid wearing a notable piece.
Wallner added that that's not necessarily a bad thing for the brands.
"The watch industry is kind of stoic and a little stuffy. And the contrast between that and the way people outside the brands talk about them in this fun, accessible way is almost synergistic," Wallner said. "The brands get to keep their mystique, but there's still a sense of inclusivity around watches."
That said, the brands have started to cater to an audience outside of their typical older set. For example, at the annual Watches and Wonders conference in Geneva in March, Snapchat showed off an AR watch try-on feature with watches from Cartier and Hublot, among others. Watch brands have also started to embrace hip-hop, which has been a major influence on the popularity of luxury watch brands among a new generation.
"There's starting to be a change at the brands," Wallner said. "Audemars Piguet hired Ginny Wright as CEO of North America [in 2021, making her] one of the first women to be put in such a high position in the industry. Audemars is one of the brands that's more forward-thinking, in a lot of ways. They've embraced hip-hop's impact on the culture. They've worked with Jay-Z, who helped popularize them."
Jay-Z had collected Audemars watches since the 1990s and has been friends with the brand's CEO, Francois-Henry Bennahmias, for years. Jay-Z is most known for sporting an Audemars Royal Oak watch, and the brand has even released signature versions of the watch co-created with Jay-Z.
There are other signs that the luxury watch industry is loosening up. Jeff Fowler, CEO of the watch marketplace Hodinkee, told Glossy that the aforementioned Watch and Wonders show allowed entry to the public for the first time this year.
"There was a six-day stretch that was for trade only, and you had to be accredited to get access," Fowler said. "But then toward the very end, they opened it to the public. I was told that a lot of the brands flipped who they had working the booths, from B2B people to retail people. That was to make sure that when these non-industry, consumer folks came to the booth, they were able to treat them like customers."
Austen Chu, founder and CEO of the Hong Kong-based watch marketplace Wristcheck, echoed the sentiment that Audemars is one of the frontrunners in embracing youth culture and new audiences. Audemars Piguet is one of the most prestigious Swiss watch brands with over $1.7 billion in sales in 2021.
"We launched a global design contest with Audemars Piguet [in November]," Chu said. "And it was boundary-breaking, because big watch brands don't typically work with other companies at this scale."
Wristcheck received about 5,000 entries into the contest to design a new version of Audemars' Royal Oak watch. The winner was chosen by François-Henry Bennahmias, CEO of Audemars Piguet, and Chu.
Finally, there's been a global embrace of luxury watches beyond the traditional American and European hubs. Hong Kong has become the biggest luxury watch market in the world, Chu said. For the last decade, aside from a few years at the beginning of the pandemic, a city of 7 million people has bought more luxury watches than the entire U.S. with more than 300 million people.
Hong Kong's dominance is well established by now, and other regions like India, Latin America and Australia are now emerging as new luxury watch hubs. In its fourth-quarter 2022 earnings announced in March, luxury watch company Movado reported a 6.3% decline in sales in the U.S. but said that emerging markets are offsetting those losses.
"Internationally, we experienced a 5% decline coming off a record quarter last year," said Efraim Grinberg, chairman and CEO of Movado. "Our international revenues were negatively impacted by significant challenges in Germany, the U.K. and France, driven by the war in Ukraine and inflationary pressures. Notably, we had strong performances in Latin America, the Middle East, India and Australia, which partially offset some of the declines during the quarter."
These regions, the Middle East especially, are seeing significant growth in luxury spending, according to Sarah Willersdorf, head of luxury at Boston Consulting Group. The MENA luxury market is expecting close to 9% growth rates in the coming years.
"The Middle East has always been important," Willersdorf said. "But people still don't talk enough about it. The Middle East is on fire in luxury spending. It's off the charts."
By the numbers: Luxury shopping has moved online, with quiet luxury driving sales
Powered by Saks Consumer Insights
In April 2023, Glossy partnered with Saks to survey 3,944 luxury consumers on their current shopping habits. This week, we spotlight the ways their shopping habits have changed and the continued growth of quiet luxury.
Less than a third of respondents to the survey said they regularly shop for luxury in-store. The people who are buying luxury goods mostly on either a desktop website (25%) or a mobile website (30%) made up more than half of all respondents, and those shopping on mobile apps accounted for another 10%. Conversely, in-store shopping locally (23%) and while traveling (9%) are far less common. At the bottom of the list are those who primarily use a personal shopper, who are largely older consumers.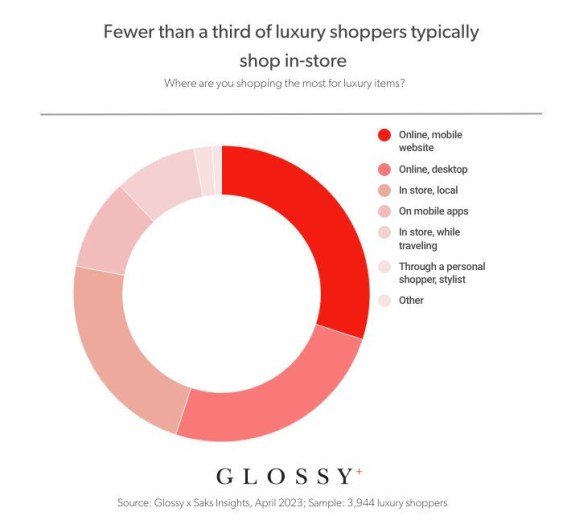 When segmented by age groups spanning 10 years, respondents are progressively more likely to shop in-store the older they are. Consumers in their seventies are an exception, as they're slightly less likely to shop in-store than those in their sixties. Only 18% of consumers ages 21-30 shop for luxury in-store regularly, while 50% of those ages 61-70 do. Likewise, the use of a personal shopper correlates with age. Zero percent of the twenties age group said they use a personal shopper, while 5% of the seventies age group said they use one.
"I don't think this was the case 30 years ago, but luxury consumers are ahead [in online shopping,]" said Emily Essner, CMO of Saks Fifth Avenue. "The pandemic drove a lot of rapid adoption. That's changed pretty dramatically over the last five years."
The data also showed the continued success of quiet luxury. Of the respondents, 44% said they're investing more in quiet luxury. These items are luxury quality and may be recognizable to people in the know, but they aren't drenched in logos and recognizable brand trademarks.
What's especially notable is that investment in quiet luxury increases as the respondent's household income goes up. For example, only 21% of consumers with an income of under $100,000 are investing in quiet luxury, while 31% of consumers with an income of over $500,00 are doing the same.
According to Jeff Fowler, CEO of Hodinkee, part of that trend is that high-income consumers are likely to be surrounded by other people in those same income brackets who will recognize the value of the items worn.
"[The watch brand] Patek Philippe epitomizes quiet luxury to me," Fowler said. "I was with a guy in Geneva at a brand event and he was wearing a Patek Philippe 2499. That might not mean anything to most people. It's a nice watch. But suffice it to say that anyone who's a watch person saw his wrist and had their jaw on the floor. It's a gorgeous watch and worth 250 times more than a flashy Rolex Daytona. And he said he wears it around the city all the time and doesn't even think twice about it."
The State & Future of Luxury Watches and Jewelry
What's now and next, according to insiders
Size and fluctuation: Watch prices are fluctuating
A somewhat confusing element of the luxury watch evolution has been the prices.
Initially, the rising demand for luxury watches in 2020 and 2021 led to prices increasing across the secondhand market. This was helped by the fact that the big luxury brands refrain from manufacturing larger volumes. Rolex makes under a million watches a year — and that's on the high end for the industry. Patek Philippe makes under 100,000 per year. Waitlists for these brands to buy new can often be years long.
But despite the high demand and limited new supply, secondary market prices started to decrease significantly at the end of 2022 and into 2023. The culprit, according to experts, was the flood of supply from collectors who saw the rising demand and started to sell a large number of watches all over the resale sector.
"At the height of the pandemic, prices were going crazy," said Avi Hiaeve, owner of Avi & Co, a New York-based luxury watch boutique. Avi & Co. is also now a watch brand, releasing earlier this month its first three branded watch models, which retail for over $300,000. "Prices were doubling, tripling overnight. The demand was there, but we didn't have the supply. Now in the last six months, prices have dropped."
But Wallner said it's important to keep price fluctuations in perspective.
"There are a lot of headlines about watch prices declining," she said. "A Patek Philippe Nautilus costs around $35,000 new. It was selling for over $200,000 on the resale market a year ago, and now it's selling for over $100,000 on resale. It's still super inflated."
Business strategies: Looser boundaries between men's and women's watches
As part of the influx of women into the luxury watch space, there's also an increasingly porous line between what counts as a men's and women's watch. Bezel doesn't separate its watches by gender, only by sizing, for example.
And while it's been common for women to wear watches made for men, a recent trend has gone the opposite way. Notable celebrity watch enthusiast Tyler the Creator is known for his extensive collection of vintage women's Cartier watches. Most recently, at the Met Gala, actor Jeremy Strong was seen wearing a Richard Mille RM 07-04 women's watch.
"There's definitely less of a boundary between men's and women's watches now," Wallner said. "It's one thing to see people like Tyler the Creator or Bad Bunny wearing women's watches, when they're already kind of daring people. But seeing someone like Jeremy Strong doing it, who's less of a wild guy, is a sign that it's going to become more common."
Wallner said the trend also coincides with men's watches slowly getting smaller. For the last five years, men's watches had been trending larger, up to 44mm in some cases. But recently, brands have started to release men's watches in sizes that are closer to those of traditional women's watches.
Consumer shopping behavior: Customers want authentication
As customers increasingly embrace secondhand watches, authenticity has become a greater factor in watch purchasing decisions. Secondhand marketplaces for both watches and fine jewelry are employing authenticators and, within their marketing and messaging, they're pushing their ability to authenticate.
EBay, which has focused its efforts on luxury in the last two years, began working with the Gemological Institute of America to authenticate jewelry in July 2022. This is the first time the GIA has ever worked with an outside platform for authentication purposes.
"The big component for us is the three Ts," Tirath Kamdar, eBay's global gm of luxury, told Glossy in November. "Trust, transparency and traceability. We surveyed our customers, and 82% said physical authentication was a deciding factor for luxury goods on our platform. So working with the GIA is a big thing for us, and it's driving more trust."
But some brands aren't so happy with resellers' claims that they can authenticate goods. Chanel notably sued The RealReal for making such a claim. But Bezel's Quaid Walker said brand opposition isn't fair to resellers.
"Our authenticators have seen thousands of watches pass through their hands," Walker said. "They've seen models that have been discontinued for years. They have the most up-to-date knowledge of what's going on in the space."