To receive the Glossy Pop newsletter in your inbox every Friday, click here.
All products featured on Glossy Pop are independently selected by our editorial team. However, when you buy something through our retail links, we may earn an affiliate commission.
Getting zapped could mean a million things, but to those in the know, it means having an extremely dainty gold chain welded to your wrist. It's frequently done with a mom, sister or friend, and is often documented on TikTok.
Catbird, as New Yorkers know, has been somewhat of an institution for ages. It started with a shop in Williamsburg — back when Williamsburg had about five boutiques total — in 2006. In 2017, it introduced welding, but it was only after the Covid lockdown and a few big TikTok placements that the offering became a cool-girl to-do.
After TikToker Anna Sitar (12 million followers) brought her two sisters to Catbird in July 2021, a surge in popularity followed. Sitar's post about the experience has nearly 5 million views. "After she posted, we sold out of appointments. At the time, we were only welding out of one location, so it was more limited, appointment-wise. We had a lot of people messaging and DMing us, asking when we were going to have more appointments. … And our TikTok following [grew] by thousands and thousands," said Kristin Griesel, Catbird's content marketing manager.
On June 7, fashion influencer Brittany Xavier went to the Soho location with her daughter Jadyn and documented the welding process for her 4.8 million TikTok followers. The post has 7 million views.
Catbird currently offers "zapping" appointments at both of its two permanent locations; its Soho shop on Centre Street has two welding chairs, and the Williamsburg location has six chairs. The brand averages 85 appointments per day out of each location. At $98, the threadbare gold Sweet Nothing chain is the most popular option. Higher-priced options that include diamonds top out at around $330.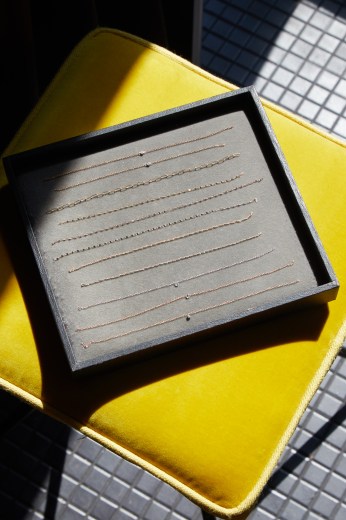 Catbird typically offers influencers and content creators trades. In other words, it comps the welding service and jewelry in exchange for TikToks. "We reach out to a lot of super micro people, especially on TikTok — people who do specific shopping things, cool restaurant reviews, neighborhood highlight content or day-in-my-life kind of things. Maybe the zapping is not the whole focus of the video, but it's worked into their day-in-my-life video," Griesel said of the brand's content strategy. "We really look for people who are either current customers of ours or who we align with, style-wise. And we're pretty selective about that. It's all quite manual."
Catbird did not invent welding, but its welded styles have become like Cartier love bracelets, for Gen Z — given both their permanence and the fact that they're a fraction of the price. They also serve an emotional purpose, of sorts, like a modern take on a friendship bracelet.
Catbird has always been about "things that are very easy to wear — you put them on, and you never take them off," said Leigh Plessner, chief creative officer. "Even though jewelry is all about adorning and putting things on, we also really like everything to be as streamlined as possible."
Welding was an instant success and "instantly connected with people," Plessner said. "It's for all of the reasons why people love jewelry. Plus, it's a way to mark a moment. We see so many people coming in who are mothers and daughters, friends and so many groups. People maybe do something similar with piercing, but welding is so instant."
Since the lockdown, she said, people have craved these kinds of experiences. "After not being able to share those moments together, it roared right back, and people were happy. There was a backlog of things to celebrate together during that time, so there was a lot to commemorate."
Summer 2022's buzziest new SPFs
With temperatures reaching blazing highs, it remains important to keep your skin well-protected. Fortunately, a number of buzzy brands have introduced formulas you can actually look forward to applying.

Necessaire, The Sunscreen, $35
The makers of everyone's favorite minimalist-chic deodorant and body wash have just introduced its first SPF. The mineral formula doubles as a daily moisturizer, thanks to skin-care ingredients like hyaluronic acid and niacinamide.
Saint Jane, Luxury Sun Ritual Pore Smoothing SPF 30, $38
Though Saint Jane became known for its CBD-laced skin care, its first SPF does not feature the ingredient. However, the mineral sunscreen does feature 10% zinc oxide, along with skin-soothing jasmine, antioxidant-rich hibiscus and nutrient-dense green tea. The formula is pore smoothing, allowing it to work as a primer, too.
Humanrace, Ozone Face Protection Daily Moisturizer SPF 30, $58
If you've ever wondered how Pharrell looks ageless, the answer, on top of really, really good genes, likely has something to do with SPF. Now, his brand Humanrace makes its own, refillable sunscreen, which is fortified with ingredients like hydrating snow mushroom and squalane.
Clare V's trucker hats are a celeb must-have this summer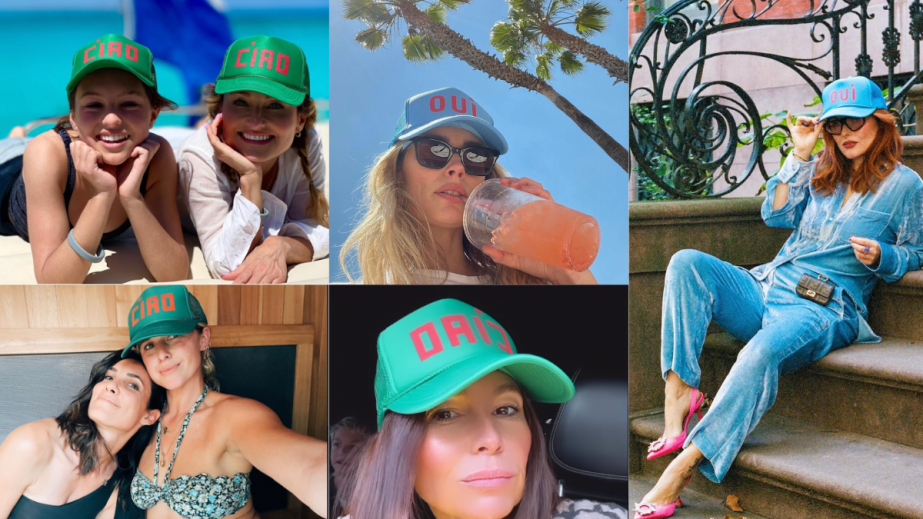 Launched in 2020, Clare V's trucker hats ($45), which come printed with cheeky words like "OUI" and "CIAO," have been seen this summer on the likes of Rose Byrne, Kristen Bell and Reese Witherspoon. "Hats have always been a staple in my wardrobe. We introduced these hats in 2020 with our classic CV phrases as a playful and colorful way to add something extra to your wardrobe. We also launched them at a time during the pandemic when people were wearing masks, so it felt like a nice and fun way to communicate — 'Oui' and 'Ciao' did especially well. They also attracted both men and women." They've been a hit: The hats' year-to-date sales have exceeded their sales for all of 2021, and are up nearly 200% for the same period.
Paired with SPF, it's the perfect combo.
The French Pharmacy gets the TikTok haul treatment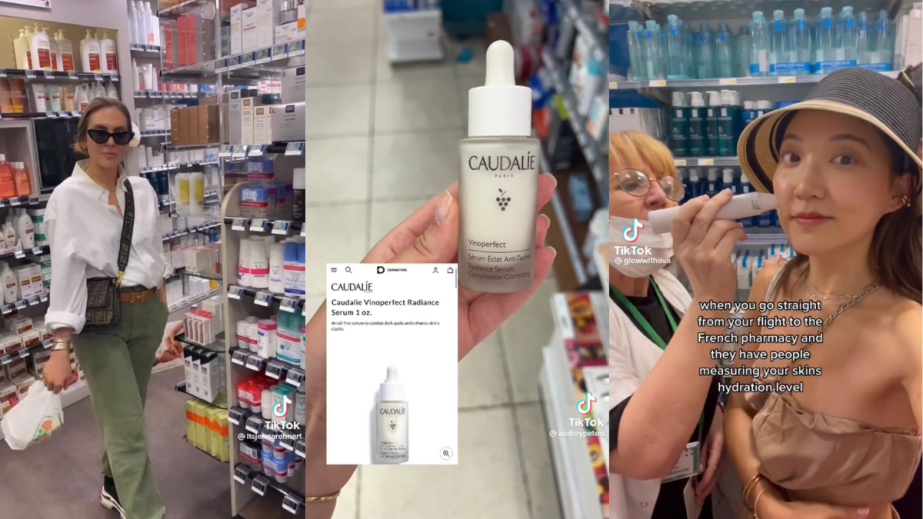 The European summer vacation season is in full swing, and people visiting France are skipping the Eiffel Tower and going straight to the pharmacy.
Ava Lee, beauty TikTok creator, described in one of her most recent videos how she went directly from the Paris airport to the highly tourist-trafficked CityPharma. In the video, a French pharmacist tests the hydration levels of Lee's skin, something you'd never see in a U.S. pharmacy. Tiktok dermatologist Scott Walker also posted a video of himself going to a pharmacy after landing in Paris. And other beauty creators like Audrey Peters have posted their French pharmacy hauls on TikTok.
French pharmacies and their skin-care products have always appealed to Americans. But making the pharmacy the first item on your French vacation itinerary is significant, even if creators are only doing it for the content. The products that are popping up throughout these pharmacy hauls by are Caudalíe, Bioderma, Uriage, Avène and, of course, La Roche-Posay. Some of these brands sell their products in the U.S., so what makes buying them directly from France so special? In addition to France's endless je ne sais quois, French products are also more regulated than those in the U.S.
The rush to French pharmacies could also be attributed to the euro being even to the dollar for the first time in 20 years, as of July 12. As summer continues, French pharmacy hauls could become regulars on your timeline. –Gabriela Garcia-Astolfi
Inside our coverage
Thinx taps Pamela Adlon for 'How a new generation Thinx' commercial

Ashley Tisdale's Being Frenshe brand aims to make wellness rituals accessible
A new perfume doubles as an ice cream topping
Reading list
Loops Beauty taps Camila Mendes as partner and creative director, enters Ulta
Lauren Conrad's first-ever fragrance smells like a love song