To stay up-to-date on the latest runway shows, digital presentations and behind-the-scenes buzz, sign up to receive Glossy's daily Fashion Month Briefing (September 9-October 4). All products featured on Glossy Pop are independently selected by our editorial team. However, when you buy something through our retail links, we may earn an affiliate commission.
On Saturday, I headed to Spring Place to see a brand's first-time show. But this wasn't some up-and-comer or a low-budget affair — the brand was Alo Yoga, known for its $120 leggings and logo-clad sweatshirts, status symbols for the pilates-going, Erewhon-shopping set.
Alo has also been the "official wellness partner" for NYFW since September 2021. "[That] was effectively the first fashion week where people were coming back [post-pandemic]," said Angelic Vendette, Alo's global head of marketing. "And in terms of wellness, that meant people had been isolated. Providing meditation, yoga, a safe space … gave [models, editors and other NYFW attendees] an opportunity to recharge and center themselves before returning to a crowd or going back onto a runway." That season, Alo also offered rooftop yoga at Spring Studios. In February, Covid had just spiked in New York City and Alo scrambled to create a metaverse activation, in case NYFW was shut down once again. "We were like, 'Well, how do we still show up?'" Vendette said. But ultimately, NYFW was not canceled.
September 10 was the first time the brand presented a collection of its own. The Aspen Collection was inspired by a trip that the design team and Alo owner Danny Harris took to Aspen. Over the course of four days, they gathered inspiration from the après-ski aesthetic and lifestyle for which the town is known. The resulting collection was designed in record time — approximately 26 weeks, compared to the 59 weeks the team usually spends on its collections. That said, it was also a chance to have fun and to loosen the reins on what it means to design an Alo collection. After all, The Aspen Collection is also Alo's first true foray into ready-to-wear.
While the brand has always prided itself on its studio-to-street aesthetic, The Aspen Collection leans more street or, in some cases, slopes. There are head-to-toe cashmere sets, water-resistant outerwear, full ski suits and long faux-fur coats. While an accessory, like ear muffs, might run you $54, those ski suits are upward of $1,400.
"It's every designer's dream to design something where you can use more expensive materials," said Abby Gordon, Alo's head of design and merchandise. Plus, the higher-end price points aren't necessarily out of reach for Alo shoppers, who frequent the brand's standalone boutiques in Beverly Hills, Soho and Aspen, among its 22 store locations. Last week, Alo opened its fifth New York City location, near Rockefeller Center. "It's been a few years now that folks are pairing their Alo with their designer shoes and designer bags, mixing and matching. Because we're so studio-to-street, [it's a different category] than the luxury they're buying at Chanel or Gucci," Vendette said. She also noted that many of Alo's boutiques are located "between a Saint Laurent and a Gucci."
"Our clientele is buying luxury and premium, and so leaning into that category for us is absolutely just a natural next step for us," she said.
On Saturday, I weaved between the show's models and influencer attendees — who would have been hard to distinguish from one another, had the models not been standing on tall platforms and dressed for colder weather. Many of the guests were also wearing Alo. In line to get in, I listened to a conversation between two girls who both work with Alo in one capacity or another. One, a "regular influencer," was complimenting the other, a "yoga influencer," on her skills. Within the room where the presentation took place was a step-and-repeat influencer-bait photo moment. Attendees received gift cards wrapped in black paper and a selenite crystal.
Each purchase from the Aspen Collection comes with an NFT — for this, Alo partnered with Moonpay, a company that allows NFT novices to buy NFTs by providing their email address. The NFT serves a dual purpose. First, Vendette said, it's "a certificate of authenticity, ensuring that you're buying the [real] Aspen Collection." The NFTs will also allow purchasers access to a bevy of Alo perks that are typically only extended to influencers, celebrities and other friends of the brand — such as admittance to Alo House, which hosts the brand's elaborate, multi-day events, as well as Alo Wellness Club, its invite-only gym. The latter has a location in L.A., and one that opened on September 9 in NYC.
On Sunday, I wound up returning to Spring Studios where the collection remained on display, this time on mannequins. I was able to feel the high-end fabrics for myself and also experience what Alo being a wellness sponsor of fashion week actually means. The back of the room where the presentation had been filled with guests the day before, was reconfigured, with stations for ear seeding, sound baths, tarot card readings and juices from Bonberi. There were also Snap AR Lens-enabled mirrors. When I stood in front of one, I was able to "try on" a puffer from the Aspen Collection. It was perhaps an effective pre-sales tactic, as, indeed, I then wanted one.
Shop the look, and some of the pieces spotted on attendees at Alo's show, below:
Visit the Pop Shop to browse all products featured in Glossy Pop.
Starface pimple patches make their runway debut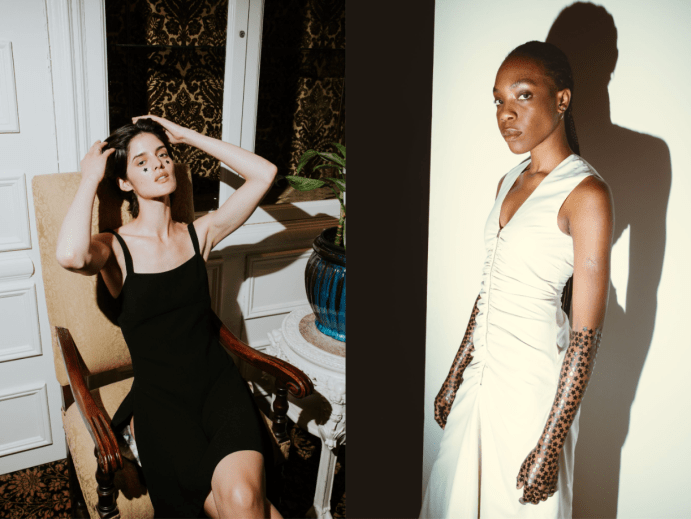 "We've always seen acne as an opportunity for self-expression, and what better way to see that come to fruition than by becoming the first pimple patch to walk down the runway at New Yor Fashion Week?" said Starface president and general manager Kara Brothers. "From day one, Starface has prioritized the celebration of skin with a product that glamorizes breakouts, and this exciting moment is a clear example of the cultural shift we've seen in embracing acne as a moment of self-expression and personal style. Our partnership with [the brand] Puppets and Puppets and [makeup artist] Fara Homidi was the perfect debut for our upcoming Black Star launch, coming this fall."