For the August 2 launch of its first true skin-care product, a gentle facial cleanser, 3-year-old Blueland, the company known for refillable cleaning products, is launching a Twitter campaign called "Beyond The Bottle."
Recently, Blueland founder Sarah Paiji was perusing best sellers on Sephora to eyeball the information provided about recyclability. "It was two out of 30 that had any kind of information," she said. "I'm not even asking for, 'How do I recycle this?' 'Can I recycle this?' But even just, 'What material is this?' [is important to know]. Because without that information as a baseline, it's impossible for the consumer to know whether it's recyclable at all."
It's this lack of information — let alone digestible, easy-to-understand information –—that inspired Blueland's new Twitter campaign, launched Tuesday.
Though "Beyond The Bottle" will launch as a campaign today alongside the cleanser, it will be an ongoing initiative. Anyone will be able to tweet at the brand with a picture of a product and its name, as well as where they live. Rules and regulations for recycling vary greatly depending on location. Blueland will reply with whether or not the product can be recycled and, if so, how to do it. One dedicated team member will own the project, though they will be aided by help and knowledge from the entire team, including Paiji.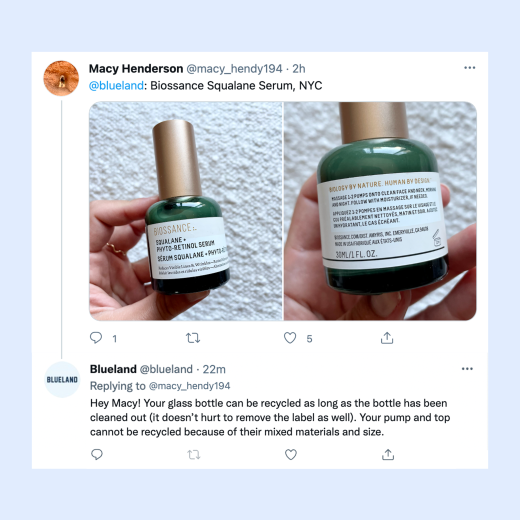 Though TikTok is a more popular platform for a modern brand campaign, Blueland's leaders believed the brand would best be served by Twitter. "The nature of the platform and functionality made it perfect for this campaign," said Hannah Butman, Blueland's director of brand. "[On Twitter,] our conversations could be visible to everyone, people are less precious about their tweets than they are about IG posts and Stories, and the initiative could live uninterrupted by other content in one place."
"Blueland has always been about so much more than just selling products. I'm excited about like the impact we can have on broader industries. When we got started, like, refillable cleaning was not even a thing; it was on no one's radar and seemed like such a crazy change of behavior," Paiji said, adding that she believes the company can have the same impact on the beauty industry.
The cleanser, simply called the Facial Cleanser, was designed to compete with drugstore — and TikTok — favorites like Cerave. It's not heavy-duty, it doesn't promise to remove makeup, and it isn't packed with super-active ingredients. Instead, it focuses on being gentle. You "make" the cleanser at home by mixing the powder with water in the brand's signature "forever bottles." When it's empty, you simply repeat the process. A starter pack, including the bottle and one cleanser, is priced $16, while the bottle with 3 refills costs $27. For now, they're available exclusively on Blueland's e-commerce site.
"The industry expects the [conscious] consumer to do a lot of work. And as you can imagine, we have a lot of experience in this — so we thought, 'What a great way that we can provide value to people," Paiji said. "Recycling is very local; [accessibility] really depends on the Material Recovery Facility near you that's processing your products. We can do the research and provide [consumers] a customized answer."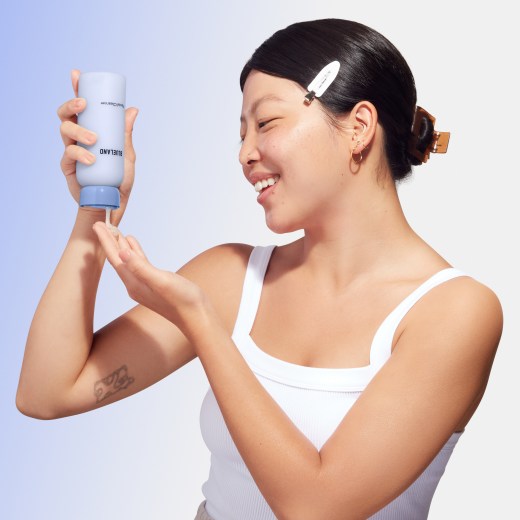 Essentially, Blueland wants to accomplish two goals: to create a "facial cleanser that can be refilled and to eliminate single-use plastic," said Butman.
"It comes back to our mission of making eco easier for everyone, she said. "This is a way for us to provide value beyond just our product in itself."
"When I look at the beauty industry, I'm like, 'Oh, my God, clear labeling — that seems so gettable, so within reach.' It's not just about helping consumers properly discard a product, but it's also about creating more of an incentive for both brands and retailers to use and merchandise products in better materials. Once we start getting brands to say what material they're using, consumers are gonna start getting more educated about better materials versus worse materials," Paiji said.