All products featured on Glossy Pop are independently selected by our editorial team. However, when you buy something through our retail links, we may earn an affiliate commission.
About a month ago, Sephora quietly added Glamnetic's Press-On Nail Kits to its online assortment, in four patterns. Each kit is $15. The mega-retailer already carried the brand's false lashes, which are what it is known for. But Sephora, known for its prestige beauty play, had steered clear of press-on nails until now.
"They'd never considered press-on nails as a category," said Ann McFerran, Glamnetic's founder and CEO.
"[Our lashes] were outperforming [sales] estimates at Sephora, so they were happy with our partnership and were like, 'What else do you have that we can bring in?" said McFerran. She told the merchants about the brand's press-ons, including that they'd been a "super hot" category on the brand's DTC site, with sales "doubling month-over-month."
"We sent them samples, and the buying team was like, 'Let's start on dot-com and see how that goes.' We're officially the first press-on nail brand [Sephora has] ever brought on," she said.
Glamnetic first launched its press-on nails in August 2021; they are also carried at Ulta Beauty, which carries four press-on brands, as well as the brand's own DTC site. In addition to some hallmark styles that the brand keeps in rotation, it prides itself on being quick to jump on trends. "We can go from inspo to sending the final mockup to the manufacturer, in two hours. We're the fast-fashion of nails," McFerran said.
Sephora is not the only retailer investing in the press-on category. Others include Target, Ulta Beauty Revolve and Thirteen Lune. Walmart will offer Paintlab Nails, another trend-forward press-on brand and product of Walmart's new accelerator program, Walmart Start, announced on Tuesday.
It's a big shift from the days when press-ons were relegated to the bottom shelves of drugstore aisles. Today, rather than hide that they're wearing fake nails, consumers flaunt them and share who makes the designs they are sporting.
The nail salon and massage spa Chillhouse, for its part, launched its foray into the category, Chill Tips ($16 per set), in August 2020. A few months into the pandemic, with the company's flagship salons closed, the products provided a lifeline for the company when it couldn't provide in-person services, according to founder and CEO, Cyndi Ramirez. "We had candles and merch, and things of that nature, but nothing that we would wholesale to retailers," she said. For Chillhouse — which is known for its wavy, funky nail patterns, like its best-selling "EIC" — press-ons offered a chance to democratize the Chillhouse aesthetic. Ramirez noted that her brand's art had become particularly ubiquitous on Pinterest and social media.
Though Chillhouse had begun work on the product before the start of the pandemic, it expedited its launch of press-ons when Covid took hold.
"The best natural extension of our brand is to be able to provide more access to fans of Chillhouse who can't get to New York or who have tried to replicate [the look] at their local salon and it doesn't look right," Ramirez said. Select Chill Tips can now be found on Target.com, Urban Outfitters, Revolve and Thirteen Lune, to name a few of the brand's retailers. More are coming soon, Ramirez said.
Another recent entrant in the press-on space is Olive & June, which also started as an IRL salon. The Los Angeles-based brand introduced press-ons in November 2021 and now sells them at Target and on the brand's own site. Its differentiating factor is size inclusivity, which many brands and consumers have never considered the need for, in the realm of nails.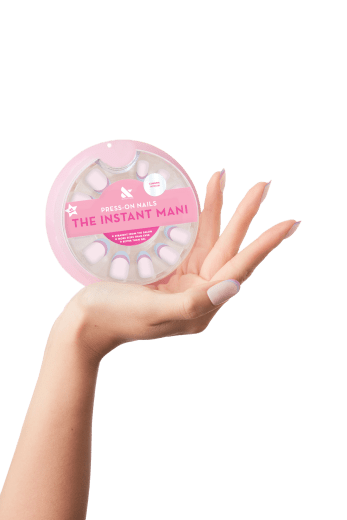 "We only launch products because we see that there's an opportunity for innovation," said Sarah Leech Aucutt, Olive & June's chief operating officer. "When we looked at press-ons in 2019, one of the biggest pain points we saw was sizing. We decided to create the most size-inclusive nail that would allow people to get their most realistic fit ever," she said. Typical press-on nail kits include 10-12 sizes, Leech Aucutt said; Olive & June's offer 21.
Like Chillhouse, Olive & June saw demand rising for trend-forward press-on nails before the pandemic, though lockdown accelerated and heightened it.
To Leech Aucutt, this has come down to a few key factors. "People are so time-starved, and everyone wants that incredible design straight from the salon. Press-ons actually make that accessible, from a time perspective and a cost perspective."
Visit the Pop Shop to browse all products featured in Glossy Pop.