While L'Oréal Paris's Telescopic Lift mascara may have made headlines earlier this year for more controversial reasons, the product has also enjoyed a lot of organic popularity, according to new Glossy-exclusive research from Launchmetrics.
In a ranking of the five most-talked-about mascaras in the month of February, the Telescopic Lift mascara from L'Oréal was No. 5. The product was most recently in the news due to a scandal involving makeup artist and TikToker Mikayla Noguera, who was accused of using false lashes during a video review of the Telescopic Lift. The accusations, which led to 17 million views on the video and 40,000 comments, fed into an ongoing conversation about false advertising in the world of beauty reviews.
But according to Launchmetrics, the controversy had a negligible impact on the product's popularity. Launchmetrics uses media impact value, a proprietary metric that tracks the impact of influencers, print media, celebrities, official third-party partners and a brand's own media channels.
"While some might wonder if Telescopic Lift made the ranking following the Mikayla scandal, the moment generated a negligible amount of MIV for the brand, and the product alone has a strong, organic following in and of itself," said Alison Bringé, CMO at Launchmetrics.
Along with Telescopic Lift, the full list of the top-five mascara products includes Mac's MacStack mascara, Too Faced's Better Than Sex, and two mascaras from Maybelline. Maybelline's Sky High Mascara was the No. 1 product from the ranking, while its Lash Sensational product was No. 4.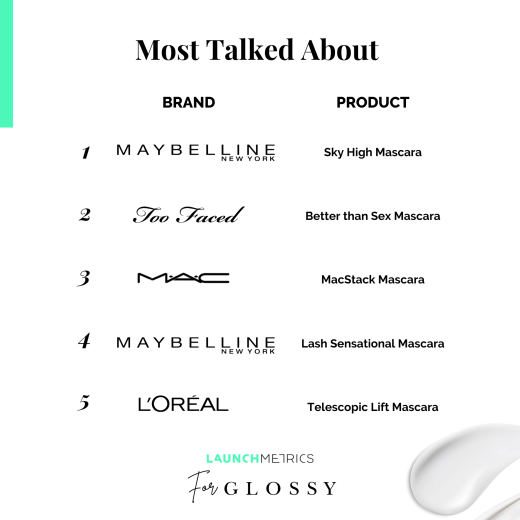 The Sky High Mascara went viral when it initially launched in 2021, earning more than 50 million views on the hashtag #skyhighmascara within the first two weeks. It has remained popular ever since. Too Faced's Better Than Sex mascara is a long-running popular product, and celebrated its 10th anniversary in January this year with a big influencer campaign and the addition of colored mascara for the first time.
Mac's MacStack mascara also became popular early in its life, amassing 73.1 million views on TikTok for the associated hashtag within three weeks of debuting in March 2022. Mac worked for two years on its product development. MacStack has since become a major hero product for both Mac and parent company Estée Lauder, the latter of which attributed its double-digit digital sales growth in 2022, in part, to the launch of the mascara.
Want to discuss this with our editors and members? Join here, or log in here if you're already a member.