All products featured on Glossy Pop are independently selected by our editorial team. However, when you buy something through our retail links, we may earn an affiliate commission.
Having already met its revenue and sales goals for the year, K18 is sitting pretty. To refresh, K18 launched in Sephora at the end of 2021 and subsequently launched a TikTok campaign, in January 2022, that resulted in ubiquity and 11 billion views. The hashtag #K18hair has 445 million views. With a long creative leash and budget to spare, the brand decided to go big for its last campaign of the year, enlisting TikToker Anna Sitar (12.1 million followers) to direct a connected TV commercial. The commercial debuted Friday and will run at least through the end of November.
K18 will also run the ad on TikTok, via the platform's top feed program, targeting its core audience demo. The top feed program serves up a brand's ad as the fourth video users see when opening their For You Page. K18 based this decision on research from a study commissioned by TikTok. According to AdAge, the study found that "when participants saw a brand on TikTok and then saw it on TV, they had a 4% lift in visual attention to brand cues and a 6% lift in aided brand recall, meaning they correctly chose the brands they saw from a multiple-choice list in a post-ad exposure questionnaire."
The ad is timed to align with Sephora's Beauty Insider sale, which started on around October 28, depending on one's membership tier, and runs through tNovember 7. The sale allows members to save 10-20% on K18's hero product, its Leave-in Molecular Repair Mask. The brand also sells two shampoos for $36 each. As the brand rarely hosts sales, the campaign is meant to encourage new customers to try the product.
"We've been huge fans of Anna Sitar since she got on TikTok in 2020 and melted everyone's hearts," said Michelle Miller, K18's svp of global marketing. Miller noticed that Sitar's influence on her followers included hair products. Then, in August, Sitar organically posted about K18, shouting out the Repair Mask as the one product that had saved her hair during a trip to Italy. Miller and her team then reached out about a partnership. "She's one of those creators who doesn't do a ton of paid partnerships. In her comments, people ask her [why she doesn't do more], and she always says, 'I have to really love the brand,'" Miller said.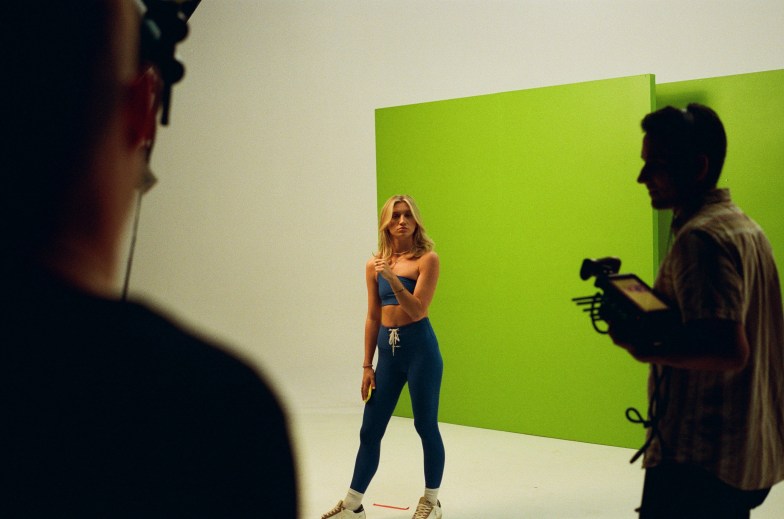 "It was a different approach to storytelling than we usually do," said Jen Herr, K18 vp of creative. "Usually we create the concept and then cast talent. For this, it was flipped. Anna is a creative powerhouse and had lots of ideas for concept, transitions and edits. We had so much fun bringing the vernacular of TikTok to a more traditional commercial production framework." Sitar has an MFA in cinematography and film and video production from Loyola Marymount University.
Sitar is known for her "I don't want it" catchphrase and videos; her TikTok bio reads "CEO of 'I don't want it.'" Essentially, she uses the phrase in reference to dream scenarios, saying that if that scenario is not the case, she doesn't want it.
In the K18 campaign, Sitar says, "If my hair mask doesn't reverse damage in four minutes from the inside out, … [if it] doesn't actually repair my hair from the bleach, blowdrying, putting my straightener on too high; if it isn't scientifically proven to make my hair feel smooth, soft and bouncy, so I only need the tiniest amount and I don't need to wash it out; and if it isn't recommended by my hairstylist … I don't want it!"
Sitar's "I don't want it" TikToks are filmed in front of a mirror, phone in hand. Together, the brand and Sitar decided to create a (much) higher production version.
The campaign cost the brand six figures, though Miller said the total was under half a million dollars. "The day that I got to set, I was like, 'Wow, this is like exactly what I had imagined," Sitar said. She noted that, after having a Zoom call with the K18 team, seeing that the set had turned out "perfectly" was such a great feeling for her as a creator. "It's so hard to vocalize what you visually see in your brain," she said. Sitar will also do a meet-and-greet with K18 at Sephora at The Americana in Los Angeles in November.
"I've never seen a company grow this fast, and I've been at fast-growth companies," Miller said. She previously worked at brands including Kosas and Too Faced. Since K18 has already surpassed its 2022 goals, it is freed of the typical constraints a marketing campaign might be up against.
"The brand is super hot, so there's not a lot of pressure to make sure that it drives X amount of sales; it's not that kind of campaign where it's measured by the metrics," Miller said. "We wanted to do something splashy but authentic, and we all got chills around this idea. The goal is simply to continue to build brand love and get K18 out in the world."