All products featured on Glossy Pop are independently selected by our editorial team. However, when you buy something through our retail links, we may earn an affiliate commission.
Kim Chi and Plastique Tiara are two of the drag world's brightest stars. L.A.-based Kim Chi has 1.9 million followers on Instagram and a makeup brand, Kim Chi Chic Beauty. L.A.-based Plastique Tiara, one of Glossy's 24 Gen-Z names defining beauty, has 8 million followers on TikTok and 2.1 million followers on Instagram. Last week, the two debuted a collaboration under Kim Chi's brand that is a collection of makeup inspired by both their looks: Kim Chi's loud, vibrant and colorful makeup, and Plastique's Kardashian-esque nudes and sharp contours.
The collection includes a three-piece lip kit ($25) with a liner, a matte lip color and a gloss, as well as a set of eyeshadow palettes (one for each queen) called the Kim Chi x Plastique Nude Sensation: Snack For Two Eyeshadow Palettes ($32). There's also a face palette featuring blush, a highlighter and a bronzer ($28). Below, Glossy spoke to the two stars about Asian representation in beauty and what makes this collection unique. 
How did this collaboration come about?
Kim Chi: "Plastique and I bonded through touring together a lot. We're kind of each other's safety blankets; when something goes wrong, we're there for each other. And with Kim Chi Beauty, I'm all about showcasing different types of Asian beauty. I feel like me and Plastique together represent very, very different ends of the spectrum. People can buy our collection and they can do super exaggerated clown makeup like me or natural, beautiful makeup like Plastique."
You both have very different aesthetics. How did you work to bring them together?
Kim Chi: "Plastique loves neutrals, and neutrals are the basics that everybody needs, right? It really wasn't a hard collaboration at all; it came together very fluidly."
How did you decide what to include?
Plastique Tiara: "It's just things that we love, honestly. When I'm doing my makeup, I use very natural tones, yet I find it very hard to pick the right tone of nude. So for this collaboration, I mixed everything together and created the shades that I personally use that are very useful. Kim did the same thing. So this is our go-to, our little baby. We grew up in similar situations, but then our aesthetics turned out to be different. We are two Asian queens who are just trying to make it out here in the world. I think it's very special."
You both have been outspoken about wanting to promote Asian representation. And Plastique, when we last spoke, you talked about being a role model. What does Asian beauty mean to you?
Plastique Tiara: "When I was growing up, there was no one like us on TV who made us stand up and go, 'Wow, we're so proud to look like this,' especially in this industry. During the pandemic, it was a very hard struggle for Asian Americans. This collaboration celebrates who we are and what we look like, and what we represent. It's taking back the power and being proud of who we are and what we've overcome."
What about the collaboration speaks specifically to Asian beauty ?
Plastique: "This is the first drag queen collaboration, the first two Asian drag queens' makeup collaboration to have ever existed. So that, in itself, is already quite groundbreaking for our community. The two of us are actually really good friends; actually like each other. We're not just slapping our name on something."
Are there any trends that you made sure to speak to in this collection?
Kim Chi: "We've had an era of really heavy makeup, heavy baking. And I feel like, for real women, the trend is going toward lighter makeup now. People are trying to have less makeup in their kits. With our collection, everything is there that you need, from a daytime look to a nighttime look. It's a one-stop-shop collection for everyone."
When many people think of drag, they think of very heavy makeup; how do you see drag connecting to a lighter makeup look?
Kim Chi: "I feel like Plastique is the perfect example of that. You see her and she has so much makeup on, but she looks like she's not wearing any makeup. It really takes talent to do that. It is harder to make it look like you're not wearing any makeup."
What's your best makeup tip?
Kim Chi: "Take care of your skin, because your face is a canvas. Just having a good canvas will make makeup go on so smoothly and flawlessly."
What's your favorite product from the collection?
Plastique Tiara: "Mine is the palette, [because] the highlighters are insane. The blush — I mix like 25 blushes to get that color. And I love the lip gloss. I can't go on without lip gloss."
Is this the first time you've worked on products?
Plastique Tiara: "Honestly, it was really, really, really easy. Because Kim has such a great team. Everyone is so understanding, so supportive and so amazing at what they do. I showed them the colors I mix to make the color I want, and everything came very naturally. It just flowed. It was amazing."
Featured Products
KimChi x Plastique Nude Sensation: Life in Plastique Blush, Bronzer & Highlighter Palette
Kim Chi Chic Beauty
$28.00
Shop Now
Kim Chi x Plastique Nude Sensation: Bento Babes Lip Kit
Kim Chi Chic Beauty
$25.00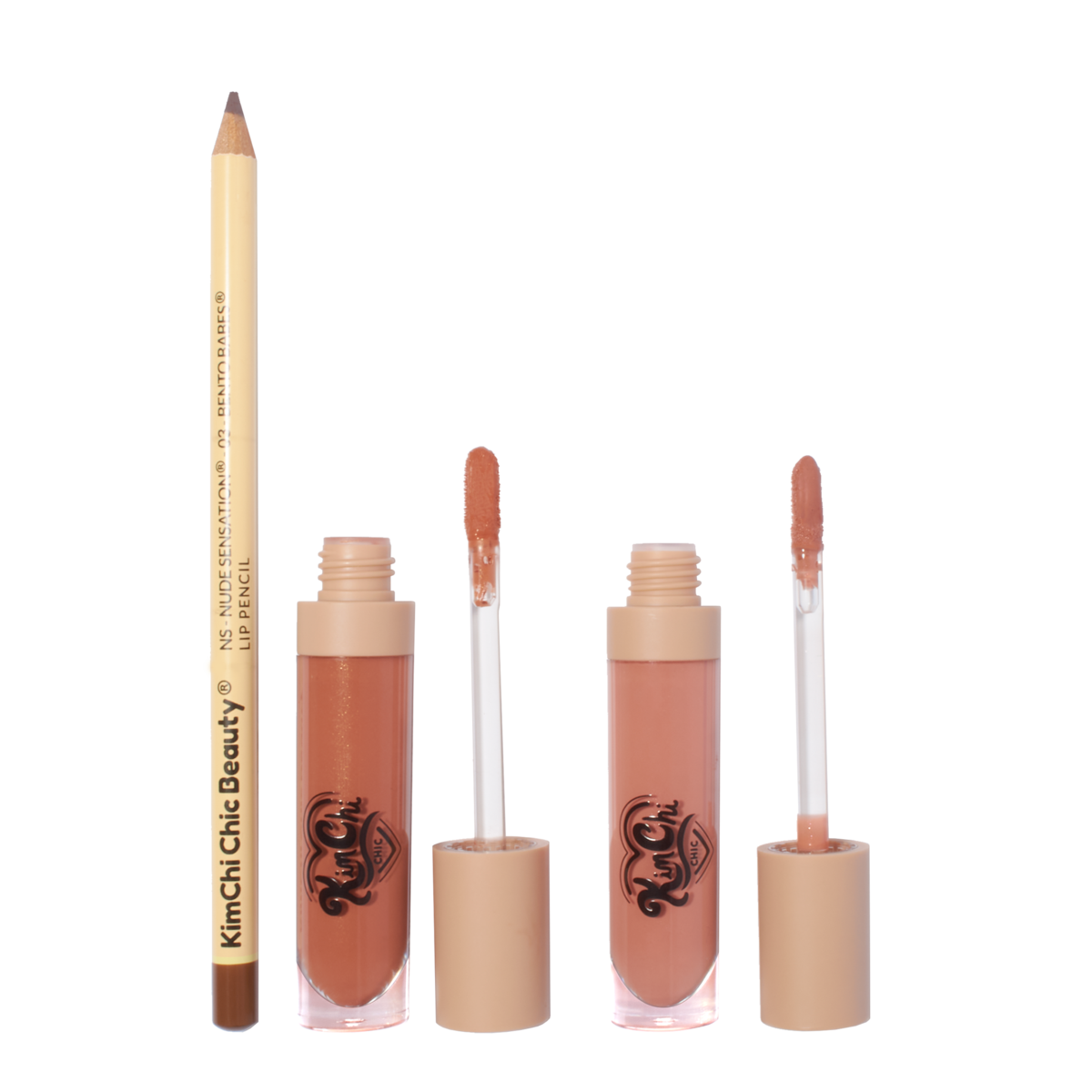 Shop Now
Kim Chi x Plastique Nude Sensation: Snack For Two Eyeshadow Palettes
Kim Chi Chic Beauty
$32.00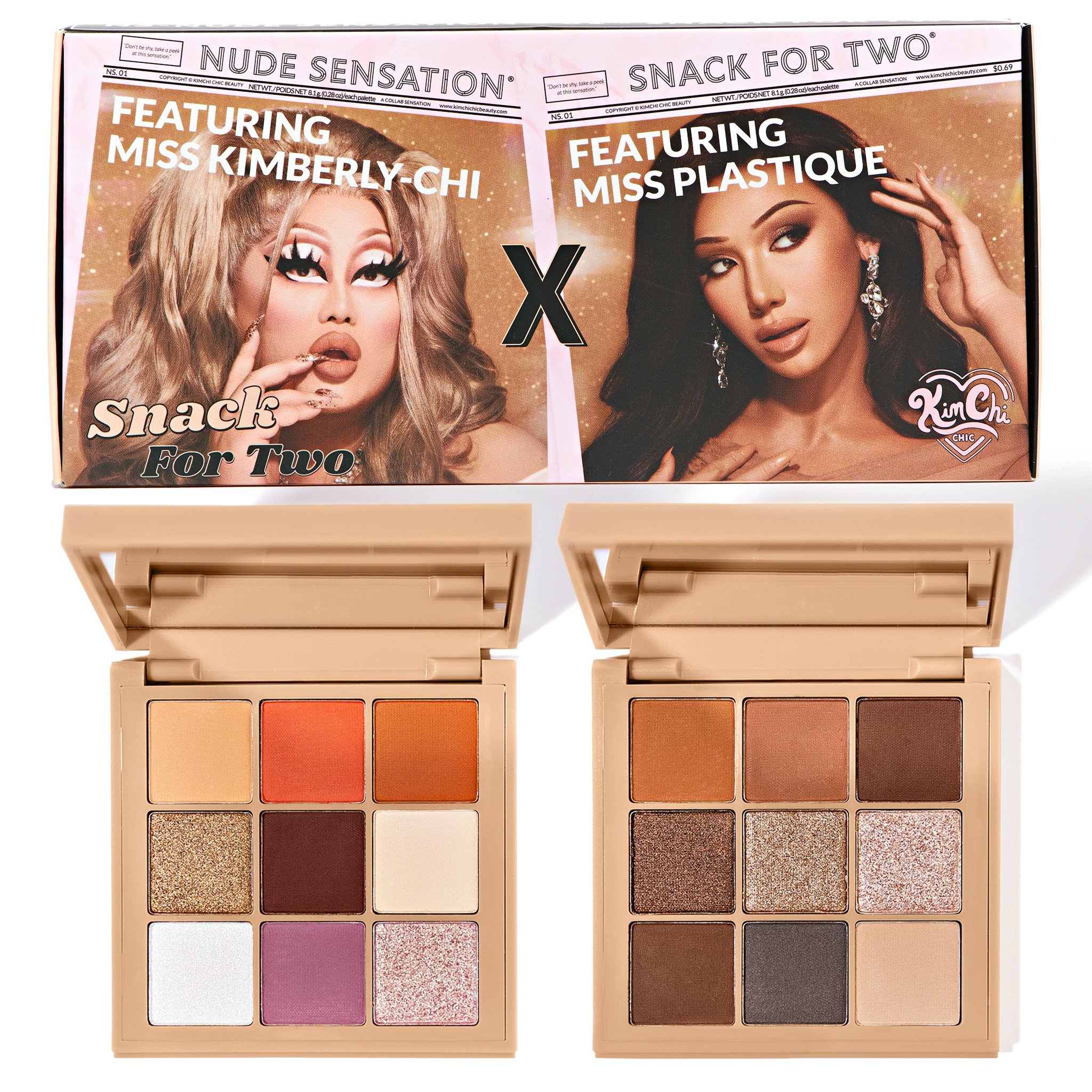 Shop Now