Doctor-founded skin-care brands are nothing new. Lancer by Dr. Harold Lancer debuted in 1985, Dr. Howard Murad's namesake brand launched in 1989, and Dr. Dennis Gross launched his skin-care line in 2000. And in recent years, they've remained popular with many new entrants joining the category: Dermatologist Dr. Whitney Bowe debuted her skin-care brand, Dr. Whitney Bowe Beauty, in June 2022. Dr. Shereene Idriss launched her own brand, PillowtalkDerm, in September 2022.
Beauty brands of all kinds are launching — and also closing — at a mind-boggling pace. For a number of years now, celebrity-founded brands have taken a lion's share of media and consumer attention. But doctor-founded brands have impressively maintained their relevance. Thanks to their founders' unquestionable expertise, these brands remain credible and trusted.
In recent years, doctors have become veritable social media stars themselves, which has helped their brands gain and maintain buzz. For Glossy, Launchmetrics looked at the most talked about doctor-founded brands in December, based on MIV. A proprietary Launchmetrics metric standing for media impact value, MIV tracks the impact of influencers, print media, celebrities, official third-party partners and a brand's own media channels. Claiming the top five spots were Murad, Dr. Dennis Gross Skin Care, Lancer, Dr. Brandt and Dr. Loretta.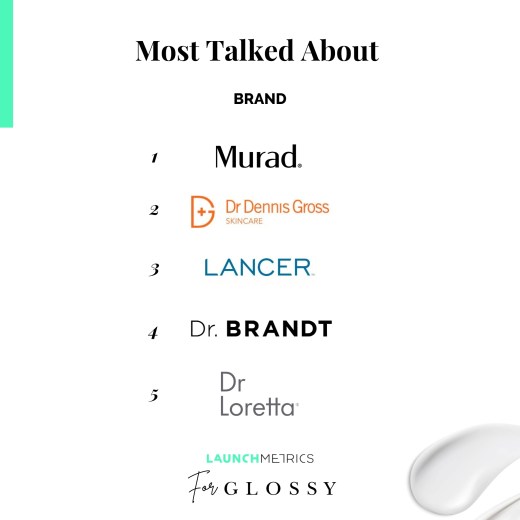 "Our analysis into the brands' voices showed that Murad is especially benefitting from an influencer voice targeted to the beauty community, which accounts for more than half of the value generated by the conversations around the brand," said Alison Bringé, CMO at Launchmetrics. "These findings correspond with our recent report on the Business of Beauty, which indicated that influencers are the main value drivers for the beauty industry. The growing saturation of the variety of influencers opens more opportunities for brands to target authentic and brand-reflective voices to reach very specific audiences with their messaging. The most important strategy for the brands is to define who these voices are, and how they can best leverage their influence to attract and retain new audiences."
Spurred on by influencers, doctors' own social media presence, and simply consumer desire for trustworthy information and products, doctor-founded brands are seeing steady growth. According to Glossy reporting this time last year, dermatologist-founded 111 Skin saw an 84% year-over-year increase in sales in the first quarter of 2021.
Dr. Dennis Gross, who still sees patients in his NYC offices, believes it comes down to efficacy. In the brand's 23 years, he said, it has continued to see double-digit year-over-year growth, while competitors have come and gone. "We have never thought of ourselves as a trendy brand. We are rooted in science and have worked hard to educate consumers and create a collection of products that are efficacious," he said. "[Shuttered] brands that initially attracted people with bright-colored packaging or gimmicky products didn't retain consumers for one major reason: The products didn't deliver results."
"Since the pandemic, we've been seeing a new wave of popularity for doctor brands. Consumers are craving experts they can trust and products they know will work. Especially as we head into a recession, people don't want to waste their money on products that don't deliver results," Dr. Gross said. He added that, in a world filled with disinformation, customers look to doctor-founded brands "to set the record straight on ingredients and skin-care education, and to formulate products that are going to deliver results."
Dr. Gross and his brand have separate Instagram profiles. @dennisgrossmd, the person's account, has 127,000 followers. @drdennisgross, the skin-care brand's account, has 316,000. Even before social media, Gross was well-known, thanks to both media and the brand. But with social media, he can "reach so many more people," he said. This has had a positive impact on the brand, too.
"We use our social media platforms as education tools. I break down the science of skin care, educating on everything from how to decipher your skin type to how different ingredients work in skin. Consumers look to our brand for reliable education that helps them make the best choice, when it comes to purchasing the right products for their skin. Skin care isn't one-size-fits-all. Since we amped up my presence on social media, I have more of a connection with consumers and there is a deeper trust."