To receive the Glossy Pop newsletter in your inbox every Friday, click here.
All products featured on Glossy Pop are independently selected by our editorial team. However, when you buy something through our retail links, we may earn an affiliate commission.
With a little over a month left of summer, we're taking a look at some of the hottest trends on TikTok and the influencers driving their popularity, and filling you in on beauty launches you may have missed.
TikTok brings its Beis tote to work
The return to the office often brings its own fashion dilemmas — one, of course, being the ongoing search for the perfect work bag. Ask any woman, and she'll likely tell you about this struggle. If you can relate, Shay Mitchell's travel brand, Beis (92,000 TikTok followers; 533,000 Instagram followers), might have a solution.
On TikTok, the hashtag #worktote has 2 million views, while #beisminiworktote, referring specifically to the brand's hit style, has over 183,000 — a large number for a single item.
On TikTok, the product is often reviewed, featured in unboxing videos and positioned as a "hot girl tote bag," which is a sister trend to the "hot girl bedside table" — in these videos, people show and tell the inner contents of their bag and nightstand, respectively. Adeela Hussain Johnson, president at Beis, said that the brand sees a "constant flow" of user-generated content on TikTok featuring the work tote.
"Totes are on fire for us, and the Work Tote has been our No. 1 selling tote since we launched it in 2019. We have since launched a Mini Work Tote that is equally as successful. Its year-over-year [sales] growth has been over 200%," said Hussain Johnson.
The trending lips of summer 2022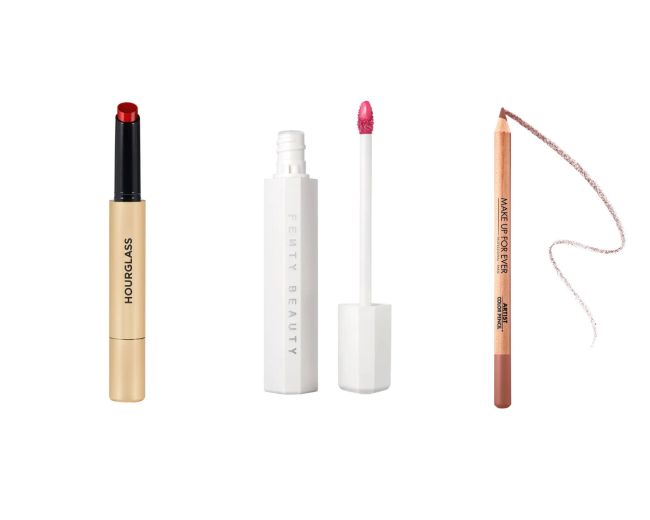 With masks off, for better or worse, it's been a big summer for lips. Thanks to TikTok, and the wild world that is #TikTokMadeMeBuyIt, these three products have gone so viral, that you should count yourself lucky if you get your hands — and lips — on them. Shop them below.
Hourglass Phantom Volumizing Glossy Lip Balm
This plumping lip balm feels minty but not too tingly, and glides on smoothly, leaving lips plump and shiny. On TikTok, reviewers have commented on the product being super pigmented and super glossy, and have called out its luxe gold packaging.
Fenty Beauty Poutsicle Hydrating Lip Stain
Should you doubt the popularity of this product — or the power of TikTok — you should know that it's currently entirely sold out on Sephora and stocked in just one shade at Ulta Beauty. On TikTok, beauty influencers put the product to the ultimate test by applying it and then wiping it off, to test its stain-ability. Needless to say, it passed.
Make Up For Ever Artist Color Pencil: Eye, Lip & Brow Pencil — Anywhere Caffeine
This mauve-y brown lip liner has been featured in not one, not two, but three of Hailey Bieber's TikToks. It has also received stamps of approval from mega-influencers including Victoria Lyn (@Victorialyn) and Rose Siard (@Roseandben) — both used it to recreate a Bieber makeup look. Needless to say, it's been popular enough to sell out.
Visit the Pop Shop to browse all products featured in Glossy Pop.
'DM to collab' hits TikTok
Gen Z wants in on influencing and will do anything to get a brand deal of their own. But there's reason for them to be skeptical. As many of us know, brand "deals" are often instead ploys to get people on platforms to buy their products and promote them for free. Like many marketing practices nowadays, this trend has evolved to fit TikTok.
Recently, I scrolled past a post from Utah-based clothing brand Clad & Cloth. The 15-second clip asks users, "Can you scan this QR code quick enough to get on our PR list?!" This seemed a little suspicious, so I decided to investigate.
The QR code took me to a page with a form purporting to be an application to become a model for the brand and get on its PR list. Immediately after entering my name and email, my Gmail lit up with a notification from Clad & Cloth welcoming me to their marketing and promotions email list — the same one that goes to any customer. Unsurprisingly, nothing else came from my signup.
This took me down the rabbit hole of simply searching "PR list" on TikTok and, to no surprise, there were myriad brands that target Gen Z (e.g., Moondust & Monachs, AE Doll House) claiming that they're looking to build their PR list or add ambassadors to their team. The comments are full of TikTok users, mostly young women, dropping their Instagram handles and clamoring to be on the PR list.
TikTok has brought increased transparency around influencer marketing. Influencers create content about which brand deals are worthwhile for influencers and expose how brands can take advantage of micro-influencers through one-sided collaborations. With all of this new transparency, it will be interesting to watch how this age-old and overplayed Instagram tactic plays out on TikTok. –Cayley Plotkin
On our launch radar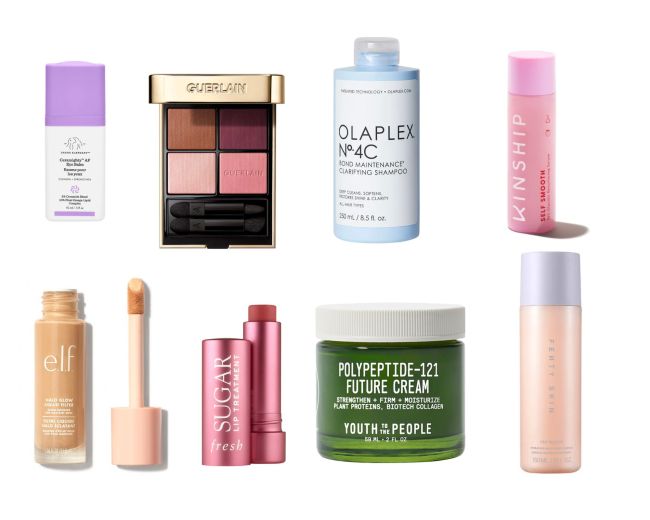 From skin care to makeup to hair care, these July and August launches showcase the latest from the buzziest beauty brands. These are products that have driven social media trends, sold out because of social media or feature trending ingredients, and are products we have our eyes on.
Drunk Elephant Ceramighty AF Eye Balm
Ceramides are still showing up in lots of new skin-care launches. That includes Drunk Elephant's newest eye cream, which pairs them with omega-rich plant oils to nourish and soothe the area's delicate, thin skin.
Guerlain Ombres G Quad Eyeshadow Palette
Last July, Violette, the makeup artist known for epitomizing French-girl cool, became the creative director for Guerlain makeup. Now, we're starting to see her touch on the brand. She worked on this gorgeous new eyeshadow quad, which comes in the pink color story pictured above, as well as options in silvery-black and brown-gold.
Olaplex No. 4C Bond Maintenance Clarifying Shampoo
Olaplex shampoo for oily hair types, or those who need a deeper clean, is finally here.
Kinship Self Smooth 10% Glycolic Resurfacing Serum
The Gen-Z skin-care brand's latest launch that debuted at Ulta Beauty is a vitamin-C-rich, strawberry-based chemical exfoliant with 10% glycolic acid. It also uses oat extract to prevent any irritation.
E.l.f. Beauty Halo Glow Liquid Filter
Mikayla Nogueira deemed E.l.f.'s latest product a dupe for a Charlotte Tilbury bestseller, its Hollywood Flawless Filter. Thanks to its more accessible price point, E.l.f.'s launch immediately became hard to get. "This looks identical — identical. Did they literally copy the formula?" Mikayla asked viewers in her video, which has 1.2 million likes.
Fresh Sugar Lip Balm
This long-time hero product just got an upgrade; Fresh's reformulated version provides double the hydration (24 hours worth), plus it comes in 12 shades. To call attention to the relaunch, the brand worked with TikTok's finest, including Mikayla Nogeuira and Meredith Duxbury.
Youth To The People Polypeptide-121 Future Cream
Youth To The People is positioning this moisturizer as sitting at the intersection of bioscience and the brand's trademark superfoods. The result is a rich, but not heavy, moisturizer that feels right for both morning and night use.
Fenty Skin Fat Water Hydrating Milky Toner Essence with Hyaluronic Acid + Tamarind
Fenty Skin launched its juicy toner, "Fat Water," in 2020. Now, it's made an even thicker, more deeply hydrating version for drier-skin Rihanna fans.
Visit the Pop Shop to browse all products featured in Glossy Pop.
Weird TikTok happenings – and a chic alternative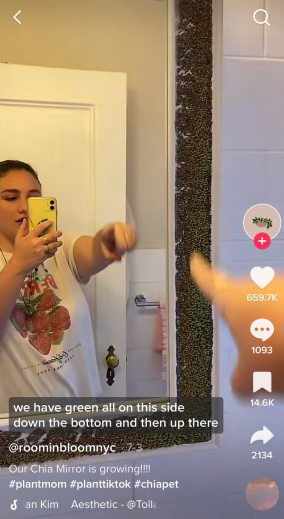 There are countless odd trends on TikTok, but one that recently captivated me was that of people decorating their homes with chia seeds — essentially creating DIY chia pets on the borders of their medicine cabinets. Though not everyone using the hashtag #chiapet is using it to showcase their DIY home decor, the hashtag has 395.2 million views. Though perhaps we all could use a little more greenery in our lives, this seems like a particularly messy way to do so. An alternative: the chicest air conditioner I've found. Users of the July A/C can choose its cover based on their favorite color or style in decor. Last week, the company launched a moss-covered version ($75), sure to make your home feel that much more like a zen garden.
Visit the Pop Shop to browse all products featured in Glossy Pop.
Post of the week
Inside our coverage
K18, E.l.f. and Inn Beauty Project are paving the way for brands on BeReal
Gen-Z skin-care brand Bubble introduces first OTC product and influencers to promote it
The future of investing includes Birkins, Rolexes and JLo's jungle dress
Reading list
Snapchat's beauty videos have no business being this weird — and fun
The unexpected appeal of Costco fashion
Nail slugging is going viral on TikTok for banishing brittle nails