To receive the Glossy Pop newsletter in your inbox every Friday, click here.
Influencer-founded brands have become a beauty category unto themselves — so much so that Glossy Pop created a whole guide to who's created what. In the year and a half since the guide went live, the landscape has continued to shift. Many new brands have launched, others have gone out of business, and still others have seen impressive growth. But, to date, not one has been acquired. According to experts in the space, however, that's set to change.
2023 has been a slow year for beauty acquisitions and, in the grand scheme of things, most influencer-founded brands are still in their infancy. Some of the OG brands in the space, like Marianna Hewitt and Lauren Ireland's Summer Fridays and Manny Gutierrez's Lunar Beauty, only date back to 2018. Huda Kattan's Huda Beauty is one of the oldest, having launched in 2013 with only false lashes.
Many growing brands are much earlier in their journeys. Amber Fillerup's Dae, Patrick Starrr's One Size and Siffat Haider's Arrae all kicked off in 2020, now infamously a challenging year to start a business.
Of course, a number of brands with famous faces have been acquired. Charlotte Tilbury was acquired by Puig in late 2020 and Ouai was acquired in late 2021. However, Charlotte Tilbury and Jen Atkin got famous for their crafts of makeup artistry and hair styling respectively. They are expert-led brands, which is a category with a long history. Think of Oribe, Vidal Sassoon or the entire category of dermatologist-founded skin care.
For Glossy's guide, we defined influencer-founded brands as brands founded by individuals who've built their platforms solely through creating content on social media. To examine their potential paths to acquisition, I spoke to a number of experts in connected fields, including VCs and leaders of brand incubators, as well as influencer-entrepreneurs themselves.
According to Tina Bou-Saba, co-founder and managing partner of Verity Venture Partners, it's important to remember what a standard brand timeline from founding to exit actually looks like. "It's typically a very long journey — at least a 7- to 10-year [journey]," she said. Kylie Cosmetics, which exited in five years, was a rare exception that can be owed to Jenner's celebrity and early entry to the celeb beauty brand space — its infamous Lip Kits launched in 2015. "[Influencer-founded brands] may be able to jump out of the gate really fast, but that growth rate is going to moderate."
It's a sentiment that was echoed by Daniel Landver, CEO of Digital Brand Products, which has worked to foster the creation and acquisition of creator-led brands such as Clea Shearer and Joanna Teplin's The Home Edit, an organizing company acquired by Hello Sunshine in 2022. "It's still early in the [influencer-founded brand] ecosystem," he said. According to Landver, it's growing at a pace that hints at strong potential for future exits.
Landver helps social talent build their brands at retail. One such example is Patrick Starrr, whose makeup brand One Size launched in 2020. Landver is a part of Starrr's management team; Digital Brand Products is a sibling agency of Digital Brand Architects, the talent agency that represents Starrr. "[One Size] is going to do $80 million at retail in 2023, and it's projected to double going into 2024, it's growing week-over-week, in terms of performance," Landver said. He credits Starrr's commitment to the brand for its success. "Patrick is very hands-on; he's very involved in the day-to-day product development and marketing strategy."
Other brand names dropped during the week's discussions on potential exits included Summer Fridays — founders Marianna Hewitt and Lauren Ireland declined to be interviewed for this story. There was also Megababe, founded by Katie Sturino; Live Tinted, which has raised $10 million funding, founded by Deepica Mutyala; Gisou, which has raised a Series B, founded by Negin Mirsalehi; and Naturium, one of The Center's brands, which is rumored to be exploring deal options. Its sales are reported to be around $70 million.
What those decisions will come down to is a word so overused, Bou-Saba apologized for mentioning it: "authenticity." Bou-Saba led the Series A investment round for Dae, the hair-care brand founded by Amber Fillerup. She called Dae a well-executed influencer-founded brand, as, "You can draw this strong through line from the influencer to the brand to the product to the consumer. It all ties together really tightly." Before becoming an influencer, Fillerup was a licensed hairstylist. Dae is, in fact, her second hair brand — she also has a hair extensions company.
Brand-building is about building a world beyond the influencer and even the product. "It's so much more than just buying products. It's a sense of belonging in the world of Dae — this romantic, dreamy, natural, beautiful [world]," Bou-Saba said, referring to Fillerup's and Dae's shared aesthetic.
Authenticity also ties to credibility. Hailey Bieber has been praised for building up her credibility as a knowledgeable beauty lover before launching her skin-care brand, Rhode. She did this, in part, through her YouTube channel, including its star-studded "Who's In My Bathroom?" series.
Bou-Saba cited the difference between the success of Kim Kardashian's Skims brand, which, as of this week is valued at $4 billion, and SKKN, her skin-care brand, which hasn't made much noise since it launched. "Skims is crushing it," Bou-Saba said, noting that it makes sense because Kardashian is so well-known for her body. "The price point, the marketing — it's all so tight; it has such a clear DNA," she said. Skkn, on the other hand, "doesn't make any sense," she said. The price point of around $600 for the complete collection "is a luxury price point, and that consumer wants La Prairie or Sisley," she said.
Similar factors could have played into the shuttering of Addison Rae's makeup and skin-care brand, Item Beauty. The brand was dropped by Sephora, and its Instagram page has been set to private. Rae was not known for a passion for or knowledge about beauty.
"As cool and fun as Addison Rae is, she didn't have specific credibility in the category to make it work or the stickiness of the community," Bou-Saba said. For its part, Summer Fridays has a community that buys not only its skin care, but also its sweat sets and wellness journals.
Both Landver and Bou-Saba said the best scenario for an influencer brand is when customers walk into Sephora and purchase the products with no idea who is behind them. They both ventured that that's often true for Summer Fridays, Dae — and even Selena Gomez's Rare Beauty.
Even the most famous celebrity or impactful influencer needs to build a brand that can stand on its own to stand a chance at survival, let alone acquisition. Being an influencer may provide a springboard, but "that's literally all it does," said Arrae's Haider. When first creating products for the supplement brand, she used her Instagram community as a focus group. Soon after, she was faced with the same task as any other founder: to build a "well-run, efficient business," she said.
While a following gives an influencer a platform, who might initially purchase when they launch a brand, it does not guarantee a loyal customer base. For an investor to have interest in a brand, they're looking for "sustainable demand," Bou-Saba said, and it "takes time to prove that."
And, in the oversaturated beauty market, valuable products are crucial. "You have to have product innovation," Bou-Saba said. "It doesn't have to be tech IP," but it also can't just have a label stuck on any factory-ready moisturizer. She used Dae's newest launch, Stargloss, a treatment for increasing hair's shine, as an example. "It has little sparkles in it!" she said. That is to say, there has to be something about the product for consumers to be excited about, especially given the crowdedness of the beauty market.
Katie Sturino, founder of Megababe, echoed the importance of a focus on product. "Our focus is always on the product. We offer innovative, problem-solving products," said Sturino. "My content and visibility are certainly part of our marketing strategy, but the brand's staying power and success have been fueled by strong business management, solid infrastructure and product-market fit," Sturino said. The brand's Thigh Rescue Anti-Friction Stick has become a summer must-have and has won numerous beauty awards, including two Allure Best of Beauty badges.
"We definitely look to be acquired one day, and I believe we will be in the next two years," Sturino said. "When we are, it will be because of our best-in-class products, loyal customers, financial health and global growth potential. My position as an influencer will be far less relevant, as the brand is much bigger than just me."
For her part, Haider bootstrapped Arrae with her husband and co-founder, Nishant Samantray. It became profitable within six months, thanks in part to some well-crafted emails that got her product in the hands of influencers including Melissa Wood-Tepperberg and Lauryn Bosstick. Marianna Hewitt organically purchased the product and also helped drive awareness and sales. Now, Arrae has raised $3 million, including the money it received from Bou-Saba. Haider prioritized fundraising from a female VC.
"We've seen so many celebrity brands fail, and it's the same with influencer-founded brands," Haider said. "The size of the exit or the success of the company is very much dependent on how the influencer, or founder, runs that company."
"When someone comes to me and they're like, 'Oh, my God. You are the founder of Arrae. I love Arrae.' I'm like, 'Oh, my God. I'm so glad that my business is bigger than I am," she said. "If you continue to stay bigger than your business, then you start to question how big that business can be."
Summer 2023 calls for fisherman sandals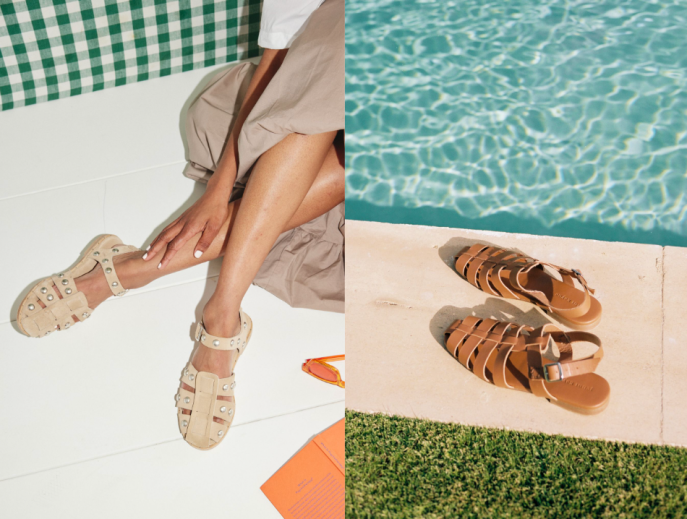 If there's one shoe trend as ubiquitous as mesh flats this season, it's fisherman sandals. Freda Salvador, a California-based shoe brand, has seen its Sera Fisherman Sandals become a bestseller. Gabrielle Union even took a pair for a spin on a horse in Cairo, which co-founder Megan Papay called a "pinch me" moment.
Freda Salvador offers the sandals in 11 iterations, ranging from studded beige suede to embossed snake to canvas. "Our footwear is made in the Alicante region of Spain, so we've been seeing classic fisherman sandals on stylish men and women for years. They give us such a nostalgic summer feeling," she said.
She added, "We designed our Sera fisherman to be a modern version of this warm weather staple, with its statement buckle, studded leather welt and chunky silver hardware. It's fashion first, but so comfortable. It's the perfect travel shoe."
Lifestyle brand Jenni Kayne also introduced a fisherman sandal this season, which is offered in three neutrals of black, white and brown. "Classic fisherman sandals have been a longtime staple in my uniform. So when we were thinking of pieces to add to our summer assortment, the Leather Lake Sandal was an easy and natural addition," Kayne said. The brown hue, "Saddle," is the most popular and sold out in a month.
As for why it's resonating, Kayne said, "They're timeless and effortless. No break-in is required, and they're incredibly breathable and comfortable."
Another bonus: "There's something to be said about a sandal that you can wear when you're in between pedicures."
Spate Trend Watch: Tubing mascara takes off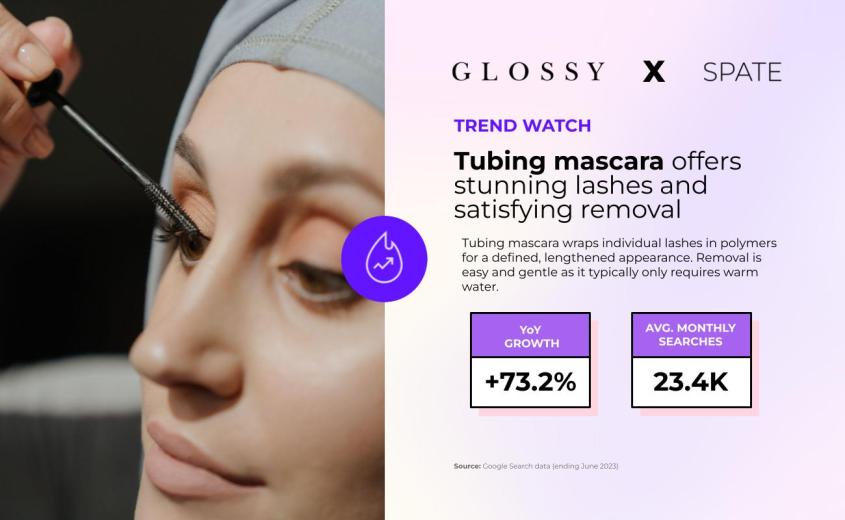 Tubing mascara is catching on. The product, which uses tube-like polymers to wrap lashes, creates a look that's lengthened and defined. As a bonus, it can be removed using only warm water.
With an average of 23,000 monthly Google searches, an increase of 73.2% year-over-year, tubing mascara has experienced a notable surge in interest. Recent top search queries for this trend include "best tubing mascara," "what is tubing mascara" and "drugstore tubing mascara." Searches for "what is tubing mascara" indicate that education is paramount when it comes to this emerging trend. As such, brands in the category would benefit from providing information on how tubing mascaras are different from traditional formulas.
Leading brands like Blinc and Tarte have become synonymous with the tubing mascara trend and are often searched alongside it. Their formulations have garnered loyal followings within the beauty community.
Inside our coverage
Clarins and Kathleen Jennings's National Day of Masking proves the power of the micro-influencer
Youth to the People announces Omar Apollo as first ambassador
Matter of Fact rebrands and debuts at Sephora
Reading list
Selena Gomez sells $70 million of blush a year as brand booms
A first look at Kendall Jenner as the new face of L'Oréal Paris