To receive the Glossy Pop newsletter in your inbox every Friday, click here.
All products featured on Glossy Pop are independently selected by our editorial team. However, when you buy something through our retail links, we may earn an affiliate commission.
Its Glaze Lip Oil — in a Candy Apple flavor — was part of Innbeauty Project's initial assortment when it launched in 2019, and the product continues to drive sales, conversation and conversion for the growing brand.
The $17 product competes for purchases and mentions with other buzzy lip oils, including Dior's Lip Glow Oil, which is more than double the cost, at $40. On TikTok, the product has taken on a life of its own. The hashtag #innbeautyproject has 21.8 million views, and it's an influencer favorite with fans from Tefi to Tinx to Bethenny Frankel, the latter of whom deemed it her "favorite lip oil yet."
Lip oil, as a category within the larger lip product space, has been on the rise. Citing data for this week through Thursday, trend-forecasting agency Spate deemed it a "high views trend," noting that it had 1.5 billion views on TikTok, which was 23.6% month-over-month growth. This year through March, it had 73,800 average monthly searches, an increase of 30% year-over-year.
Though it wasn't initially part of the brand's product development plan to turn its lip oil into an entire collection, now, "every glaze launched has a reason for being," said founder Alisa Metzger. Each is "a textural experience, because it feels amazing," as well as a "sensorial experience," given its nostalgia-inducing, delectable flavor,. she said.
On May 2, Innbeauty will launch its 10th flavor: Fruit Punch glaze. In the last 3.5 years, the brand has come out with Berry Jam, Frose, Cotton Candy (a limited-edition flavor that is not currently available), Glazed Donut, Fruity Cereal, Candy Cane, Cookie Glaze (a collaboration with influencer-founded candle brand The New Savant), Mystery Glaze and Merlot Glaze.
The brand typically launches 2-3 new lip glazes per year, and shades are often seasonally driven: Fruit Punch is launching in late spring, while Merlot, a deep wine red shade, launched in winter 2022.
For each release, customers have remained excited. On March 31, the brand launched a lip glaze duo featuring two flavors: Candy Apple and Mystery Glaze. It was available on Sephora.com for $30 and sold out in less than a week. Different flavors have, coincidentally, fit in with different trends, allowing them to pick up steam depending on the trend of the moment. For example, the brand saw Glazed Donut, originally launched in October 2020, turned up in videos demonstrating the "Cold Girl" makeup trend, which took off at the end of 2022— #coldgirlmakeup has accumulated over 138 million views.
Now, with #barbiecore and #barbiestyle trending, the brand is seeing an uptick in content created using Frose, a frosty light pink shade launched in July 2020, and Fruity Cereal, a milky baby pink launched in July 2021.
Innbeauty Project executives have found that the Lip Glaze is a gateway to the brand. The product is the brand's No. 1 acquisition SKU, with over 30% of new customers on innbeautyproject.com purchasing at least one shade.
The lip oils have also become conversation starters between the brand and its community, Metzger said, with fans eagerly anticipating and actively guessing what the next flavor drop might be. "We get countless DMs and emails of [people telling us], 'I have an idea for the next for the next glaze,' or, 'It should be this,' or, 'How about grape soda?'" The brand said it takes a variety of factors into consideration when determining what flavors to add to the lineup, including community input.
"Every shade and flavor has a clear 'fragrance-style' story we can tell. Plus, we create differentiated shades and flavors, so each one is able to stand out on its own and have its own distinct campaign," Metzger said.
The brand works with 50-75 paid content creators on a monthly basis, Metzger said. And while none will be specifically contracted to post about Fruit Punch, the brand anticipates many will post about the launch. Innbeauty will send out 1,000 mailers, in collaboration with low-sugar candy brand SmartSweets. The candy brand will include its best-selling flavors that align with Fruit Punch, from both a color and flavor perspective.
"From a gifting perspective, we focus on a buzzy brand partner and a built-out campaign, versus paying influencers. With a cute enough mailer and a great shade and story, we know we'll get that love," said Christina Bechtel, the brand's sr. manager of PR and partnerships. Other companies the brand has teamed with for mailers include The New Savant, for the Cookie launch; Bev for Frose; and Bonpuff artisanal cotton candy for Cotton Candy. Innbeauty consistently sends mailers to over 500 "friends and creators," Bechtel said, adding, "We consistently see high engagement with these and hundreds of organic posts, especially on TikTok."
"Marketing for Lip Glaze launches leans in on social-driven content, viral themes and inspiration from the fragrance industry playbook, building a complete story for each shade inspired by experiences, scents, and fragrance notes that people know and love," she said.
SmartSweets made an interesting partner for a mailer for a number of reasons, she said. It has a large following on Instagram (594,000 followers), whereas Innbeauty Project has focused more of its efforts on TikTok. What's more, being in the food space, it has worked with a different group of creators than Innbeauty. The mailer will go out to contacts of both brands. "SmartSweets works with lifestyle [creators], moms — less beauty focused-creators. But the [creators] have that same kind wellness focus, and [they shop at] Sephora and Target," Bechtel said.
"Our strategy with any launch is always to flood the Internet with content to make sure that, wherever you are, you can't help but see it," Metzger said.
The strategy is working. On days when the brand launches a new lip oil, or when a creator's content about one of the flavors goes viral, it's typical for the brand to see a 100% spike in sales conversion for the lip oil.
Later this summer, Innbeauty will launch an 11th flavor: Piña Colada, which plays into the success of the mouthwatering, nostalgic flavors Innbeauty Project lip oils are known for.
"What's the summer drink when you go on vacation?" Metzger said. "You want piña colada on your lips in the summer. When you close your eyes, [the lip tint] has that delicious sweetness — the coconut, fruitiness. But then when you put it on your lips, it's a gorgeous tint. And I think it's going to be our biggest [tint] yet, because of how unexpected and different it is. And it's so ripe for that [summertime] moment. … We're very careful about choosing the flavor for the launch time."
Featured
Visit the Pop Shop to browse all products featured in Glossy Pop.
This RMS x Doen set proves beauty and fashion collabs are still in style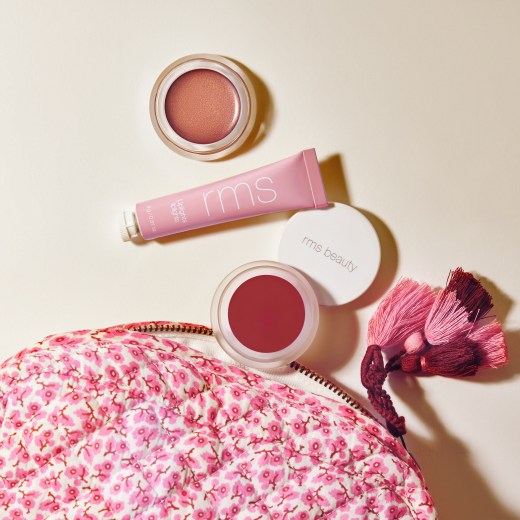 Not every fashion brand has to start its own beauty line — anyone in beauty knows just how saturated the space is. But that doesn't mean there isn't fun to be had in the realm of collaborations. Last year, Saie and Reformation teamed up on a highlighter, and Ganni and Submission Beauty made eco-friendly glitters. Now, Doen and RMS Beauty have created The Sunkissed Set ($99), a set of summer essentials offering a no-makeup makeup look and housed in a chic, travel-friendly case. The set contains RMS's lip gloss in Bare, a shade that adjusts to the wearer's pH; its Buriti Bronzer, a longtime RMS classic; and, most notably, a limited-edition, co-created Berry shade of Lip2Cheek, its blush-lip hybrid tint.
Spate trend watch: The Cicaplast Balm B5 obsession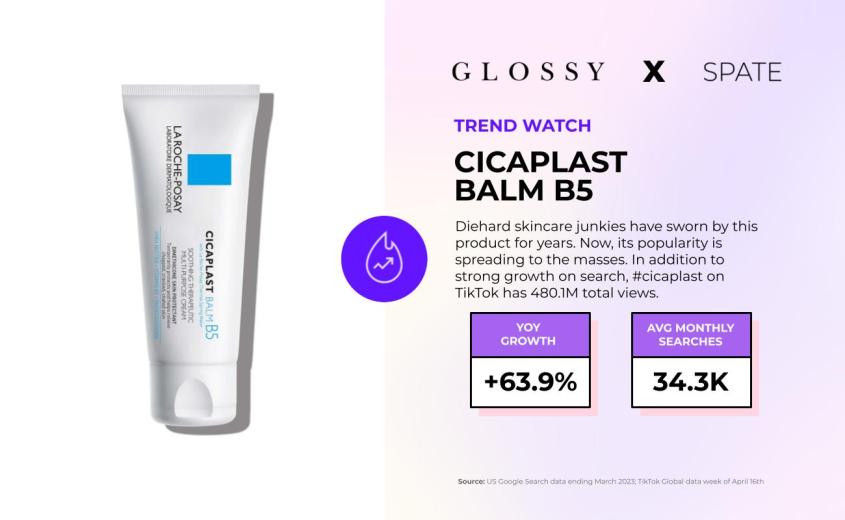 In the last couple of years, growing interest in the skin barrier has dominated the conversation in the skin-care community. With searches for "skin barrier" now averaging at 24,500 every month and total views of #skinbarrier on TikTok clocking in at 3.4 billion, skin barrier-supporting products are taking off, as well.
Enter: La Roche-Posay's Cicaplast Balm B5. Promoted by the brand as a multi-purpose anti-irritation product, this product can be used on everything from diaper rashes to dry noses to healing pimples.
"While searches don't indicate that consumers use this specifically in their skin-care routine, TikTok videos do. Across the hashtag #cicaplast, videos show creators discussing their favorite ways to incorporate the pasty balm into their routines. From masks to spot treatments, a passionate community engages with this product. It also appears in increasingly popular #skincycling videos, which now have 326.2 million views," said Spate Co-Founder Yarden Horwitz.
A formerly unsexy staple of the French pharmacy persuasion, Cicaplast has expanded its reach. It's just the latest in a series of heritage brand legacy products to get a social media-driven rebirth.
Inside our coverage
Meghann Fahy's new allergy commercial riffs on perfume ad tropes
BaubleBar expands to custom hairbrushes
Beyond Bud Light, beauty and fashion brands have been subject to anti-trans vitriol
Reading list
What would you do for a Taylor Swift sweatshirt?
Cetaphil is going on tour with Lizzo
With the launch of Coachtopia, "America's House of Leather" commits to a future of circularity and sustainability