To receive the Glossy Pop newsletter in your inbox every Friday, click here.
All products featured on Glossy Pop are independently selected by our editorial team. However, when you buy something through our retail links, we may earn an affiliate commission.
To explore — and shop! — all the products featured on Glossy Pop, check out the new Pop Shop.
There was a particular moment in beauty content creation — circa 2017 — when there was perhaps no greater flex than showing the mica-packed drops of Rose Gold Elixir, a product by an Indie brand called Farsali, dripping down one's face.
Originally launched in 2014, the brand debuted in Sephora in 2017 — though by 2020, it had pulled out, which Glossy reported on in August 2020. Now, two years later, it is poised for a comeback, with updated formulas. In March, the brand returned via a soft-launch announced on its social media, which it used to help gauge demand for orders. And since June, its website has been fully operational, selling three of the brand's original hero products in updated forms: its aforementioned Rose Gold Elixir beauty oil, as well as its Unicorn Essence antioxidant serum and Skin Tune perfecting serum. Unlike the originals, the new products neither include mica nor essential oils. Founder Sal Ali said he focused on sourcing fair-trade ingredients when creating them.
In a July 7 TikTok, Mikayla Nogueira posted a video sharing what she was packing to bring on a trip to the Bahamas. "Farsali just came back. It's that serum that no one knew what it did," she said, while slathering the Unicorn Essence on her face. Ali stitched the video with a bold type face title declaring, "How this brand f*cked up and won at the same time."
"We sold over $100 million of product within three years, but we fucked up," Ali says in the post, before thanking Nogueira for featuring the brand's comeback. "Everyone was just so drawn to the visual aspect of Farsali because it was so different back then … but a part of me is sad, because I wish we did a better job at educating what our products did." Ali then explains that Farsali never focused on product education because it didn't have to — the viral imagery spoke for itself. He said he plans to do a better job communicating product benefits in the brand's second life.
The original Farsali was the brain child of Ali and his wife, influencer Farah Dhukai (6.4 million followers on Instagram). Dhukai would test and help perfect the brand's products, which were early in the wave of skin care-makeup hybrid products. Given Dhukai's involvement and her own career, the brand always had a presence and was identified with influencers. It was featured in the content of every major makeup influencer, including Jackie Aina, Manny MUA, Jeffree Star and Nikkie Tutorials.
The advent of TikTok and change in social media aesthetics mean that Farsali can perhaps be more playful with its content and its communications this time around. Ali's personal TikTok account (@lifeofsal) has nearly 575,000 followers. The Farsali brand has just under 50,000 followers on TikTok, though it has maintained 2.5 million Instagram followers.
Ali still understands the importance of savvy influencer marketing, but he also plans to do things differently this time around. "We're really just scratching the surface on reviving the brand. In terms of influencers, I definitely want to continue to build relationships [with them] in an organic way," he told me via Zoom. "And a part of that is me just opening up on TikTok and talking a lot about the things that we've done, the mistakes that we've made, the things that we've learned. It's a way for to connect with the community, as well. And that's something that we've never really done before. What I love about TikTok is there's that community element where you can talk and you can connect."
In addition to all the aforementioned platforms where Farsali and Ali post content, one of the most intriguing is also one of its most under-the-radar: @farsalirevival, an Instagram account with around 4,300 followers. There, the brand's most dedicated fans can follow along on its journey of reinventing a skin-care brand, including what goes on behind the scenes of product formulation, a process that remains quite obfuscated to the public. On @farsalirevival, Ali and Dhukai track the development of upcoming launches, in real time, which includes Dhukai testing them on her skin. Since having a baby, Ali said, Dhukai has had a harder time maintaining a multi-step skin care routine. To address that, the duo are developing a multitasking product.
"That's kind of what sparked my creative side, like, 'Hey, can we make something that has a lot of these active ingredients in one product, and that works for brightening, skin firming, smoothing skin and keeping the moisture barrier strong? That's what this product is that we're working on, and we're very close to finalizing it. We've been doing tests on it since around the same time we started the revival of Farsali, around September 2021."
Across platforms, the potential for Farsali to re-engage with old customers and introduce itself to new ones is a big one. It's off to a good (second) start. "The audience on TikTok is looking for reality," Ali said. That's a contrast to the brand's past peak, when the most popular Instagram aesthetic was the #flatlay. "With Instagram, it was all about the perfect moments. With TikTok, it's the happy moments, sad moments, tough moments, overcoming struggles — that's what they look for. And that's where you can really be yourself. As a brand founder, the response has been amazing."
He added, "We've connected with an audience of who was aware of Farsali, and they were just like, 'Oh, I've seen this brand. It was all over Instagram, but it wasn't my thing. It just didn't speak to me.'" But some have changed their tune. "I've seen countless people say, 'Hey, I kind of know what you're about now, and I want to give this brand a shot,' or, 'I want to learn more about the brand.' So, it's opening up a different audience."
#SirenEyes are TikTok's latest beauty obsession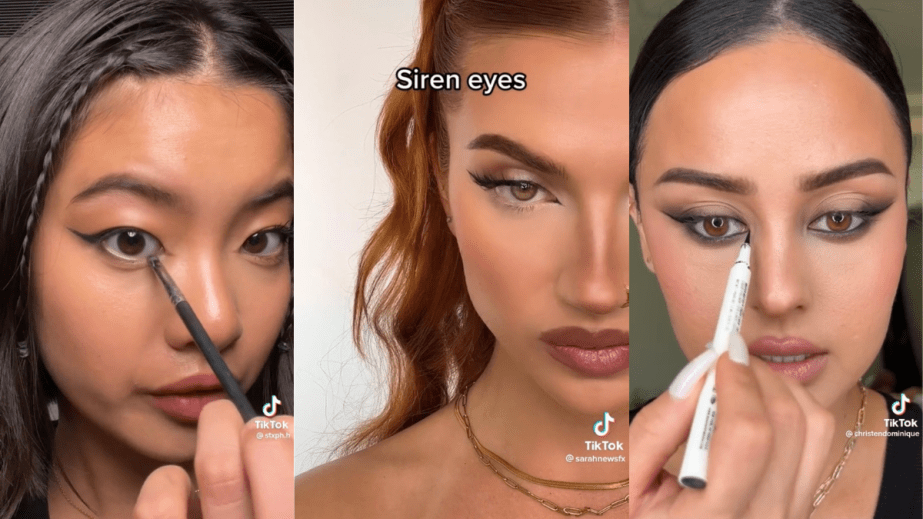 Channeling the captivating energy of its namesake, siren eyes are the latest eye makeup trend.
So, how is the siren-eye look any different from the cat- and fox-eye looks? Beauty TikToker Christie Xie posted a video on July 25, explaining the difference between the three styles: "Siren eyes have a bit more eye contour [than cat and fox eyes]. They have a sharp inner corner and smokey [outer corner]," Xie said. Some of the video's commenters have called siren eyes a combination of the cat- and fox-eye looks.
The siren-eye look promises to attract people, in much the same way that sirens in Greek mythology did. Popular TikTok videos, like @becomingfemmefatale's, state that combining the siren makeup look and a "siren stare" will effectively seduce others. "Siren eyes can activate the pleasure points in a man's brain and are a key tool to seduction," she writes — though we have not examined the veracity of this claim.
It's important to note that so-called siren eyes have deep-rooted ties to the makeup traditions of regions like Southeast Asia, East and West Africa, and MENA. And traditional makeup products including kohl and kajal are often used to create the darkened waterline look that's key to achieving siren eyes.
TikTok user @nadinauds explained her take on siren eyes and culture: "This is just another example of gentrification. They're calling this trend "siren eyes," and Middle Eastern cultures have been doing this makeup for centuries." –Gabriela Garcia-Astolfi
Inside our coverage
Chelsea Leyland launches Looni as an answer to women's menstrual symptoms

Glow Recipe brings back Watermelon Glow Dew Drops with new TikTok campaign
Glossier goes full omnichannel with Sephora partnership
Reading List
Good American setting up first retail store in Los Angeles
Rihanna isn't done building her beauty empire
TikTokers say this is the 'best liquid liner on the market' & it's selling out fast