This week, we're looking at how the virtual influencer trend popular in fashion is being increasingly adopted by beauty brands.
If you happen to stumble upon an Instagram post showing Olaplex's newest "employee," you might think you're watching a video of a human being. 
With extremely lifelike facial features, movement and voice, Employee 111 became the latest virtual "influencer" to be featured on a beauty brand's social media, on Monday. As virtual influencers have already caught on in fashion, Olaplex is among a growing group of beauty brands beginning to feature them alongside human counterparts.
"This is a combination of all of us being represented through this artificially intelligent, virtual human," said Olaplex CEO JuE Wong. Wong stated the goal was to "synthesize the [image of the different employees] — whether it's our ethnicity, our age, our gender — into one look."
With hair that changes color every few seconds from green and purple to blonde and brown, Employee 111 — the company has 110 human employees — was created in partnership with beauty tech company Tangent AI. AI technology was used to generate a composite of images of over 240 brand advocates and employees along with voice recordings of 15 employees with different accents and genders. As part of the new campaign titled "This is US," followers can vote on Employee 111's name, which will be used going forward in monthly activations including product launch announcements and educational content.
Virtual fashion influencers such as Lil Miquela and Noonoouri have already amassed millions of followers and worked with many of the world's top luxury brands. Beauty has gotten on board with the trend in recent years.
Last month, Shiseido teamed up with all-digital modeling agency The Diigitals for an Elle Spain editorial spread featuring Shudu and Dagny, virtual supermodels created by the agency. Shudu has also been featured in Cosmopolitan with makeup artistry by Beyonce's makeup artist Sir John, while Fenty Beauty has also posted her "wearing" the brand's makeup on its Instagram. KKW Beauty, Dior Beauty and several Coty-licensed brands, meanwhile, have worked over the years with Noonoouri, who was created by creative studio Joerg Zuber Studio.
Virtual influencers appeal to brands for several key reasons. Without needing to be photographed in a physical studio, they are more pandemic-proof than human models. And with a growing number of brands rushing to develop "metaverse"-related marketing strategies, brands' interest in virtual characters has increased.
Another perceived benefit: their lack of sentient thought means that — ostensibly — it's a lot harder for them to behave badly and get a brand canceled.
In an era of influencer and celebrity scandals, virtual characters can't "say something wrong or get drunk and fall out of a car with paps capturing them," said The Diigitals CEO Cameron James Wilson.
Like human influencers, some of them still "speak out" on social issues. Noonoouri's Instagram, for example, features several posts in support of Ukraine. The Diigitals' next model to be unveiled will have "a real mission when it comes to challenging beauty standards," said Wilson.
But virtual influencers aren't without their share of controversy. Critics have pointed out that, in the case of Shudu, a white male-owned company is the one profiting off its CGI rendering of a Black woman with lucrative contracts from brands such as Ferragamo, Hyundai, Samsung and Balmain. Wilson said that The Diigitals intentionally featured a range of skin tones and ethnicities among its seven virtual models, in response to the lack of diversity represented in fashion media, gaming and CGI.
Like Olaplex, several beauty brands have also opted to create influencers to function as exclusive brand mascots. In October 2021, Prada unveiled its "Candy" character to serve as the face of its Candy fragrance. Virtual influencers are also popular in China. Chinese beauty brand Florasis launched a virtual influencer named Hua Xizi, Florasis's brand name in Chinese, in June 2021. In 2020, L'Oréal-owned Chinese beauty brand MG created a virtual ambassador called "Sister M."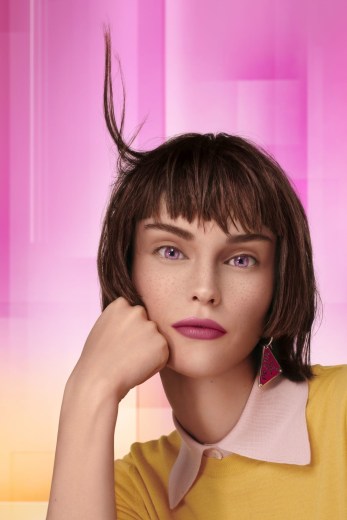 The virtual "employee" as an influencer has also been adopted by affordable makeup brand Essence Makeup. In 2019, it introduced a virtual influencer named Kenna, a fictional intern at the company.
Fashion brands' adoption has been much more widespread, as beauty is still a challenge in the CGI space.
"Fashion is a lot easier for us to do than beauty because, with beauty, we have to recreate the actual makeup products, which is more of an art than it is a science," said Wilson. He also said the company opts only to work with makeup. He advises skin-care brands to avoid using CGI models because of the inability to show how products work on real skin.
Brands vary widely in how lifelike they make their virtual influencers. For some, it's hard to tell the difference at first glance.
Wong said Olaplex's Employee 111 was "very deliberately" made to look realistic, with the animation overlaid onto a video of a real person. "We could have easily done a more animated character," she said. "This is almost like a thumbprint. It's unique to the company because it is a synthesis of all of us."
Essence Makeup also opted to go more human-like for its Kenna character.
"We began the process with something very lifelike, as we wanted her to look like an intern working at the company and to represent and communicate on the lifestyle themes of a real Gen-Z consumer," said Kristin Jaskolka, the global brand director at Essence Makeup. "What we found in the beginning, however, was that consumers didn't always recognize she was virtual, so we started to add more hints and clues to reveal her true identity as a virtual influencer."
As a futuristic novelty, virtual influencers are mainly about driving buzz rather than sales at the moment.
According to Florasis spokesperson Chloe Kou, the goal for creating Hua Xizi "is mainly for branding purposes and has less to do with sales."
As AI tech becomes more advanced, brands are looking at other uses involving interaction with customers. Olaplex, for example, is considering rolling out its new character as a virtual representative on its website to answer customer questions as a "phase 2" project, said Wong. It could field questions that a standard chatbot would be able to answer, such as information on product or order status inquiries.
Most experts agree that technology is a long way away from a world where non-human influencers have the thought complexity of a "Westworld" or "Battlestar Galactica" robot.
"Do I think we're going to see sentient cyborg virtual influencers walking around? I don't think anytime soon," said Wilson. And even with more technological development, brands may be wary of allowing virtual influencers too much independent thought. At South by Southwest 2016, for example, an AI robot drew attention when it told a reporter it wanted to destroy humans.
"I've seen some of the AI robots do interviews, and they say the craziest things, like 'We're going to destroy the world,'" said Wilson. "We would rather avoid that, if possible."
Inside our coverage
Some beauty brands are speaking up about the Roe vs. Wade news. Benefit Cosmetics, Youth to the People, Dieux, Billie, Goop, Andrew Fitzsimons, Fur and Fempower Beauty are among those that have taken a stand so far.
Beauty influencer Meredith Duxbury shares how she gained over 14 million TikTok followers in a few months on the Glossy Beauty Podcast.
The cosmetology industry addresses the education gap for styling textured hair.
What we're reading
Jerrod Blandino and Jeremy Johnson have departed from Too Faced Cosmetics. Tara Simon is being promoted to global brand president.
Michelle Phan's trip to a meditation retreat has generated scrutiny on social media this week.
Lady Gaga's Haus Labs rebrands.
While Kim's dress generated fashion buzz at the Met Gala, Pete's possible spray tan was one of the most talked-about beauty moments.