Ava Lee — better known as @glowwithava on TikTok, where she has 1.7 million followers — officially launched her brand ByAva last week with one hero product: the Resilient Skin Booster. On the brand's website, the product retails for $65 for a pack of 30 single-use sachets.
Before Lee was creating products, she made content. Before that, she worked in investment banking. She started creating content in 2018 as an escape from work and a creative outlet. "I never thought I'd leave my finance job. But I was the only female in the office, and I needed another outlet to talk about my interests," she said. At the time, pretty "shelfies" were in abundance on social media, but no one was truly explaining how to use the skin-care products they were showing on the shelves, she said. As such, she thought she had something to contribute. "I'm not good at taking pictures — I'm not that aesthetic type — but I know how to educate. So I started off posting random videos on my Stories, teaching people how to use a toner, for example. Or I'd explain what a toner is, versus an essence. Or, how do you use a sheet mask? When do you use it?" She was creating the content at 5 a.m. before heading to work most days, she said. Then, in 2019, she decided to give herself a year to try to make a career out of it. "At this point, I wasn't making a single dime [on social media]. I told [my husband], 'If it doesn't work, I'll go back to finance. It's fine.'"
Then, the pandemic hit. And Lee, like so many others, joined TikTok. And her plan began panning out. "I was always educating; I was never doing trends or dances or even the funny voice effects. Everything was just me talking to the camera," she said of the content that built her community. Lee's recent brand partners include Head & Shoulders, Dyson and Lancome, to name a few.
She added, "The majority of my content is like, 'Hey, here are little tips of how you can improve your skin,' or 'Here's how you can use a sunscreen stick, and these products are the best,' while also incorporating some food here and there."
On Instagram, in addition to her main account, @glowwithava (556,000 followers), Lee also has an additional page, @beautyfoodwithava (32,000 followers). Lee said ByAva began because her followers know her for skin care and the connection between food and skin.
Since she started creating content, Lee has posted recipes for foods that promote glowing skin, or, as she now famously calls it, "#jelloskin." The term she coined became a trend on TikTok, and the hashtag #jelloskin has 52.4 million views.
Lee said that much of her belief in and knowledge about the inner-outer beauty connection came from her mom, who lives in Korea, where Lee grew up. In fact, Lee has formulated all of ByAva's products with her mom, sending samples to and from Korea in the process. Through what she organically ate and drank, Lee introduced her followers to the teas her mom had made for her as she was growing up, which were DIY blends of Korean herbs. And to her surprise, her followers wanted in. "I was like, 'I'm not gonna make this for you. You go buy the ingredients and make it yourself.' I would be very transparent about where I got the ingredients, and people [would be very interested] but they wouldn't do it themselves.'" So, in September 2022, she soft-launched the brand with pre-blended elixirs in very small quantities, and they sold out in three hours. Since then, ByAva has done "drops" of its elixirs four other times, each time selling out within a day.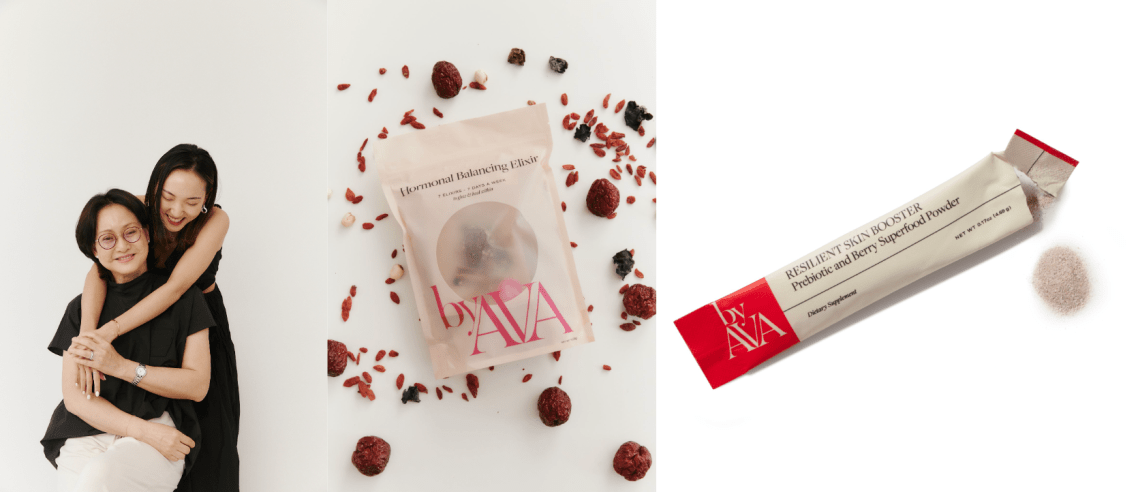 The takeaway for Lee was that people want precision and convenience, which led her to create the pre-blended sachets that launched on June 5. The sachets offer a "modern version" of the East-meets-West philosophy that informs the entirety of the brand, she said. The next launch in the works is a collagen powder, and others in development will also focus on ingestible beauty.
It's intentional that Lee did not launch a skin-care brand. And she was hesitant to launch products of any kind, she said. "There are so many good brands out there, I didn't think there was room for me to start another skin-care brand." But the concept for ByAva felt right, she said. "It's so me; it's finally a product that is truly embracing everything that I talk about holistically."
As for the debut product, it is rich in prebiotics for gut health, goji berry for its powerful antioxidant properties and Camu Camu, which is richer in vitamin C than oranges. It also features L-glutathione, which helps maintain skin brightness and fade dark spots, among other superfood ingredients.
Lee self-funded the brand with an investment of "over $50,000," she said. And she's invested her earnings from @glowwithava into ByAva. "It's an investment. Just like the risk I took of quitting [my job in] finance [to create content, I'm] taking a risk on this — and hopefully, it works," she sais.
Especially given the personal, family-based origin of the products she creates, Lee said she wanted to start independently. "I've gotten approached by brands, friends and family — a lot of people who want to partner or invest in the brand. But this is my first baby and something that's grown out of my mom's brains and our family. For the first year or two, I want to self-fund and do it my way," she said. The brand is now available direct-to-consumer at byava.co.