Coachella returns this weekend, and the brands are coming with it. The "Olympics for influencers" has a wide range of fashion and beauty brands sponsoring pop-ups at the festival itself, as well as hosting side events and partnering with big daytime and afterparties. From Coachella stalwarts like Revolve to first-timers such as Clinique, here's the rundown of what fashion and beauty brands are up to this year.
Revolve Festival: 'Keeping it intimate'
With a futuristic theme of "Best Trip," referencing this year's aliencore and trippy mushroom trends, the fashion retailer's annual marquee influencer event, Revolve Festival, will be a pared-back affair compared to earlier years. At the event, fashion and beauty brands with activations will include Quay, Supergoop, Beis X Wanderlust, 8 Other Reasons and Touchland.
"We're going back to the roots of Revolve Festival and keeping it intimate," said Raissa Gerona, chief brand officer of Revolve. Taking place during Coachella's first weekend on April 15 and 16, the invite-only event will be open for four hours each day starting at 2 p.m., making it three hours shorter each day than last year. Celebrity attendees, performers and even the new Thermal, CA venue location all remain under wraps following last year's frenzy when the event hit capacity and left influencers to rant on TikTok about not getting in. The only hint Gerona gave about the artists performing this year was to expect those that have been "trending on TikTok lately," she said.
"We're celebrating our 20-year anniversary this year, so we wanted to use this as an opportunity to celebrate the partners, influencers, talent and customers that have been along this ride with us," said Gerona. On a recent episode of the Glossy Podcast, Gerona noted that the Revolve Festival has "historically been our biggest event of the year." She added that, in terms of the company's influencer trips and events, old-school influencer content circa the 2010s "feels dated" and that the company is continuing to evolve its influencer marketing style.
Revolve is highlighting the festival through several marketing efforts. On its Instagram and TikTok accounts, it sponsored a Revolve Festival-themed scavenger hunt in Los Angeles. On the desert highway on the way out to the festival, the company is also sponsoring AI-generated billboards. Showcasing a limited-edition capsule collection on sale on the site available through the spring season, the campaign was created by AI studio Maison.meta.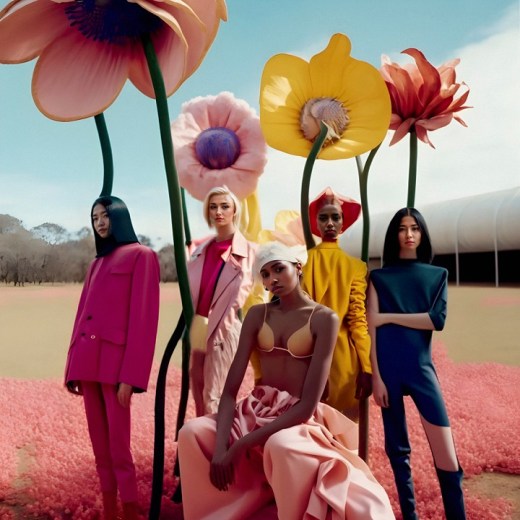 Zoeasis: Sephora and auras
Queen of boho Rachael Zoe-founded The Zoe Report's classic wellness event returns to the desert again this year, with fashion and beauty sponsors including Sephora, European Wax Center and Cotton. Influencers slated to attend this year include Alix Earle, Meredith Duxbury and Emma Chamberlain.
Sephora's activation will be tapping into SoCal desert wellness culture with an aura reading that will match participants to a coordinating fragrance that they can spray onto an "energy-inspired bracelet." They can also show the bracelet to an on-site poet to receive a custom poem.
Meanwhile, European Wax Center will offer on-site brow styling including avant-garde "pearl" and "galactic brows." Guests can take selfies in front of a metallic backdrop and receive an illustration from a sketch artist. And in the fashion arena, a curated collection of items from The Zoe Report's Cotton-sponsored online festival shop will be on display, with brands including Free People, MSGM and Anine Bing.
Nylon House: Diplo in the desert
Nylon House is another returning Coachella event organized by the same parent company as The Zoe Report, Bustle Digital Group. The activation's fashion and beauty sponsors are Mugler, Got2b and Sheglam this year. DJs will include Alesso, whose performance is sponsored by Patrón, as well as Carlita and Diplo.
Clinique Hydration House
For its first time sponsoring a promotion during Coachella weekend, Clinique is hosting an influencer "Hydration House" pool party on weekend 1 featuring DJs Coco & Breezy (Friday), Tay James (Saturday) and Brittany Sky (Sunday).
And for the general public, the brand is the official skin-care sponsor of the Day Club Palm Springs pool party taking place on Saturday and Sunday both weekends of Coachella. Attendees will be able to interact with the brand via a "moisture bar," gift stations and Instagrammable scenery.
The festival promotion kicks off the brand's summer-long "Protect your Glow" campaign geared toward Gen Z. This will be followed by later IRL activations at the University of Florida and the University of Arizona, as well as pop-up mobile trucks in NYC, L.A., Miami and Chicago.
Beth Guastella, svp gm of Clinique North America, said, "We designed this campaign with younger consumers in mind to introduce and re-introduce the brand to them and ultimately reach them where they are during such a relevant cultural moment."
The Kardashians take Coachella: 818 Outpost and Camp Poosh
A pop-up by Kendall Jenner's tequila brand 818 Tequila will be a shopping event that will also feature fashion, beauty and wellness labels including Revolve, Tower28, Emi Jay, Vacation, and, unsurprisingly, Lemme and Kylie Cosmetics.
Meanwhile, sister Kourtney Kardashian's lifestyle platform Poosh is hosting its second annual wellness-themed Camp Poosh event. Slip, Shark Beauty, Eucerin and Aveda will be on hand at the invite-only event and weekend influencer house, which is offering "camp activities, wellness activations, spa treatments, musical performances and festival prep."
Sturdy. Oasis
Also in the wellness category, Liquid I.V. is active during Coachella again this year, sponsoring invite-only Sturdy. Oasis parties on weekend 1. These include two evening parties on Friday and Saturday, followed by a brunch on Sunday. The theme of the Friday night party will be "Que Calor," which will celebrate Bad Bunny as the first Latin headliner of Coachella. It has not stated explicitly whether Bad Bunny will be in attendance, but promises "surprise performances."
Love Beauty and Planet Oasis
Another brand embracing the popular "oasis" lingo is Love Beauty and Planet, which is offering "sensorial misting stations" on-site at Palm Springs resorts The Saguaro, Renaissance Esmeralda and Margaritaville during weekend 1. The pop-ups will include swag giveaways of colorful scrunchies, branded clear fanny packs, Liquid IV packets, hand fans, and shampoo and conditioner samples.
The activation starts a shift in brand strategy for the hair-care label as it focuses on product efficacy in its marketing, which has long been oriented toward sustainability.
"When we launched and even today, we continue to see an action intention gap with our consumers. They all want a better planet … but not more than they want good hair and skin," said Sonika Malhotra, CMO of U.S. Hair Care at Unilever and co-founder of Love Beauty and Planet, of the new marketing direction. "This insight means we need to make sustainable products work as well as, if not better than, the [brands] not working with a mission of being kinder to the planet." She noted that millennials and Gen Z are the main focus for the activation.
Geojam: Curlsmith preps for an all-nighter
A party that went til 7:30 a.m. with Diplo DJing last year, the Geojam event this year will be joined by a daytime pool party sponsored by hair-care brand Curlsmith. The brand will highlight its new Effortless Waves product launch, which revelers can test with professional hair styling on-site.
The festival itself: Neutrogena and Adidas
While all the aforementioned activations are not affiliated with Coachella itself, Neutrogena and Adidas are among the official sponsors of the main attraction. Neutrogena will offer "Sunscreen Stations" with free samples to protect festivalgoers from the hot desert sun. Adidas, meanwhile, teamed up with headliner Bad Bunny for its special "Adidas Campus" pop-up on the grounds, which visitors can access by downloading the brand's app for product drops called Confirmed. Promising "surprises," details on the pop-up are sparse so far, but fans have been speculating online about the possibility of product giveaways.
Amex will also offer a pop-up on the grounds with exclusive merch for headliner Blackpink. Ahead of Coachella, the brand teamed up with resale platform Depop and Coachella performer Flo Milli to curate a collection of festival looks selected from Depop listings. In a statement, Flo Milli described the collection as "bold, glam pieces with Y2K and grunge influence."
Party sponsors: Neon Carnival, Interscope and Tao
The original Coachella afterparty on Saturday of weekend 1, Neon Carnival is sponsored by Levi's for the fifth consecutive year. Meanwhile, Laneige will be the beauty brand on hand at the Interscope party on Saturday of weekend 1. The K-beauty brand will be giving out samples at the record label's celebration of its participating artists this year, which include K-pop headliners Blackpink. And Urban Outfitters will be sponsoring a glam bar and photo booth at the annual Tao Desert Nights party on Friday of both weekends. On Saturday during the day, fashion brand Marc Jacobs is sponsoring The Pre-Party with musical performances by Fivio Foreign, Zack Bia, Kitty Ca$h and Lil Durk.