Get the top trends, brands and industry news in fashion, beauty and wellness, straight to your inbox daily. Sign up for the Glossy Daily Newsletter here.
It's commonplace for brands to celebrate the LGBTQ+ community through merchandise and marketing during Pride. However, ensuring those products resonate with members of the LGBTQ+ community can be challenging for big corporations.
Take, for example, Target's 2021 Pride collection, which received considerable backlash. Users on social media called the collection homophobic because they felt the merchandise was out of touch. People criticized a shirt that had different pronouns printed on it, claiming it was confusing, political and unattractive in design. TikTok user Julia Handra (53,000 followers) called the collection performative, saying "[Target] slapped some rainbows on a T-shirt and called themselves an ally." But in 2022, Target made sure to move away from corporate speak and hired a group of seven LGBTQ+ artists to design apparel for its Pride collection. Pieces within the collection range in price from $2-$80, and are available in-store and online.
"This year's collection was created in partnership with LGBTQIA+ designers, entrepreneurs and Target team members, in order to authentically represent and celebrate the community, its culture and intersectionality. For the first time, Target partnered with brands and designers outside of the company for exclusive Pride Month collection collaborations," a Target spokesperson told Glossy via email.
One of the artists, Kaelin "Bird" Warde, co-founder of retail brand Camp Mustelid, said that Target's backlash "was a big reason I wanted to participate."
"I wanted to contribute my style and perspective," said Warde.
Target has its Pride+ Business Council, a diverse group of team members from a variety of backgrounds and teams within Target that collaborate with the merchandising team for Pride month. Even so, Target's Pride merchandise did not resonate with LGBTQ+ consumers. Warde pointed out that working behind the scenes at a large company is usually an anonymous job.
A Florida State study calls the disconnect between Pride merchandise and authentic allyship "rainbow-washing." This performative activism is a newer marketing technique where brands appeal to the LGBTQ+ community through their merchandise without investing in the community itself.
Identifying rainbow-washing isn't always easy. In Target's case, it has donated a total of $2 Million to GLSEN, an organization dedicated to making education safe for LGBTQ+ students, over the span of 11 years. Target has also organized various committees within the corporation to support LGBTQ+ employees and the community overall.
But the retailer has come a long way in the ways that it works with LGBTQ+ talent. In 2018, Target reportedly stole a design from Felix d'Eon, an LGBTQ+ artist, for a T-shirt that was sold in the company's 2018 Pride collection. Target removed the shirt from its Pride collection, but it never issued an official apology to d'Eon. Target tweeted in 2018 in regard to the stolen design, "Target respects the design rights of others & expects our vendors to do the same. We've removed the shirt from our online assortment & are in contact w/the vendor." To which d'Eon replied, "Your apology rings hollow so long as the tshirt is available in your brick and mortar stores; you are still profiting off my work, and appropriating from the queer, Latinx community."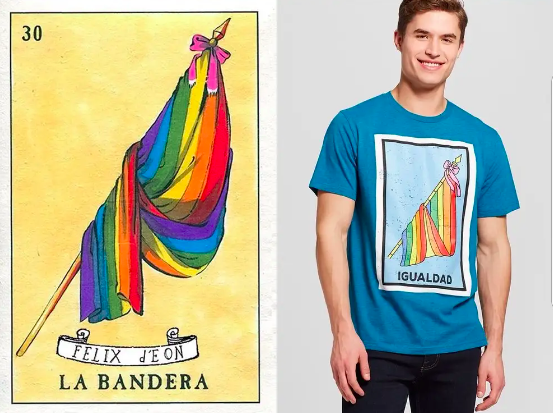 As for the 2022 Pride Collection, Target paid every artist whose work is featured. Target declined to provide payment information.
Target's revamped Pride strategy has thus far paid off. Refinery 29 reported the collection was "Queer-TikTok approved." Connor Clary, a TikTok commentator, compared the 2021 and 2022 Target Pride collections on his account @dinonuggets.jpg. The videos received a combined total of 2 million views. In his video of the 2022 collection, he brings up a T-shirt that reads, "Gender is a Social Construct," saying the message is true. While Target's Pride collection is genderless, Clary pointed out that Target's general clothes collection is separated by gender online and in-store.
Even so, Handra believes that Target's willingness to listen to customers is a step in the right direction. "In a country ruled by capitalism, money makes a change. Pride collections where either money goes to LGBTQ+ charities or they give opportunities for queer artists to be featured, and paid, matter a lot in my eyes," she said.