Outdoor gear retailer REI, like many retailers, has standards that brands have to meet to be carried in the store. REI's ethical standars have mainly focused on environmental concerns, but now the company is taking those requirements further. The new regulations ask brands to offer extended sizing at price parity, plus they must also ensure inclusive marketing practices and eliminate culture appropriation, in order to continue being sold through REI's 168 stores and website.
Since 2018, REI has had standards relating to brand's emissions and ethical practices, such as disallowing the use of fur and requiring brands to measure and share their carbon footprint. There's no specific number attached to the emissions standards; brands simply must share with REI their plan to reduce emissions. But the retailer said, since 2020, more than 300 brands representing 70% of REI's sales have successfully reduced their emissions. New additions to the standards are more focused on ensuring brands make a commitment to diversity and inclusion. For example, any brand selling headwear or helmets is required to accommodate different hair types including higher volume curly hair, and every brand must have procedures in place to prevent cultural appropriation in product design and marketing. Brands must present their procedures — like, for example, evidence that they've consulted with experts — to REI for approval.
Some of these changes are big asks. Nicole Browning, senior manager of local and inclusion marketing at REI, said the retailer has made sure to offer lenient timeframes for the more work-intensive standards, like offering extended sizing, and to provide assistance with meeting those criteria. REI is planning to market its extended sizing through its work with non-profits and outdoors organizations like Unlikely Hikers and Adaptive Adventures.
"A punitive, shame-and-blame approach is not the most effective long-term solution," Browning said. "A lot of the brands we work with may have never considered some of these things before, and having a strict approach isn't the right way to go. These things take time."
For example, the standards on inclusive sizing won't go into effect for brands until spring 2024, while the headwear requirements won't go into effect until 2025. In the meantime, REI is offering its brand partners access to panels and workshops with experts like inclusive design consultants to learn best practices. Browning said REI has also been hands-on with specific brands in helping them meet new guidelines. For example, it connected the kayak brand Eddyline Kayaks with a University of Washington professor specializing in precolonial American history to ensure its marketing is respectful to the Native American tribes from whom the kayak originated.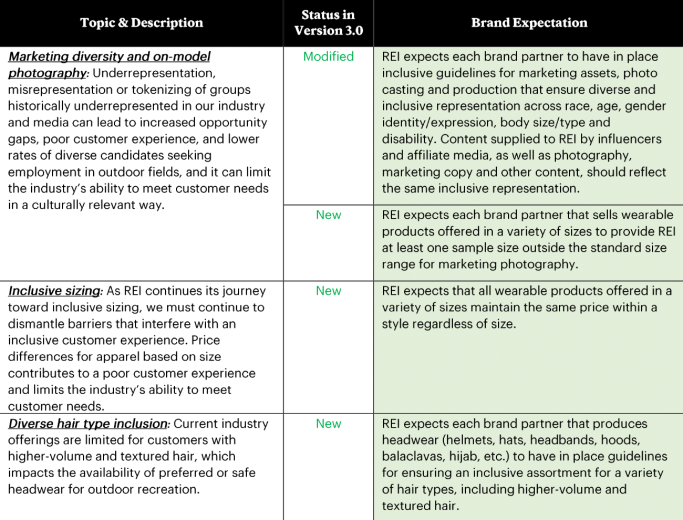 In asking its brands to offer extended sizing — and also requiring those extra sizes be offered as samples for marketing and product imagery — REI's strategy calls to mind the ambitious Bodequality project begun by Old Navy in August 2021. While applauded, at first, that project ultimately floundered due to a too-much, too-fast approach that led Old Navy to pull back on the investment in May 2022. Both the rushed implementation and the subsequent pullback were criticized by activists who claimed that it set the conversation about inclusive sizing in fashion back.
"REI's size inclusivity initiative is highly commendable, however, it and its brands will want to avoid the pitfalls Old Navy faced with Bodequality," said Raghav Sharma, founder of the fit technology company Perfitly. "One of best ways to do this responsibly is by truly understanding and having data about REI's actual shopper base's body sizes and types. That way, a brand doesn't overproduce sizes that don't represent REI's members and other customers, or underproduce against unmet demand."
REI only releases financial information annually, but its last report in April revealed nearly $4 billion in annual sales, a 36% increase over its 2020 sales. REI is one of the largest outdoors-focused retailers, along with Bass Pro Shops and sporting goods stores like Dick's Sporting Goods. That gives REI the leverage to get its more than 1,000 brands — including major businesses like The North Face, Vuori and Columbia — to embrace more ethical practices. But Browning said there's still more REI wants to do.
"Nearly a quarter of the country is living with some sort of disability," Browning said, citing data from the CDC. "There's a lot we want to do with adaptive and universal design. How do we encourage designing for people with low vision, for example? We're working with organizations like Adaptive Adventures to see what we can do. That's the next big one for us."