Since making its Los Angeles debut in 2019, Frieze L.A. has become a draw for celebrities and the global art fair circuit. For the 2023 fair that ran from Thursday to Sunday, fashion and beauty brands got in on the action.
Held this year at the Santa Monica Airport, the main event saw celebrities such as Margot Robbie and Owen Wilson wandering amongst the booths, while countless others hit up the wide array of after-parties that took place over the course of the weekend. Joining top-tier galleries in vying for the elite art world's attention were a range of fashion and beauty brands sponsoring events, hosting fair-based activations, and launching special-edition artist collabs.
At Frieze itself, skin-care brand Dr. Barbara Sturm and luxury watchmaker Breguet sponsored pop-up activations for fair-goers taking a break from appreciating blue-chip works. Visitors scanned a QR code and registered to gain access to the Dr. Barbara Sturm "Anti Inflammatory Lounge." There, they could receive free samples and a discount coupon for spa visits, hit up a juice bar, get mini-facials, try out a red-light therapy device, and play an arcade-style game to win products. Breguet, meanwhile, hosted a chic lounge with artwork by Pablo Bronstein and a collection of historical archive watches on display. In addition, an on-site watchmaker performed guillochage demonstrations. Offsite, Loewe sponsored the event's official welcome party at the Getty Villa on Wednesday.
Top art fairs such as Frieze and Art Basel have become a prime marketing opportunity for brands tapping into a concentrated group of consumers interested in appreciating the finer things in life. Activations have often been in the form of artist or gallery collaborations.
L.A.-based watchmaker MVMT teamed up with contemporary minimalist artist Kim Rose to launch a limited-edition "Order and Chaos" collab collection. It was unveiled at a party on Saturday, which also marked the opening of Rose's first solo exhibition, which was sponsored by MVMT.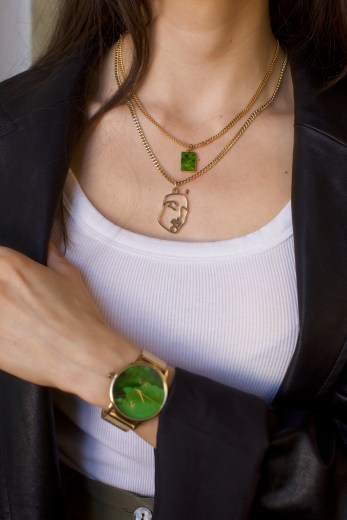 "There's an element of our brand that is very art-focused, and that intersection of fashion and art is so important to us," said MVMT chief brand officer Spencer Stumbaugh.
The collection is made up of 300 necklaces and 300 watches priced at $248 each. The watch faces and necklace pendants were each made of resin-coated cutout pieces of an artwork by Rose, with each piece receiving a unique number to serve as a collector's item.
"Her large-scale format paintings will sell for $50,000. So for us to come in, take that down, break it into pieces and [sell] wearable art at an accessible price point is super meaningful for us," said Stumbaugh.
Fashion brand Dries Van Noten, meanwhile, teamed up with Lisson Gallery. Together, they opened an exhibition for artist Ryan Gander on display at the fashion label's gallery The Little House, which is located next to the label's L.A. flagship store that opened in 2020.
Frieze L.A. also served a prime store opening time for Maison Martin Margiela, which unveiled its new Melrose Place store on Thursday. At its grand opening party that night, Rapper Saint Jhn performed a rendition of his TikTok-viral song "Roses" to a celebrity-filled list of attendees that included Stranger Things actor Jamie Campbell Bower, comedian Benito Skinner and LL Cool J.
Salvatore Ferragamo, meanwhile, hosted a Thursday dinner to celebrate the debut collection of its new creative director Maximilian Davis, attended by Gen-Z celebrities including Rachel Sennott, Salem Mitchell, Kilo Kish and Mariah Escobar.
And Cult Gaia, which just opened a design-centered West Hollywood store last month, hosted a party on Friday to unveil a sculpture depicting Jasmin Larian Hekmat, the brand's founder, standing carved in wax and gazing at the sun. The sculpture is representative of a figure "ready to be lit with warmth to become new," according to the official description of the work. "Destruction of form is the manifestation of new form itself. The metaphor of the body melting becomes the mother of creation and the cycle of destruction; rebirth," it reads.